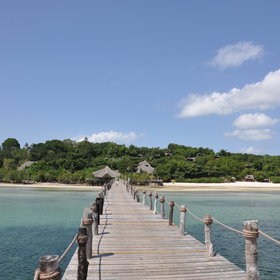 Fundu Lagoon is located in a remote corner of Pemba Island ...
Suite
The Suites at Fundu Lagoon are spacious and comfortable with lots of extra lounging space. For people wanting an area that is really private, where they can relax and while away the hours, these rooms are a good option.
The tents are actually exactly the same as
Standard Room
, but adjoining them is an extra open-sided lounge, and it is this that makes these rooms a little more special.
Along a short wooden walkway is a separate deck where you will find a comfortable lounging area. There are a number of sofas to relax on, as well as a table and chairs. At the front of the deck is also a very small plunge-pool.
The suites are still quite rustic in feel and the tents are certainly no more luxurious. They are the same size with the same kind of furnishings as the as
Standard Room
; the bathrooms are still relatively small. But the extra lounging area is a bonus, especially if you want some added privacy.
The en-suite bathroom is also the same as in the Standard Rooms. The bathroom is relatively small and dark – but the wooden panels along the walls give them a stylish edge.
The hot-and-cold shower has a variety of handmade soaps and shampoos to choose from. These are made using the scent from various spices that are found on Zanzibar & Pemba.
Suite | Superior Suite | Tented room |