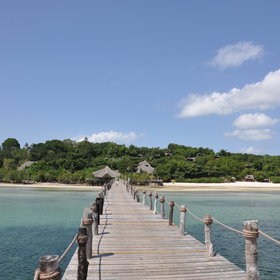 Fundu Lagoon is located in a remote corner of Pemba Island ...
Suite
The two suites at Fundu Lagoon – the Beach Suite and the Jungle Suite – are large and comfortable with lots of lounging space. The main difference is the location, with the Beach Suite having direct beach access, and the Jungle Suite set a little further back.
Both the bedroom and the bathroom in the main tents are exactly the same as the
standard rooms
, but adjoining them is an extra open-sided lounge, and it is this that makes these rooms a little more special. Reached along a short wooden walkway, the lounge is set on a separate deck and has a couple of low sofas, as well as a table and chairs. There's a private plunge pool at the front, too – which in the Jungle Suite is more like a small swimming pool.
For those wanting an area that is really private, where they can relax and while away the hours, these suites are a good option.
Suite | Superior Suite | Tented room |