Excellent diving and snorkelling retreats in Tanzania
Offshore from Tanzania's coast and islands are some first-class sites for snorkelling and diving - and between the keen divers in Expert Africa's team, we've dived quite a lot of these. Call us and we'll always be happy to discuss the options from our personal experience.

We have a separate web-page with comments on Diving & snorkelling around Zanzibar (which includes Mnemba Island and Chumbe Island) - but away from this two other islands are particularly well-known for their pristine coral reefs:

North of Zanzibar, Pemba Island has some excellent dives, although because of its currents, which are sometimes quite strong, we recommend it for more experienced divers.

South of Zanzibar, Mafia Island is a lovely quiet spot, with a lagoon which suits learners and newly-qualified divers, and more challenging wall dives outside the lagoon where big fish make for very exciting dives.
Black Pepper Beach Holiday
7 days • 1 location
DAR ES SALAAM AIRPORT TO DAR ES SALAAM AIRPORT
Beautiful sunsets, excellent diving opportunities and utter relaxation await you at Pemba Island's Fundu Lagoon. Enjoy a remote beach experience with varied activities on a quiet stretch of tropical island.
US$2,300 - US$3,680 per person
---
Fundu Lagoon
For diving off the coast of Tanzania, Fundu Lagoon offers plenty of choice. The Pemba Channel offers some extremely challenging drift dives and the chance to see the larger pelagic fish, while for gentler dives and snorkelling there are the reefs around Misali Island.
Lemon Grass Beach Holiday
6 days • 2 locations
DAR ES SALAAM AIRPORT TO DAR ES SALAAM AIRPORT
Enjoy undisturbed leisure at the Mafia Archipalego's lesser-visited Chole and Mafia Islands. Two charming, elegant lodges provide opportunity for total relaxation as well as a range of activities.
US$2,040 - US$2,800 per person
---
Pole Pole
Pole Pole offers fantastic diving in the Mafia Island Marine Park. This is some of the best diving on the East African coast. When we were last there, diving cost $40 for a single dive and $300 for a 10-dive package (plus $20 a day equipment-hire fee).
Chole Mjini
Scuba diving in Mafia Island Marine Park is superb, and if you come here between October and March you may get the chance to swim with whale sharks.
Jasmine Beach Holiday
8 days • 1 location
DAR ES SALAAM AIRPORT TO DAR ES SALAAM AIRPORT
Relax on Pemba Island's Manta Resort, a laidback and remote beach retreat with superb views. Enjoy a range of land- and water-based activities, and spend a night in the unique underwater bedroom for a truly special experience.
US$2,710 - US$4,100 per person
---
Manta Resort
For diving and snorkelling in Zanzibar, Manta Resort on Pemba Island offers coral reefs and – for experienced divers only – waters with exhilarating currents. And in its new Underwater Room you have the underwater world around you, even while you're sleeping!
Diving & snorkelling elsewhere in Africa
Our top ideas and inspiration for Diving & snorkelling in other countries.
---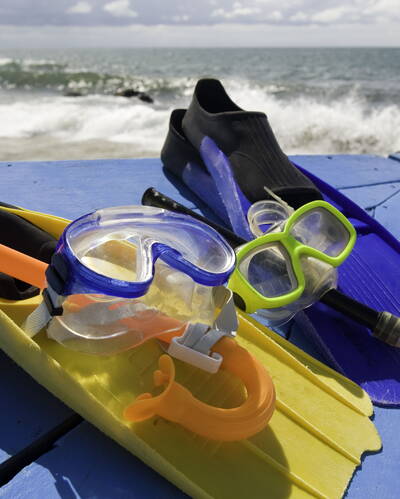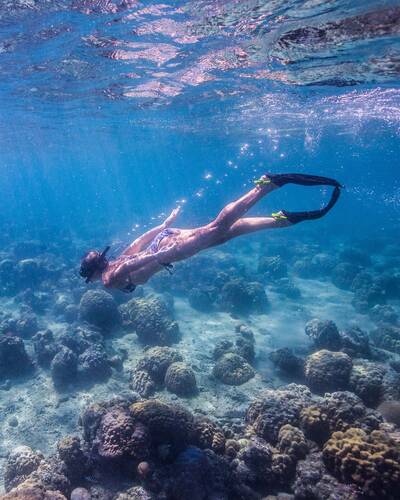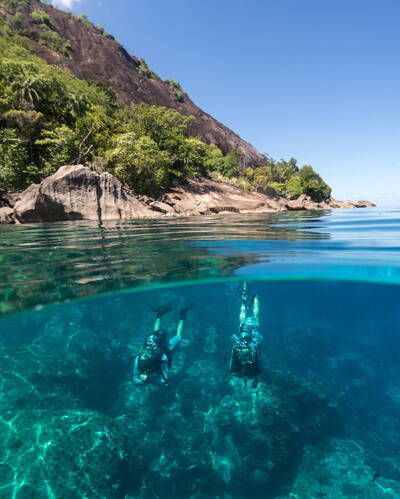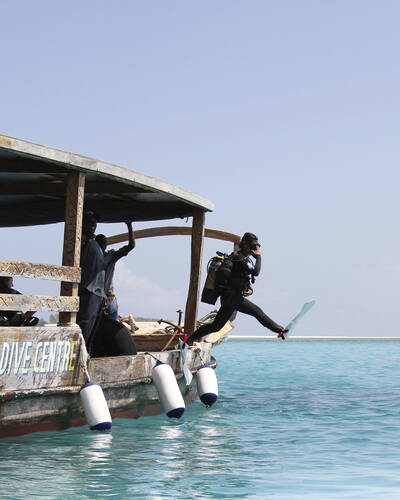 Where to see wildlife species in Africa
Maximise the chances of seeing your favourite African animals based on traveller sightings reports from the field.
---