The Sanctuary at Ol Lentille
Rooms
Four private villas
Children
Good for children
Open
All year
Perched on one of the highest peaks in Laikipia, The Sanctuary at Ol Lentille is an exclusive lodge of four villas owned by the Laikipiak Maasai community. It's located on the Ol Lentille Conservation Area, which covers an area of 174km² (43,000 acres) of north central Laikipia, with the Samburu National Reserve to the east and the ranches and conservancies of western Laikipia to the west. Each of Ol Lentille's villas is booked exclusively and managed as a separate unit, and each has its own staff. All the diverse activities here are also privately conducted.
Continue reading our full report on Sanctuary at Ol Lentille
Our view of Sanctuary at Ol Lentille
The Sanctuary at Ol Lentille is all about the community. Yes, some of the rooms and relaxation areas of the four villas could be better arranged and more comfortably furnished. And there's an inconsistency of design and finish that is surprising in a lodge with Ol Lentille's reputation. However, the huge benefits to the local Laikipiak Maasai and Samburu communities are undeniable. And there are many things to like here: we loved the panoramic views, the very wide range of included activities, the excellent food, and the warm and attentive staff. With some cosmetic improvements, Ol Lentille could be a real knock-out.
Read the Owner's description of Sanctuary at Ol Lentille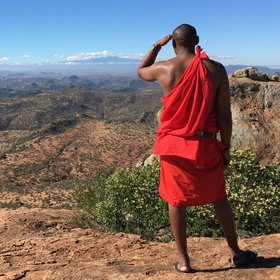 Dramatic views – as here, of Mount Kenya – can be seen all around Ol Lentille.
Video of The Sanctuary at Ol Lentille