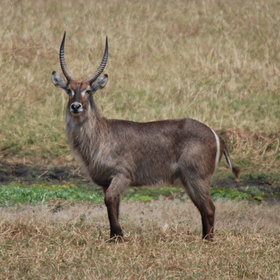 The Gorongosa National Park covers 8,200km².
Gorongosa National Park
Gorongosa National Park was once a superb game viewing destination. Before the onset of the civil war in the 1970s, it was considered one of Africa's finest parks, with large populations of herbivores and predators. However Gorongosa's game populations were hugely affected by the troubles Mozambique suffered, and it is only in recent years that a restoration project has been put in place to re-establish the park and its game viewing.
The Carr Foundation, a U.S. not-for-profit organization, has teamed with the Government of Mozambique to protect and restore the ecosystem of Gorongosa National Park and to develop an ecotourism industry to benefit local communities.
Where to stay in Gorongosa National Park
Due to localised political skirmishes that erupted in the region in late 2013, the only good operation in the area decided to close. As a result we cannot currently offer any trips to this area. Call and ask us for the latest details.
Wildlife and conservation in Gorongosa National Park
It is still early days and game viewing in Gorongosa currently lacks diversity, though we hope that the restoration project will successfully tackle this in the coming years. However, it's already an interesting park that is well off any beaten track, and so perfect for those looking for a great wilderness experience. Gorongosa has great potential.
Currently Gorongosa National Park is home to good populations of oribi, reedbuck, waterbuck, warthog and sable. Predators are also recovering slowly, with a number of lion prides and a few male coalitions within the Park. Elephant herds and bulls are regularly encountered, with the bulls being particularly relaxed providing great viewing.
Large herbivores such as buffalo, wildebeest, kudu, and Lichtenstein's hartebeest are being reintroduced to the park and leopard occur, but all these species need to build up their numbers. In Gorongosa's rivers and lake, good populations of hippo and crocodile occur, whilst on the floodplains zebra, impala, monkeys and baboons can be found.
Birding at Gorongosa is also very good, with special and endemic birds such as the collared palm thrush, the green coucal, narina trogon and spotted creeper.
The ecosystems here are also highly diverse, with the plains are dotted with acacia savanna, dry forests in sandy areas, wetlands or pans seasonally filled by the rains, and thickets on termite-built mounds. The plateaus contain Miombo and montane forests, as well as a spectacular rainforest at the bottom of a series of limestone gorges.