Reviews of holidays to La Digue Island
3 holiday reviews from our travellers of holidays which include La Digue Island.
"October 2019 in The Seychelles"
I visited Seychelles between 12 Oct 2019 and 31 Oct 2019
"First and foremost we enjoyed our trip immensely and have no regrets about having gone to The Seychelles.
The comments we have made above are therefore intended to be constructive. We did however feel that, like so many other places, we were visiting about 30 years too late and that what we really wanted to see, like the wildlife, peaceful places and the real Seychelles, had been overtaken by events, tourists and tourist facilities. We are not beach people. Knowing what we know now, we would have revised our itinerary somewhat. But for the poor food, we could have stayed on Bird Island for at least one more night but would definitely have added two days to the Coco de Mer on Praslin. We would however have excluded any nights on La Digue and just covered that island by a day trip from Praslin and a taxi tour.
Mason's Travel had made all our local arrangements and these generally went well and efficiently as did the local trips we booked through the good island representatives. The one hiccough was caused by our delayed Bird Island to Mahe to Praslin flights. We were supported well at Mahe Airport but no message from there to Praslin with our revised details seemed to have got through and we, a French family and a French group were kept waiting at the Mason's desk for some time until staff eventually arrived and transportation or hired cars were sorted out. The staff member at the Praslin Jetty could also have been more helpful and friendly on our last day on that island. Trips to Aride did not seem to be operating while those to Cousin were heavily booked. We did not attempt to go because of my mobility problems, the number of noisy participants, and a major mosquito presence. Chris had already reacted badly to sandfly bites on Bird Island and we didn't want a further similar occurrence. We made quite detailed lists of the wildlife we did see and those I shall send separately to Lucy soon.
Suggestions to help us improve our trips or our service:
None. I shall use Expert Africa again."
Read full review: 19 nights in Africa; 17 on a Seychelles holiday
"My August trip to Seychelles 2012"
I visited Seychelles between 12 Aug 2012 and 25 Aug 2012
"Very good trip to the Seychelles plenty to do, excellent food though very expensive the hotel Larchipel was the best room I think we have ever stayed in facilities were great as they were at Domaine de Lorangeraie, so glad we went and once again Expert Africa were fantastic, thanks Megan.
Suggestions to help us improve our trips or our service:
No none at all, I think your whole service is top class"
Read full review: 13 nights in Africa; 12 on a Seychelles holiday
"Vince and Annette in Africa-# 2."
I visited Botswana and 3 other countries between 20 Dec 2011 and 14 Jan 2012
"I think overall we liked Tanzania and Zanzibar better than Botswana and the Seychelles. However, it is like comparing apples to oranges. We have been fortunate in that we have been to Africa before and it is hard not to compare trips. Definitely flying from camp to camp is the way to go.
I think we must have just lucked our with our 1 and only guide in Tanzania, because we just loved him and we were with him for 10 days. If only we could have had ALL of the staff @ Lebala with us for the entire trip. Unfortunately that makes such a big difference, the people you share your time with.
As far as the safari/animal encounters it was great. In Botswana you see far less numbers of animals, but you are able to get much closer and with much fewer fellow tourists around. The part of the trip that we both liked the least was the Seychelles. To many transfers and to many quick overnight stays. The flights times did not make anything easy. We would get in to late the 1st night and then have to leave at the crack of dawn the following morning, missing meals, etc. Or we would get in too early to check in and would have to hang out in the common area for hours until our room was ready. Conveniently breakfast was always over and it wasn't time for lunch. I don't eat much @ 6 am while heading out the door for yet another shuttle/ferry or plane trip.
I know that Air Seychelles REALLY messed up our itinerary, and I think it would have been much better before all the changes. It certainly is beautiful there."
Read full review: 25 nights in Africa; 10 on a Botswana safari
3
reviews of La Digue Island by travellers since August 2007
Overall rating by our travellers

Where to stay in La Digue Island
Our suggestions for beach lodges in La Digue Island
---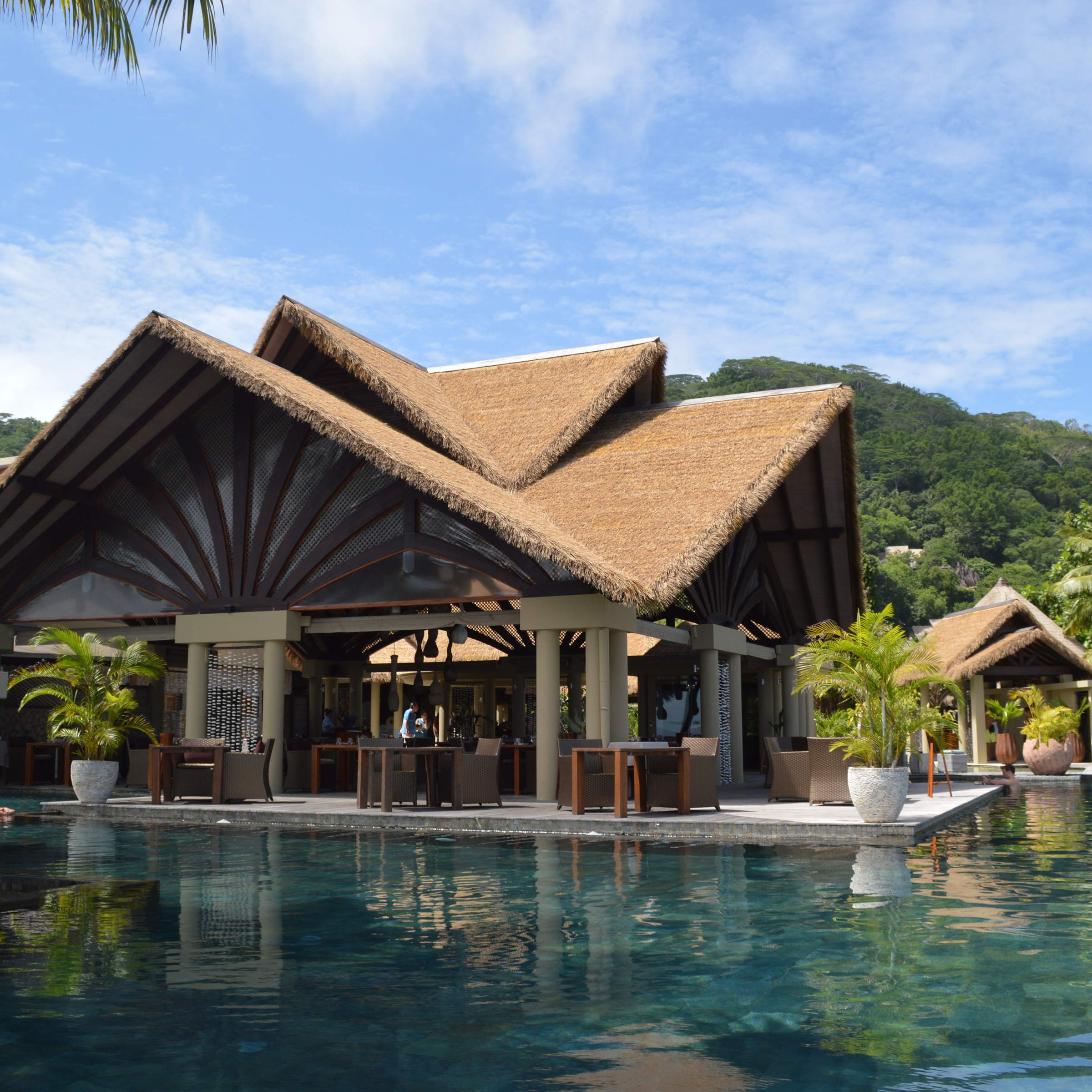 Domaine d'Orangeraie
Le Domaine de l'Orangeraie is a luxurious hotel set in tropical gardens, and is without doubt La Digue's most stylish accommodation.
---
Other areas in Seychelles
---