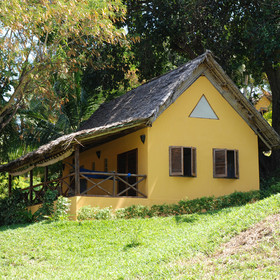 Suite
Kinasi's suites are all very similar in build and style – they are all brightly painted detached cottages, with stone floors and high thatch roofs. There are some slight variations in layout and design, however this has little impact on the feel of the room. It simply means that some are better than others for converting into triples – ask us for details.

The key difference to the rooms at Kinasi is that not all have sea-view – some are set slightly back and look into an immaculately kept garden. Generally we recommend the 'Sea-front rooms', but if these aren't available then console yourself with the observation that the 'Garden view suites' really are just as lovely! All the cottages here are large with polished stone floors, white-washed walls and a big verandah at the front

All have a spacious veranda at the front, with a coffee table and comfortable lounging chairs. Behind this, large French-shutter doors open up into a large room with a polished stone floor and white-washed walls. Sumptuous fabrics cover the large comfortable beds, and mosquito nets hang from the ceilings. There are fans above the beds in the rooms – but Kinasi does not have air-conditioning.

All of the rooms are provided with drinking water, and there is a secure Zanzibari chest for locking away any valuables. In each room you will also find a thoughtful booklet explaining some of the history of the island and the lodge, and a listing all of the activities on offer with their prices.

At the back of the room, the en-suite bathroom is not vast, but relatively spacious. This is decorated with white-washed walls and rustic stone tiles – which makes them feel slightly kitsch, but adds quite a charming character.

Here you will find a sink, hot and cold shower and flush-toilet, as well as silk dressing gowns!

The water from the tap has been filtered and chlorinated – so is fine for brushing your teeth. But generally we would advise you to only drink bottled water in Africa, and this is provided in the bedroom.