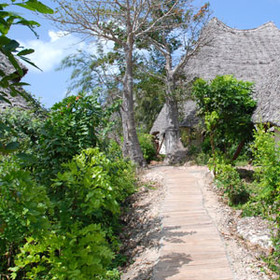 The Baobab and Sea View Villas...
Baobab or Seaview Villa
At Unguja Lodge there are two different suites and though they are almost the same in price and even in build – they have one key difference.
Sea-view villas
sit on a small coral shelf about 2m above the beach and all face out across the sea. They also have a small, locally-made sofa on a stone veranda in front, with a bright array of cushions from where you can enjoy the view. These rooms often get a lovely sea breeze, and do not have air-conditioning.
In contrast, the three
Boabab villas
are all set inland and face into a little small garden around a baobab tree. Though you sacrifice a sea view, you also gain a private plunge pool, which is perfect for those wanting a little solitude and don't want to lounge around the main pool. These rooms are air-conditioned.
Apart from these differences, the rooms are very much the same. Both are very large, detached villas with white-washed walls and a high makuti thatch roofs. Each villa has a main outside door, made from palm-tree wood, through which is a large open area, almost like an entrance hall. Curved walls act as partitions to create a toilet, which has a closed door for privacy, an open-sided shower room and an open lounge. Both of these areas face outwards, either across the sea, or into the private garden.
The oval lounge area has a bench (a "baraza" – Swahili for meeting place) which is moulded out of the wall and dotted with colourful cushions. This private spot is a great place to lounge around and read a book away from any other guests.
Then set slightly back within the villa – behind solid double palm-wood doors is the bedroom. This is a large, cool room which is very simply furnished. There is a large bed set right in the centre of the room, hanging space for clothes and a chair. Behind the bed you will also find twin sinks and a full-length mirror.
Above the bedroom, reached by a flight of stairs, is a loft space with a day bed. It can be quite atmospheric at night here with the sound of the waves and the sea breeze.
The bathroom is a simple, sparse, elegant space with walls and shelves to provide a large shower area and washbasin. Local toiletries, soft towels and kikoys and kangas are provided.
Baobab or Seaview Villa | Family Seaview Villa |