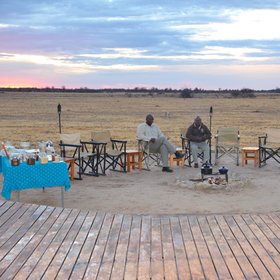 Nxai Pan overlooks an active waterhole in front of camp...
Chalet
The chalets at Nxai Pan Camp are linked to the main area by low raised walkways. Thick walls and specially selected building materials, together with an overhead fan, help to keep them cool in summer and warm in winter.

Inside, the chalets are wide, airy and spacious. Although the lighting is quite poor, this is offset a little by light-coloured wood and white-washed floor boards.

At one end of each chalet is a sitting area and writing desk. The oversize double or twin beds face out through sliding doors with full-length gauze screens onto a wooden deck, most with good views of the permanent waterhole in front of the camp.

On the opposite end is an en-suite bathroom with a separate flushing toilet, double hand basins, and both indoor and outdoor showers.

Separating the bathroom from the bedroom area is a wall which incorporates shelves and hanging space for clothes, as well as a safe.

One of the chalets is a family unit, with an additional twin-bedded room leading off the main bedroom. The unit features the same facilities as the other chalets but note that there is one shared bathroom for the whole family.