With ideas from Expert Africa for tailor-made safaris.
Safaris in northern Kenya are for adventure lovers and escapists. This is a remote part of the world and there are few places to stay, let alone good lodges and camps. The rewards, if you include a northern lodge on your itinerary can be memorable. Guests at Sasaab can participate in the "singing wells" tradition maintained by local herders who haul water for their beasts from deep below the surface. And if you're a guest at Desert Rose, in Samburu-land, you can choose to spend a day during your stay making a 4x4 trip far through the northern deserts to the shores of Lake Turkana - with as many encounters with local people (and some huge crocodiles) as you could wish for.
Sort by:
Name


|
Duration


|
Group or individual trip


|
Cost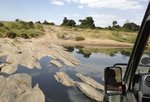 De Brazza Monkey Fly-in Safari
|
8 days
|
Individual trip

US$8,222-11,125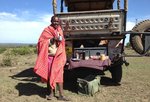 Lanner Falcon Fly-In Safari
|
8 days
|
Individual trip

US$6,048-8,059
This intimate fly-in safari features three sister camps across northern Kenya and the Maasai Mara ecosystem. Saruni Samburu, Saruni Rhino and Saruni Wild are all located within private conservancies, boasting remote wilderness and considerably exclusive game-viewing.
More about Lanner Falcon Fly-In Safari