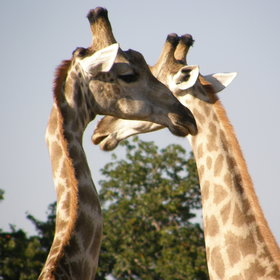 Chobe National Park is easily reached by a day trip from Livingstone.
Chobe Day Trip
Botswana's
Chobe National Park
makes a superb day trip from Livingstone or Victoria Falls. Although Mosi-oa-Tunya and Victoria Falls Parks, in Zambia and Zimbabwe respectively, offer some limited game viewing, it doesn't have the space or the wildlife to offer the same safari experience as southern Africa's larger parks. With Chobe National Park less than two hours away, including border formalities, a day trip to one of Botswana's top wildlife destinations is a real opportunity.
The Details
You will be picked up from your hotel at around 7.00am and transferred by road to the border post (about 45 minutes). Here you will clear customs, a process that normally around half an hour, before heading off to Chobe National Park – where you should arrive at around 9.00am.
Chobe covers a vast 11,700km
2
of the northern Kalahari, but your day will be focused on the Chobe Riverfront, in the north of the park. This area has long been renowned for its wildlife; lions are common and nonchalant, the antelope prolific, and the herds of buffalo and elephant among the largest anywhere. The birdlife is also excellent, from the ubiquitous fish eagle to myriad herons and waders. The amazing fishing skills of the African skimmer is one of the real highlights on the river!
Your safari will start with a leisurely three-hour game-viewing cruise on the Chobe River, with soft drinks and water provided. As well as the birdlife, you'll often spot hippo and crocodile along the way, as well as elephant and various antelope species. At around 12.30pm, you will be taken to one of the riverbank hotels for lunch, before boarding a 4x4 safari vehicle for a guided game drive in the park. This offers the best opportunity to seek out other wildlife, from prey to predators, as well as to get a real feel for the beauty of the environment.
Following your safari, you will be back at the border post at approximately 5.00pm, arriving back at your hotel at around 6.00pm.
The overall duration of the trip is around 11 hours, giving you a good seven hours to enjoy the park and it's environments. However, do bear in mind that with the necessary transfers to and from the park you will arrive in Chobe after the best of the morning's game viewing is finished, and leave before the afternoon cools down sufficiently for most of the game to reappear. If budget and time allow, staying one or two nights at a lodge in the Chobe area would allow you to take full advantage of the game viewing in the area. If your itinerary doesn't allow for this, then a day trip is still a superb way to see this fantastic park.
Start location/time:
You will be collected from your hotel at 7.00am, starting your safari in Chobe at around 9.00am.
Duration of excursion:
This is a full-day excursion lasting around 11 hours, including lunch at a riverside hotel.
End location:
Your excursion will end back at your hotel.
Maximum size of group:
This is a shared group excursion, and can be booked for a maximum of ten people.
Meals included:
Lunch at a riverbank hotel; soft drinks and water during your excursions.
Please note
:
Expert Africa
only books excursions as a part of a full,
Expert Africa
itinerary.