Overview: Livingstone Island & Devil's Pool
Livingstone Island, named after the famous explorer who first saw the 'smoke that thunders' from this small section of land, is technically within Zambia's borders but when viewed from above the island can be seen to sit near the centre of the falls, almost hanging over the edge of a 100m drop as the Zambezi River flows past before plummeting into the gorge below. There's no other vantage point that gets you so close to the thundering water and immense spray kicked up by one of the world's largest waterfalls.
Guided tours to the island are run by
Tongabezi Lodge
five times a day, but can easily be booked no matter where you are staying. You will depart from the town of Livingstone in a twin-engine boat, weaving you way past the islets and through the rapids of the Zambezi River. Once you reach Livingstone Island you will be given a guided tour, learning about the ancient history of the site and it's past role as a sacrificial area, through to it's modern day designation as a World Heritage site. Depending on the time of your tour you will also have a full lunch or high tea prepared by a team from the luxury
Tongabezi Lodge
.
If the water levels are low enough you will also have a chance to take a dip in
Devil's Pool
, a natural infinity pool perched on the crest of the waterfall. If you're brave enough to take a dip in here you'll feel the Zambezi flowing around you moments before plummeting over the edge while a rock wall stops any chance of you being swept over yourself. You can even take a peek over the edge to the bottom of the Batoka Gorge below.
Availability:
The availability of Livingstone Island and Devil's Pool depend heavily on the level of the Zambezi River, and therefore the rains in a given year. Normally though Livingstone Island is available from late-June to early-March, and Devil's Pool from late-August to early-January. This is a popular activity, especially when Devil's Pool is available, so we strongly suggest booking in advance.
Please note
:
Expert Africa
only books excursions as a part of a full,
Expert Africa
itinerary.
Start location

Any of Expert Africa's hotels or lodges in the vicinity of Livingstone

End location

Back at your hotel

Meals included

Lunch, high tea or snacks - depending on tour booked

Duration

Three hours

Maximum group size

24 people
Photo gallery
What to look forward to.
---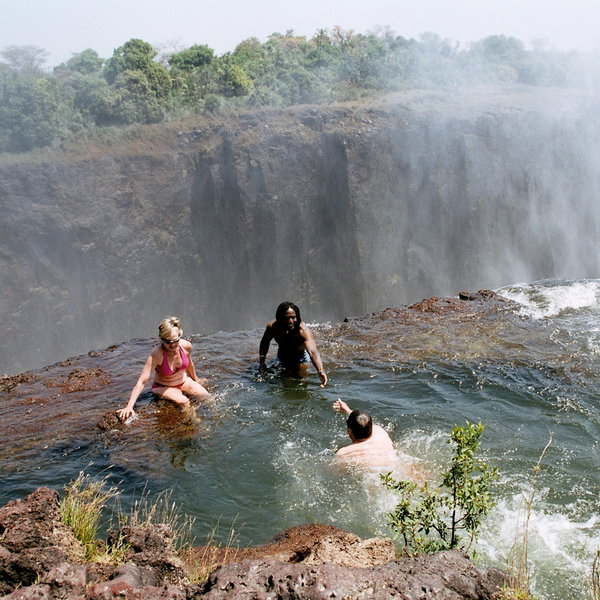 Livingstone Island & Devil's Pool reviews
73 independent first-hand comments from our travellers.
---
Ideas for holidays which can include Livingstone Island & Devil's Pool
Add this experience to these trip ideas or contact us to start planning your own tailor-made safari to Zambia.
---
Other excursions in Zambia
Inspiration and great ideas for other experiences in Zambia to include in your safari.
---
Zambia fact file
Useful information to help you prepare for your trip in Zambia
---