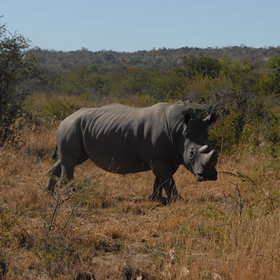 Zambia's Mosi Oa Tunya National Park is home to a small population of white rhino.
Rhino Walk
The rhino walk itself lasts about three hours, and is led by a guide and an armed ZAWA scout. A full safety briefing is given before you set out.
To avoid walking in the heat, you will be picked up from your hotel in Livingstone in the early morning and transferred to the Mosi-oa-Tunya National Park; the transfer takes about 15–20 minutes.
At around the same time, trackers will set off to locate the rhinos, helping your guide to lead you in the right direction – though do bear in mind that it can't be guaranteed you'll be able to find these large yet surprisingly well-camouflaged animals.
When you set out in search of rhino, you'll be walking at a leisurely pace set by members of the group, and can stop as often as you like. You won't be moving the whole time, though; most of the time, you'll be quietly observing the wildlife and listening or talking to your guide.
Once you have located the rhinos you can often get incredibly close; on our last visit we came within 20m of these endangered animals. A truly humbling experience.
When there is no large game to see, the guide will explain about the flora and fauna, pointing out the spoor of various animals, and plants that are used by local people, perhaps as natural remedies.
Throughout the rhino walk, cold water will be available, and when you are about half way, the guide will look for a suitable spot where you can enjoy fresh lemonade, cakes and cookies.
After the walk, you'll be transferred back to your accommodation in Livingstone, well in time for lunch.
Safety briefing
At the park gate, your guide will give you a full safety briefing on what you can expect to see, what to do to get the most out of the walk, and how to stay safe on the walk. During this briefing, you'll be served coffee or tea with a fresh muffin, as you may have missed breakfast because of the early start.
What to wear
You will be walking through the bush, often over uneven ground and through the vegetation, so don't forget to wear suitable walking shoes, a hat, and bush-friendly attire.
Start location/time:
The trip starts from your accommodation in Livingstone; pick up is in the early morning at around 6.30–7.00am.
Duration of excursion:
The rhino walk is a morning excursion which usually takes about 4–4.5 hours, including transfers.
End location:
The excursion ends at your accommodation in Livingstone.
Maximum size of group:
Eight people per group. Two groups are allowed to walk at the same time, but they must remain separate.
Meals included:
Drinks and snacks
Guides:
All guides have National Parks Professional Tour Guides Licences and years of experience guiding walking safaris in Mosi-oa-Tunya National Park. They have broad knowledge of the large variety of mammals in the park, and of the prolific bird and insect life. Each group is also accompanied by an armed escort scout from the Zambia Wildlife Authority (ZAWA).
Please note
:
Expert Africa
only books excursions as a part of a full,
Expert Africa
itinerary.