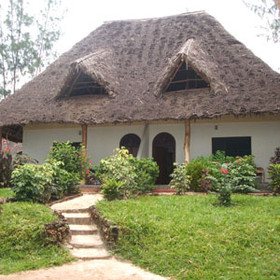 Pongwe Beach Lodge has 14 cottage rooms, each with a high thatched roof…
Cottage rooms
All the standard
cottage rooms
at Pongwe Beach Hotel have very similar interiors and only really differ in their distance from the beach and slightly in size. All the rooms can be doubles, twins or triples, and three rooms can take up to four beds at a squeeze. Note that an additional single bed is added, so for example a twin room will be a double bed and a single bed.
The rooms are relatively simple, with stone floors and whitewashed walls. However, they are perfectly comfortable and cool. Each has a large Zanzibari bed, decorated with beautiful flowers every day and draped in mosquito netting. There is a locally-made open wardrobe and a table and chairs. At the front you'll find a few loungers or a hammock on your veranda which stays nicely shaded throughout the heat of the day. Rooms #1 and 2 have large, louvred doors that open onto the deck. Rooms #5, 6 and 7 are the so-called garden rooms, set back a few metres from the beach.
The rooms at Pongwe Beach Hotel have fans above the beds. Although there is no air-conditioning, they remain reasonably cool throughout the day, because of the thick Swahili ceiling well below the thatch that absorbs all the heat.
The en-suite bathrooms all have hot showers, flush toilets and modern basins and they have recently been nicely decorated and somewhat improved, having been previously been rather functional. The water here is always hot, thanks to an immersion heater and although it's filtered, it is slightly brackish.
Cottage rooms | Seaview Suites |