Pongwe Beach Hotel: Our full report
Nestled between two outcrops of coral rock and on a secluded stretch of white-powdery beach, Pongwe Beach ...
... Hotel was opened in 2001 and has gone through various upgrades since. It's a quiet, simple and great-value little lodge on a sheltered cove, dotted with palm trees, hammocks and sun loungers. At high tide the water cuts Pongwe's stretch of beach off from the rest of the east coast, while at low tide you can walk around to nearby coves, including to the immediate neighbour to the north, Tulia.

The main communal area at Pongwe Beach Lodge is not overly exciting: the open-sided thatched space is large, and since the hotel only has 20 rooms, it can feel a bit cavernous and lacks some of the atmosphere you may find in other lodges if there are few guests staying. That said, it is cool and breezy during the day which can be a welcome relief from the sun, and when there's a full house it lacks nothing for atmosphere. While the lounge is simply decorated with white walls, the bright cushions help to inject a splash of colour.

The hotel attracts a low-key, fun-loving, crowd from all over the world. A large and stylish infinity pool surrounded by wooden decking is a welcome addition in the past few years, and is great for relaxing to catch some sun and enjoy the stunning views (however take care when using the pool as there are no depth markings). There is a second small lounge here, allowing you to relax by the pool with a drink in hand. The infinity pool overlooks a picturesque white sandy beach, fringed with palm trees. Dotted between the trees are a number of hammocks, while pairs of sun loungers and makuti thatch umbrellas sit on the soft sand. Due to its location the beach is completely cut off at high tide, and you are unlikely to see many other people strolling along the coastline.

When we last stayed at Pongwe we thought the food here was very good. There is plenty of variety at Pongwe and they can be very flexible, if you have any particular preferences or dislikes they will try to cater for you.

Pongwe's 20, whitewashed cottage rooms are all simple and bright – nothing over-the-top, but comfortable and airy. The facilities and interiors in all of the rooms are all much the same – with a very large Zanzibari bed draped in mosquito netting, ceiling fan, a wardrobe, a table and armchairs. Evening Breeze cooling system has recently been installed over the double beds for use on hotter nights. Towels, kangas and drinking water are provided and little touches such as fresh flowers make the rooms welcoming. There is subtle variation between the rooms, for instance in some the walls are decorated in stucco work where as others are a little more plain. Outside, there are loungers or a hammock in the shade of your veranda. All the rooms can be set up as doubles and triples. Starting from main bar-restaurant and lounge area, the rooms are set out southwards along the beach.

The distance from the sea differs slightly. The beachfront rooms (#1-4 and #8–14) are right behind the beach and have a slightly higher price tag. The three garden rooms (#5–7) are nestled further back in Pongwe's tropical grounds, and don't have a direct sea view. Pongwe also recently added four new Seaview rooms (#17-20) to the north of the central areas of the hotel, which are the best of the lot: they're slightly more spacious and private, and they also have private plunge pools and are the closest of the Pongwe's rooms to the main swimming pool.

There is also a family bungalow at the southern end of the property, which has two interlinking rooms (#15–16) sharing a bathroom, one with two single beds and the other with a double bed.

The en-suite bathrooms are functional rather than stylish, but all have hot showers and flush toilets. The water here is always hot, thanks to an immersion heater and although it's filtered, it is slightly brackish.

Besides relaxing on the beach there are a number of activities on offer at Pongwe. Kayaks and paddleboards are freely available for guests to use, and Pongwe can also arrange a number of excursions such as diving and snorkeling to the reefs around Mnemba Island or visits to Jozani Forest in Zanzibar's interior. While it is possible to go on a full-day excursion to Stone Town and the spice plantations, these are around an hour's drive from the hotel, and are more easily explored while staying in Stone Town.
Our view
Pongwe is a simple lodge, which in't overly luxurious. However its excellent location, beautiful beach, friendly service and good food make it superb value. We love this place and it will always come near the top of our choices in this part of the island – a relaxed and peaceful beach getaway at a very good price.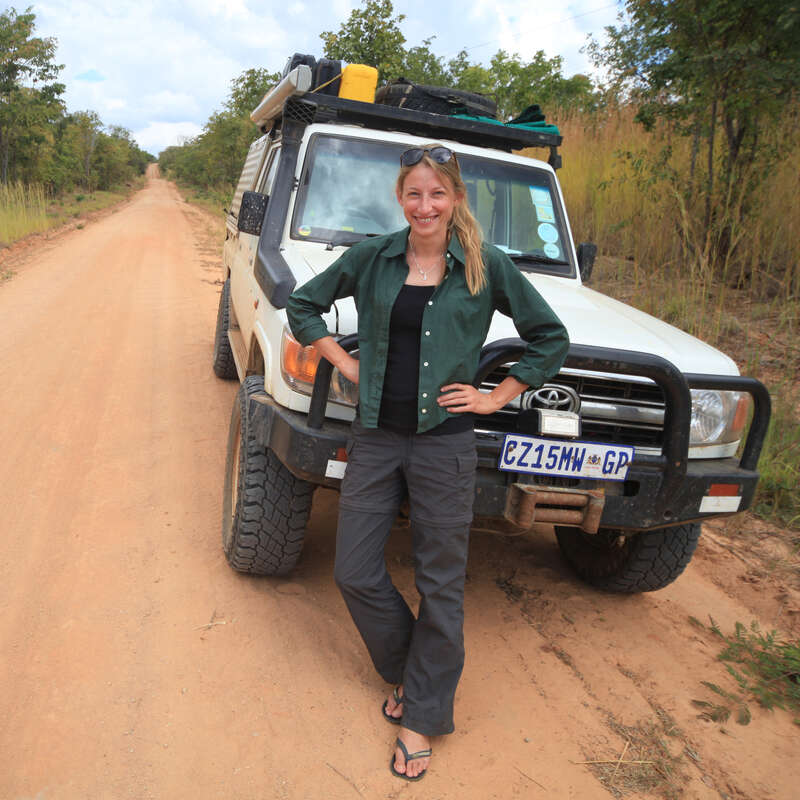 Geographics
Location

Ideal length of stay

4 nights – or even longer if you love relaxing on a beautiful beach

Directions

It takes around 35 minutes to fly to Zanzibar from Dar es Salaam, and then then it is a further one hour by car to Pongwe.

Accessible by

Fly-and-Transfer
Food & drink
Usual board basis

Half Board

Food quality

Breakfast is served at Pongwe Beach Hotel from around 7.30am until 10.30am and usually consists of locally grown fresh fruit and a cooked breakfast with eggs of your choice. If you have a very early morning departure the hotel can arrange a packed breakfast for you.

An a la carte menu, which changes daily, is available for lunch and is served between 12.30pm and 3pm. This normally has two choices for the starter and main courses. There is also a snack menu with a selection of sandwiches and light bites.

There is a complimentary tea and coffee station on offer throughout the day, and freshly baked treats and tropical fruit are provided at various intervals!

Then dinner is a 3-course set menu, being served from around 7.00 until 9.00pm. Specials often include fresh fish, based on the catch of the day or fresh Kenyan steaks. They put up the dinner menu at 9am each morning so if you have any special requests about the meal or don't like it, they will endeavour to be as flexible as possible.

Pongwe always uses fresh and locally sourced ingredients. When we last visited Pongwe Beach Hotel in 2019 we really enjoyed the food - an impressive seafood platter followed by a passion fruit panacotta. On a previous stay, they did a tasty Swahili buffet one night, including ugali, breadfruit, plantain, grilled chicken and tuna skewers. There was a dessert of a chilled half coconut filled with fruit salad and ice cream.

Dining style

Individual Tables

Dining locations

Indoor Dining

Further dining info, including room service

Pongwe do not offer room service, unless it is because someone is not feeling well and cannot come to the main dining area.

Drinks included

Drinks are not included. You can expect to pay around US$4 for a beer, US$2 for a Coke and US$30 for a bottle of wine. Settle your bills on departure.
Special interests
Family holidays

The simple Pongwe is a great-value hotel for family beach holidays to Zanzibar, especially with independent children who can keep themselves entertained on the secluded sandy beach. Pongwe gives great discounts for children.
See ideas for Family holidays

Honeymoons

Pongwe is a popular spot for honeymooners who want a simple and laid-back atmosphere. Relax by the infinity pool, go for romantic strolls, or enjoy the sunshine and white sand. Pongwe offers a good value and unforgettable honeymoon to Zanzibar.
See ideas for Honeymoons

Beach holidays

Pongwe has one of the best beaches we have ever seen in Zanzibar. When the tide is high, Pongwe sits in a private cove. Then when it goes out, a wonderful stretch of inter-tidal zone is revealed for walking and exploring.
See ideas for Beach holidays
Children
Attitude towards children

Pongwe Beach Hotel happily welcomes children.

Property's age restrictions

There are no age restrictions at Pongwe Beach Hotel, however under-4s stay free of charge.

Special activities & services

Pongwe does not organize any special activities or clubs for children - those that stay here should be happy to entertain themselves on the beach.

Equipment

There are cots and highchairs at Pongwe Beach Hotel.


Generally recommended for children

Yes

Notes

Children are warmly welcomed at Pongwe Beach Hotel – there are cots and highchairs readily available and great children's discounts and staff from housekeeping can babysit if parents want some time to themselves in the dining/lounge area. However parents should be aware that children are their responsibility for the duration of their stay.
Communications
Power supply notes

Back-up generator.

Communications

Pongwe Beach Hotel has a laptop at reception that guests can use free of charge to connect to the internet. There is also Wi-Fi throughout the lodge, which you can use free of charge if you have your own device. Cellphone reception ranges from good (Zantel) to almost non-existent (Vodacom)

TV & radio

There is no TV for guests, though guests are very welcome to join the staff in their staff house.


Water supply

Borehole

Water supply notes

A half-litre bottle of drinking water per guest per day is provided free of charge. That isn't very much, so you need to be prepared to pay for the 4 or 5 litres of water per day that you should be consuming. The tap water at Pongwe can be a little brackish, however fresh water is used for any laundry.
Health & safety
Malarial protection recommended

Yes

Medical care

For minor illnesses and injuries there is a first-aid kit at Pongwe Beach Hotel, though for more serious cases there is a good local doctor at Kiwengwa who can be called out.



Quadbike warning: quad-biking is sometimes available as an activity from in this area. As with any potentially dangerous activity, it's vital that you take responsibility for ensuring that you have adequate travel insurance prior to getting involved. Be aware that some insurances cover quad-bike activities only for bikes with lower engine ratings: check such clauses particularly carefully before you get on a bike.

Dangerous animals

Low Risk

Security measures

Pongwe has an alarm at the gate, and askaris on duty here 24/7. There is also security around Pongwe and the surrounding beach throughout the day and night. There are no safes in the rooms but guests can leave valuables in the main office safe if they wish.

Fire safety

Pongwe Beach Hotel has fire extinguishers in the kitchen and reception. Fire extinguishers are also located between the rooms. The hotel has an annual fire-training day.
Activities
Birdwatching

Boat trip

Kayaking

Scuba-diving

Snorkelling

Watersports
Extras
Disabled access

Not Possible

Laundry facilities

There is an extra charge for the laundry – around US$1-2 per item. Clothes are machine washed and usually returned within 24hours. clothes are machine-washed.

Money

There are not really any currency exchange facilities at Pongwe Beach Hotel

Accepted payment on location

At Pongwe Beach Hotel, you can pay for any extra charges in most major currencies including US dollars, TSH, GBP and Euro. Or using Visa / Mastercard (there is a 5% surcharge for using card).
Room types at Pongwe Beach Hotel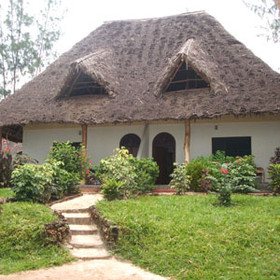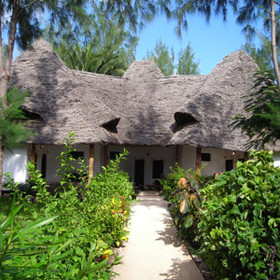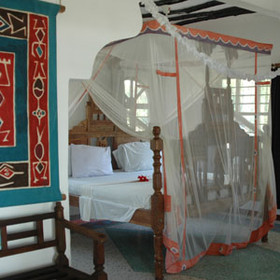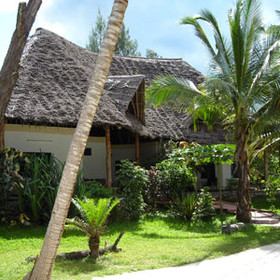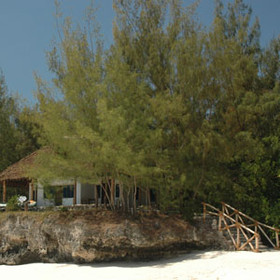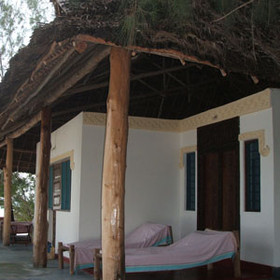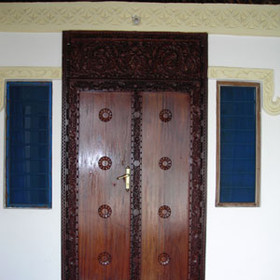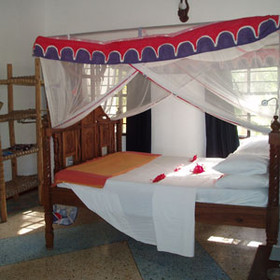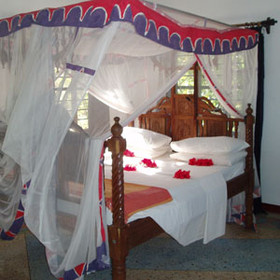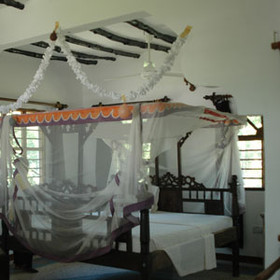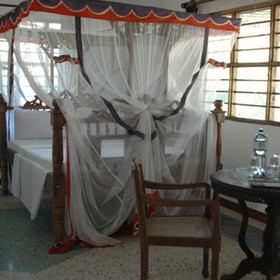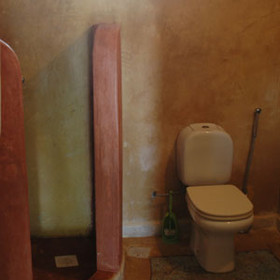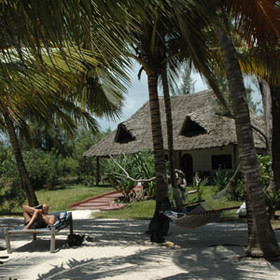 Cottage rooms
All the standard cottage rooms at Pongwe Beach Hotel have very similar interiors and only really differ in their distance from the beach and slightly in size. All the rooms can be doubles, twins or triples, and three rooms can take up to four beds at a squeeze. Note that an additional single bed is added, so for example a twin room will be a double bed and a single bed.

The rooms are relatively simple, with stone floors and whitewashed walls. However, they are perfectly comfortable and cool. Each has a large Zanzibari bed, decorated with beautiful flowers every day and draped in mosquito netting. There is a locally-made open wardrobe and a table and chairs. At the front you'll find a few loungers or a hammock on your veranda which stays nicely shaded throughout the heat of the day. Rooms #1 and 2 have large, louvred doors that open onto the deck. Rooms #5, 6 and 7 are the so-called garden rooms, set back a few metres from the beach.

The rooms at Pongwe Beach Hotel have fans above the beds. Although there is no air-conditioning, they remain reasonably cool throughout the day, because of the thick Swahili ceiling well below the thatch that absorbs all the heat.

The en-suite bathrooms all have hot showers, flush toilets and modern basins and they have recently been nicely decorated and somewhat improved, having been previously been rather functional. The water here is always hot, thanks to an immersion heater and although it's filtered, it is slightly brackish.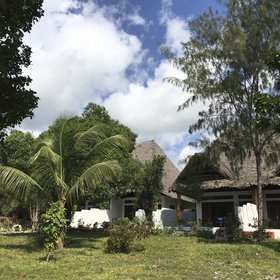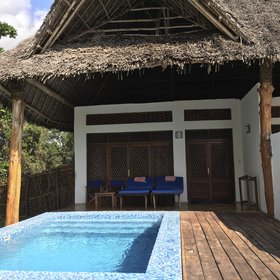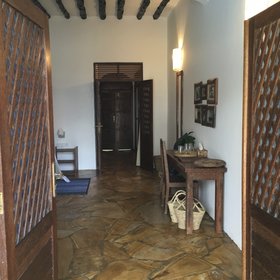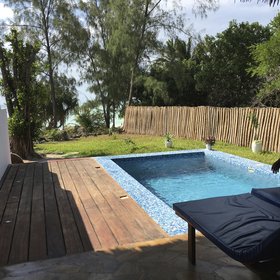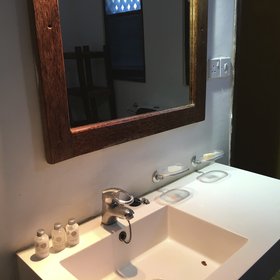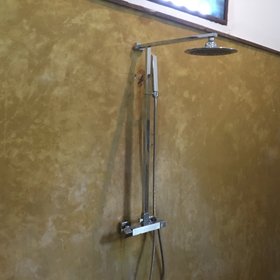 Seaview Suites
The relatively new seaview suites are much fancier than Pongwe's standard rooms, incorporating Zanzibari double beds (they can only be set up as doubles) with full-height mosquito netting fans, very spacious wardrobes and slick en-suite bathrooms. Though it's as well to reminder that the water supply is briny: while it's treated and fine for washing, it requires a bit of vigorous towelling to remove the slightly sticky residue. On the other hand, this is almost paradise, so why worry about salty water?

Outside, each suite has a sizable, private plunge pool and there are recliners and hammocks on the private terrace.

These suites are the rooms at Pongwe that we normally recommend to honeymooners, and while they might not have quite as much character as some of the older rooms close to the lounge and dining area, we think the extra luxury and great value they offer more than compensate for that.

Other lodges in East Coast Zanzibar
Alternative places to stay in this same area.
---