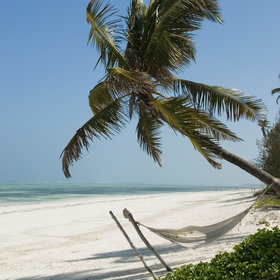 Breezes Beach Club occupies a lovely stretch of beach along the Michamvi Peninsula.
Standard Room
All of the rooms at Breezes Beach Club are similar in terms of size and interior décor, however the Standard rooms are set further away from the sea front. They sit on the ground floor of two-storey cottages, in beautifully sculptured gardens; each has access to its own private veranda.
Each of the spacious rooms has a comfortable double bed draped in mosquito netting, cream tiled floors and local Zanzibari furnishings. Air-con keeps the rooms nice and cool and there is also a safe box, hairdryer and refrigerator. Any of the rooms at Breezes can be made into triples by using the large comfortable sofa as an extra bed.
Little touches such as fresh flowers dotted around the room, natural fibres and fabrics and also no TV or radio – make the rooms welcoming and peaceful.
The en-suite bathrooms at Breezes Beach Club are a continuation of the rooms in style, with cream tiled floors, and cream walls. They are spacious and spotlessly clean with a flush toilet, sink and a hot-and-cold shower.
For an aerial picture of the different rooms, then look at the
satellite map
of Breezes Beach Club. The Standard Rooms are in the five cottages, which sit in a row set right back from the sea (in the far left of the picture).
Deluxe Room | Standard Room | Suite |