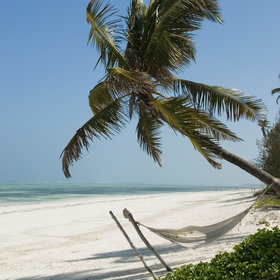 Breezes Beach Club occupies a lovely stretch of beach along the Michamvi Peninsula.
Suite
The Suites at Breezes Beach Club differ from the other rooms by being located on the upper floor of the two-storey cottages (above the
Deluxe Rooms
.). Each of the Suites has an extensive balcony with plenty of space and the balconies are separated from the next door room by a wooden partition. Honeymooners can even request to have their bed put out on the veranda for a night under the stars.
The bedroom in each Suite at Breezes Beach Club is the same as the bedrooms in the
Deluxe Rooms
and
Standard Rooms
. They are spacious and bright with cream tiled floors and local Zanzibari furnishings. There is a comfortable double bed draped in mosquito netting, a safe box and refrigerator and air-con keeps the rooms nice and cool. Any of the rooms at Breezes can be made into triples by using the large comfortable sofa as an extra bed. They also have a walk-in dressing room.
All use cool colours with natural fibres and fabrics, as well as welcoming touches like fresh flowers dotted around the rooms. They are very peaceful, which is enhanced by Breezes policy of having no phones or TVs in any of the rooms – you are here to relax and enjoy the peace and quiet!
The bathrooms in the Suites at Breezes Beach Club are much larger than the Standard Rooms, though they are very similar in style and design with cream tiled floors, and cream walls. They are spotlessly clean with a flush toilet, sink and a hot-and-cold shower.
For an aerial picture of the different rooms, then look at the
satellite map
of Breezes Beach Club. The Suites are on the upper-level in the red terracotta-roofed cottages spread through the gardens toward the sea.
Deluxe Room | Standard Room | Suite |