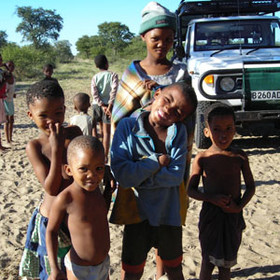 The children at the Bushman village enjoy meeting visitors.
Bushman Village
Beside Edo's conservancy is a cattle farm. Some years ago, the owner of this farm employed a Bushman (or San), and he agreed that the young man's family could move onto his land and live there. The resulting village became known as Xharo's post, after the name of the village elder, Xharo.

Since then, the children of the village have grown up and spread across Botswana to live and work. However, Xharo and his wife take in the grandchildren, to look after them at the village. At any one time there might be between five and fifteen children at the village along with two or three other adults, usually family friends or relatives.

There have been many changes to Bushman culture and way of life over the years as they have adapted to the westernisation of the world around them. Some of these changes are apparent at Xharo's post, where in place of the traditional, temporary grass shelters, the family's huts are permanent, and built of wood and mud. In keeping with tradition, the family still sleep on blankets under the stars in their 'courtyard'; they will only sleep inside if it rains.

It is this 'modern' way of life that you will experience when you visit Xharo's Post. This is not a show village. You are joining this family as they go about one of their usual gathering sorties. The level of enjoyment you get out of this visit depends on you. The more you let your inhibitions go, and get stuck in, the more the family will respond to you. They are very happy, light-hearted people and do not understand why someone might be reserved or nervous.

Your activity with the family begins with a visit to the village. There is always much excitement and chatter when you arrive and during the greeting process. The family love having their photograph taken – especially if they can then see the photo on a digital camera – and you will find that wherever you point your camera members of the family will quickly gather to pose for you. (Don't expect people in loincloths here; most wear T-shirts and jeans, in various states of repair.)

After some time at the village, you will return to the vehicle joined by Xharo, his wife and often one or two other ladies from the village. The drive will take about ten minutes, or however long it takes to arrive at the spot where Xharo would like to do some 'gathering' today. In early visits to the village, gathering used to be done within walking distance but Stephan and the bushmen soon realised that this depleted the natural stocks in the area. Driving to a new area each time allows the family to gather fresh ingredients whilst the bush surrounding their village has time to regenerate.

Once you reach a suitable area you will spend 1½- to 2-hours following the bushmen through the bush as they gather food. Language is not considered a barrier by the bushmen and they are keen to explain their findings or tell a story regardless of whether or not you understand them. Stephan and his nephew, your guides, are both fluent in the melodious, click-filled (Khoisan) language of Moloko. Their translations, together with the family's use of sign language, are a huge help in understanding what is being said. We found this resulted in some very interesting conversations – and enjoyed it immensely!

On these gathering excursions they are not only gathering tubas and herbs for food, they are also looking for roots, berries and leaves with medicinal properties. Xharo and his wife are viewed as the local experts in traditional Bushman medicines, and people from the surrounding villages and cattle posts often visit for advice and treatment. On your visit you will find the bush a fascinating classroom as you watch, learn and taste.

When the gathering sortie is over, you will return to the village to drop off Xharo and the other family members before returning to camp.

Occasionally, the family will have made ostrich eggshell jewelry, seed necklaces or bracelets for you to buy. These souvenirs are not always available as they will only be made when the family needs money. If they have all they need or have recently sold some necklaces they will not make any more until they feel they need to.

Having spent a full morning with the family, we were very impressed indeed with the relationship between the team at Edo's and the family. The Bushman do tend to have a completely different perspective on life – and that's partially why visiting them is fascinating.

At the same time, you can rest assured that Edo's Camp is not just parading people around as an 'attraction'. It's the permanent employer of several of the Bushmen (one was one of our trackers), and they help the whole family group with things like transport and access to supplies. It seems to us to be a very good relationship indeed, and hence we're happy to support this project.