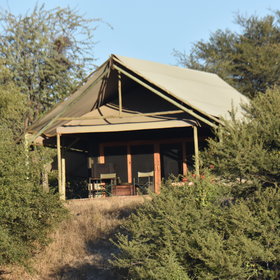 Meno A Kwena is a great old style safari camp...
Small Meru tent
Situated inside your kraal, your
Meru-tent
is about 4m x 4m in size, and set up on a concrete platform that is twice this size. The front area is partly covered as a porch, where canvas director's chairs allow you to relax overlooking the bed of the Boteti River.
Inside the tent you find twin beds parted by a central rug and a bedside table. (Two of Meno A Kwena's tents - Tent 1 and Tent 8 – have double beds instead of twin beds.) Comfortable bedding, blankets and rugs are made up with colourful but muted prints – reds, browns and blues that fit in well with the environment. A 12V battery-powered reading lamp, torch, insect repellent and drinking water are included in each tent. The tent has eight windows and a zip-up door.
A canvas wash-basin and a jug of water are set up with a small mirror and a table outside each tent, to help you freshen up during the day and prepare for bed at night. A flask of safe borehole water is provided for you to brush your teeth.
Escorted back to your tent at night, you'll find your kraal lit by the romantic light of paraffin lanterns – usually one in the toilet, one beside your washing basin outside the tent, and one on the bed-side table – which you can then blow out for safety!
Although there are no mosquito nets in the rooms, there is mosquito netting covering each of the tent windows. Bug spray and repellent is available in each room, on game drive vehicles and in the main area.
The
private bucket shower
differs for each kraal. However, each is surrounded by reed and stone walls and offers a view over the surrounding bush or riverbed. Two slated wooden floor platforms keep your feet clean whilst showering and towels are provided along with soap and a mirror. The bucket is filled each time a shower is requested. A natural water heating system using the solar power is planned and will soon be trialed which will mean showers don't have to be requested and can be taken any time.
The
toilet
room is surrounded by a concrete wall with a thatched roof and includes a flush toilet. Each toilet is different and has been decked out with pictures, bones, flotsam and artifacts. They honeymoon tent has a toilet with a view.
Small Meru tent | Water for life project |