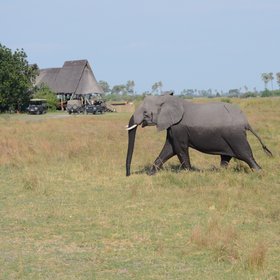 Selinda Camp is situated in the Selinda Concession in the far north of Botswana.
Selinda Camp: Our full report
Rooms
9 tented chalets, including 1 family unit
Traveller's rating

(96%) From
66 reviews
Children
Best for 12+
Open
All year
The upmarket Selinda Camp is situated in the 1,350km 2 Selinda Reserve in northern Botswana, which incorporates game-rich floodplains, the Zibalianja Lagoon and the Selinda Spillway. There's long been a camp here and its focus has always been big game safaris in the dry country of the Spillway. Now it's part-owned by famous photographers, and so has a strong accent on the art of photography.

Partly owned by renowned film-makers Dereck and Beverly Joubert, the Selinda Reserve has been made famous in their films for National Geographic. Wide, dry grasslands, dotted with waterholes and interspersed with palm-fringed 'islands' and stands of leadwood trees, cover the area as far as the eye can see. It's a picturesque, open environment and guests can spot game a long way off. It's perfect for following predators like wild dogs on hunting sorties.

Selinda Camp shares the reserve with its sister camps, the relatively simple Selinda Explorers, and the opulent Zarafa Camp. It overlooks the Selinda – or Magwegqana – Spillway, a vital ancient watercourse linking the Okavango Delta to the Kwando–Linyanti River drainage system. Although dry for decades, the spillway has flowed annually since a particularly good rainy season in 2006.

The main area at Selinda Camp is spread across one vast, open-plan central area with panoramic views across the surrounding channels and floodplains. Constructed of wood and thatch, it has a lovely viewing deck and relaxing lounge area, with plenty of comfy sofas. The décor and design are influenced by a variety of African cultures, combining West African carvings, a heavy Zanzibar-style door frame and objects made from old mekoro. Many of these objects feature paintings by the late Keith Joubert – artist and brother to Dereck.

The furniture comprises a mixture of dark leather sofas and stained teak tables and chairs. Unusual semi-circular tables in the dining area are pushed together in the evenings to form a large circular dining table, which we think is a very sociable way to dine.

Another sociable spot is Selinda's firepit area, where breakfast is served around the fire before your early-morning game drive. The camp also has a lovely pool, built on a deck leading off the main area and overlooking the spillway. There are comfortable sunloungers surrounding the pool for relaxing in between activities.

A short, sandy path from the main area leads to a large and well-stocked curio shop, and beneath is a gallery showcasing Beverly Joubert's impressive photographic work. Should guests wish to buy copies, the camp can organise for these to be shipped anywhere in the world. Also in the gallery you'll find a coffee machine, a small library of reference books and a computer to download photos, or possibly watch one of the Jouberts' films.

Sought after during the heat of the day is the camp's submerged wine cellar, where a large stock of everything from house wines to premium champagnes are kept cool. Guests are encouraged to select wines they would prefer with dinner and Selinda also occasionally holds wine tastings.

Reached along a sandy and well-lit path, Selinda Camp's nine tented chalets are constructed of dark wood, with canvas walls under canvas-and-thatch roofs. Steps lead up to a deck with two chairs and a table, and picturesque views over the floodplain.

The chalets are entered through sliding doors at the front, with hook-latches to keep them closed. Inside, both the bedroom and bathroom are fully enclosed and insect-proofed by a mixture of canvas and mesh; it's quite cleverly designed and lets in lots of light, which offsets the dark wood of the furniture and wooden floor. Each room is dominated by twin beds, or a double, under a large walk-in mosquito net, with a fan above that gives a fairly good airflow through the netting. One of the chalets has two bedrooms, so works well for families.

Each of Selinda's chalets has two very comfortable rattan chairs, and a desk topped with miniature decanters of port and sherry, along with ice and filtered water. There's a tea and coffee caddy, too, and a Thermos of hot water is brought to the room nightly or on request. Plug sockets enable guests to charge cameras and other electrical equipment; mosquito repellent and bug spray are provided; and mosquito coils are lit nightly by the staff.

More personal touches come in the form of beaded decoration on the mosquito nets, watercolour paints and paper, reference books and Swarovski binoculars. For those wanting a gentle workout, there's also a yoga mat, resistance band and weights, and we were told that a rowing machine and an exercise bike can be brought to your room on request.

Somewhat hidden behind the bed by a partition are a washstand with twin basins and a long mirror, a sturdy wrought-iron luggage rack and a large teak wardrobe with ample storage space. But the main en-suite bathroom is secreted behind double, sliding doors, and is truly spectacular. The centrepiece is a large, stand-alone, egg-shaped bath, with a brass towel rail. In one corner is an open, powerful shower; in the other is a flush toilet, with a wooden wall built next to it for privacy. Hot and cold water are on tap, and various complimentary toiletries are supplied, along with white waffle-weave dressing gowns and matching slippers. The bathroom feels almost as though it is open to the air, as the slatted wooden walls reach only just above head height, where mesh screening fills the gap between them and the thatched roof.

Activities at Selinda concentrate on morning and evening game drives, as well as fishing (in season: March - September) and boat trips on the surrounding waterways. Short guided walks can also be arranged. With the Selinda Canoe Trail operating in the same concession, many guests choose to spend a couple of nights at Selinda Camp at the beginning or end of their canoe adventure.

One of the current Expert Africa team first visited Selinda Camp in 1992, and since then we've returned regularly. We've usually had fantastic game sightings from June until about November, but with the first rains, usually around November, the game disperses. During the rainy season (November–March), it tends to be much harder to find – a pattern that's followed by most Botswana camps, although it's probably more marked in the Selinda Reserve, and the wider Kwando-Linyanti area. That said, a little luck can be had at any time of the year. In mid-November 2016, for example, we were treated to some phenomenal game viewing. The first morning was spent tracking a female leopard and her cub for an hour and a half, resulting in us find the cub resting up a tree in a hamerkop nest. We then stumbled across two male lions on an elephant carcass from the night before, and the following day we watched them join a pride of 14 feeding on a hippopotamus carcass.

On a previous trip, in April 2016, we enjoyed a catch-and-release fishing excursion. Assisted by our guide, we had successful catches of redbelly tilapia, catfish and bream. For those looking for a different activity on safari, or just wanting to be out of a vehicle for half a day, we highly recommend the fishing activity at Selinda.

Although guiding at Selinda Camp has in the past sometimes been uninspiring, on various visits over the last four years or so, including our latest in November 2016, our guides were enthusiastic and more then willing to share their extensive knowledge. Based on this, we feel that the guiding is now very good.

Our view
We know Selinda well, and it's long been one of our favourites. Game sightings in the rainy season can be hit or miss, perhaps more so in this area than in other parts of Botswana, but they improve substantially as the dry season progresses. The camp's quality, service levels and food are all high, and the guiding is currently excellent. Hence Selinda continues to be one of our favourites that we're happy to recommend.
Geographics
Location: Kwando-Linyanti area, Botswana
Ideal length of stay: A stay of three or four nights is typical at Selinda. The camp is usually combined with a camp in the Okavango Delta, and is occasionally used as a start and/or end point for the Selinda Adventure Trail.
Directions: Selinda Camp is accessed by light aircraft from either Kasane (50-minute flight) or Maun (45-minute flight); it is then a 40-minute drive from the airstrip to the camp depending on what you see en route. During high-water season, the transfer from the airstrip is made via vehicle and boat.
Accessible by: Fly-and-Transfer
Key personnel
Owner: Great Plains Conservation
Staff: Ross (manager)
Food & drink
Usual board basis: Full Board
Food quality: When we last stayed at Selinda Camp in November 2016, the food was excellent. With advance notice, the camp can cater to vegetarians and most special dietary requests.

Meals follow the usual safari-camp format, but with a very healthy and tasty twist. There is limited gluten used in the cooking and very little sugar too.

Start your day with an early breakfast around the fire before your morning game drive. We had the option of homemade granola to which you could add various seeds, almond flakes and other nuts, together with plain yoghurt, freshly baked muffins, a fresh fruit platter, cheese and biscuits, pancakes and maple syrup, toast, porridge, tea and coffee, and a very yummy freshly made smoothie!

For brunch, a selection of fresh salads, cornbread and chicken satay skewers was served. All were tasty and very fresh but not too filling.

Our afternoon tea was delicious. Along with fresh cheese and tomato pizza slices, there were doughnut sticks served with dipping chocolate.

At dinner, guests are offered a choice of two main meat courses and a vegetarian option, which they select before departing on the afternoon activity. We enjoyed a tasty cold cucumber-based soup followed by a lovely tender piece of lamb off the bone. Other guests seemed to really enjoy the duck breast option. While I did not have dessert, colleagues on previous visits relished a yummy chocolate mousse made with avocado (which I'm assured was much tastier than it sounds).
Dining style: Group Meals
Dining locations: Indoor and Outdoor Dining
Cost of meal e.g. lunch: Included
Drinks included: Soft drinks, bottled water, spirits, local beers and a selection of (usually) South African wines are included. Champagne costs extra – and may need to be requested in advance. Each room is provided with glasses and a flask of filtered drinking water that is replenished daily. Although plastic bottles of water are available, guests are encouraged to top up from the filtered water in the camp's main area. We don't recommend that travellers drink from the tap.
Further dining info: Not available
Special interests
Birdwatching: Selinda Camp's location on the Selinda Spillway is an excellent place for birdwatching in Botswana. Many waterbird species, like cranes, herons, kingfishers and cormorants, can be viewed here and our predator sightings have included a black-shouldered kite and more.
See more ideas for
Birdwatching in Botswana
Photography holidays: Part-owned by renowned film-makers and photographers Dereck and Beverly Joubert, Selinda Camp is a great spot for photography in Botswana. The guides are good at positioning vehicles, and finding good angles and light, and some will even give a little instruction if asked.
See more ideas for
Photography holidays in Botswana
Luxury: One of our favourite camps, Selinda's rooms and common areas are beautifully designed, with the sumptuous en-suite bathtubs particularly worth a mention. Fabulous food, excellent guides and a team who go the extra mile combine to make this a good fit for a luxury safari.
See more ideas for
Luxury in Botswana
Children
Attitude towards children: Children over six years are welcome at Selinda Camp, but families with children aged 6-12 must book a private vehicle. Younger children may be accepted if the whole camp is reserved for one private party.
Property's age restrictions: Minimum age six years
Special activities & services: Selinda Camp has guides who are great with children, and can offer alternative and slightly tailored activities such as fishing or short canoe trips. The camp also offers the 'Young Explorers' programme, which includes child-friendly activities such as animal tracking, plaster casting tracks, and making traditional bows and arrows. The camp aims to be flexible with children's mealtimes, and can offer child-friendly meals. They can offer child-minding from one of their housekeeping team, but not someone specially trained in childcare.
Equipment: No special equipment is provided but Selinda has a two-bedroom family chalet, and activities specifically geared towards children can be arranged. The camp aims to be flexible with children's mealtimes, with cooking child-friendly meals.
Generally recommended for children: We recommend Selinda only for older children who are genuinely interested in wildlife.
Notes: Selinda Camp is very open with dangerous wildlife walking through the camp, so children will need constant and close supervision by adults.
Infrastructure
Power supply: Generator
Power supply notes: The generator is run for three hours in the morning and three in the evening, when guests are out on activities. There is a plan to upgrade to solar power, but a timetable had not been established at the time of writing. Each chalet has a series of plug points: a UK-style square three pin, the large round three pin, or the European two pin; those with other plugs should bring their own adaptors. There is a hairdryer in each chalet for guests to use.
Communications: WiFi is available in the chalets, but there is no cellphone reception, direct fax or phone access. Swift radio contact can be made with Maun if there is an emergency and there is also a satellite phone for emergency use.
TV & radio: No radio or television!
Water supply: Borehole
Water supply notes: All the chalets have plumbed hot and cold running water for showers, and flushing toilets.
Sustainability
Solid waste reduction using biogas digesters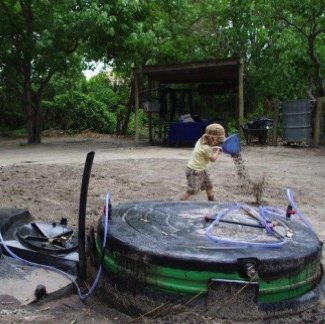 Located in Northern Botswana on a 320,000-acre private reserve, Selinda Camp was completely rebuilt in 2007 with the promise to lower its impact on the environment as much as possible. Apart from using natural, locally-sourced materials for its thatch roofing and wooden decks, and relying entirely on solar energy, the owners claim that if the camp is packed up there would be no trace of its existence in less than half a year. Perhaps the most noticeable results come from the camp's initiatives to reduce and recycle solid waste.

In Selinda Camp, nothing is burnt or buried on the land, and all solid waste is separately disposed and transported to Maun, the "tourism capital" of Botswana, for recycling. Moreover, five different biogas digesters built by the camp's staff out of locally available materials recycle food waste into methane, which is further used for cooking through the biogas facility and the biogas units. 'The Selinda system was sized to accommodate the kitchen waste from a maximum of 16 guests eating 4 meals a day. '

Although these environmentally friendly measures have increased the recycling of solid waste by an impressive 25%, the management team is constantly seeking ways to potentially improve biogas production and usage by, for example, training staff to better sort organic waste, or encourage kitchen staff to use all of the biogas every day so that there is not a buildup of unused gas in the system.

Health & safety
Malarial protection recommended: Yes
Medical care: All camp managers and guides are first-aid trained and a comprehensive first-aid kit is kept at camp. In an emergency the camp can contact a flying-doctor service.
Dangerous animals: High Risk
Security measures: Because of the Okavango's large population of dangerous game, and the fact that Selinda Camp is unfenced, guests are escorted to their rooms after dark. Alarms, sirens or whistles are provided in the chalets to attract attention in case of an emergency.
Fire safety: There are extinguishers on the verandas of all chalets.
Extras
Disabled access: Not Possible
Laundry facilities: A full laundry service is included, including smalls. Washing powder is also provided in the chalets.
Money: No exchange facilities are offered. There are safe deposit boxes in the chalets.
Accepted payment on location: Mastercard and Visa credit cards are accepted; Diners and Amex are not. No commission is charged on credit-card transactions. Cash payments may be made in GB pounds, US dollars, euros, South African rand and Botswana pula.
The information on this page is our report, of what we saw, felt and experienced personally on our visits.
See Info from the owner for the standard information written by the owner about this property.