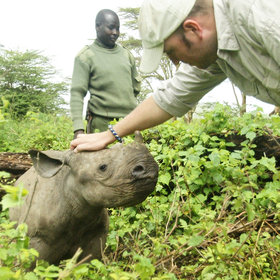 Lewa House, in the heart of the Lewa Conservancy, has great wildlife-watching opportunities.
Lewa House: Our full report
Rooms
10 rooms
Children
Good for all ages
Open
Dec-Mar and May–Oct
Centrally located on the 240km2 Lewa Conservancy, with fine views of the surrounding hilly savannahs and south to Mount Kenya, Lewa House is a luxury farm stay on a 7-acre plot, now entirely dependent on visitors. It recently opened its doors to regular guests, having previously been rented only to groups on an exclusive-use basis. The property is owner-run by a Kenyan-Scots couple, who live here with their two young children.

Lewa House is approached up a gently rising dirt road – about a twenty-minute drive from the airstrip and Lewa Conservancy headquarters. Close to the house, there are big trees, extensive gardens and banks of solar panels gathering energy. As you enter the main building, a handsome, thatch-tiled hall, living room and covered terrace serve as the reception area, where you're welcomed and have the usual short briefing. This area has recently been revamped and, on our most recent visit in March 2018, we were impressed by the stylish and thoughtful touches that had gone into the refresh. The family photos and collection of artifacts lend plenty of character and warmth to these main areas.

Lewa House's guest rooms radiate around the northern and eastern fringes of the grounds, while to the south-west are the back-of-house areas, staff quarters and farm buildings.

Lewa House has eighteen beds in four large one-room "earth pods", each of which sleeps two or three (or more with children), and three large, two-room cottages, each sleeping four in a double and a twin. Lewa House is very flexible about rooming arrangements, often blocking the second room in a cottage if a couple is in the first. Parties from 10 in low season and from 14 in high season would often be able to take the whole property on an exclusive basis.

The traditional, Kenya-settler-style cottages with thatch-tile roofs, are solid and rustic, with spacious verandas, cement floors brightened with rugs, and stone and plaster walls. The chunky furniture is in keeping with the overall style, and the beds have full-length mosquito nets. The practical tile-floored bathrooms, which have a single wash basin, standard flush toilet, and walk-in shower (but no bath tub) are supplied with Kenyan, naturally sourced Cinnabar and Green toiletries. Drinking water is filtered spring water from the local Ngare Ndare forest, supplied in flasks.

While the traditional cottages are homely and comfortable, we had mixed feelings about the earth pods. Outwardly, with their leggy buttresses and curved roofs like tortoise carapaces, these resemble something in which a hobbit might be comfortable. Inside, however, they have conventional polished wood floors and simple wooden furniture. Although we weren't able to stay on our last visit, a previous stay found that the pods' French windows housed unsuitably thin picture glass that rattled, and the lighting needed some attention: one of our bathrooms was excessively dark. Still, the smoothly curving wall surfaces are fun, and every earth pod has a lovely terrace looking out across the rolling hills. The bathrooms in the earth pods, as in the cottages, are very large, with walk-in showers (good hot water and decent pressure) and bath tubs either located under a window or just outside, in the open air. All of the earth pods are being updated, and the cottages completely rebuilt, over the next year or two so we would expect quite significant changes here.

Lewa House's free-form swimming pool, insulated to keep its temperature a little higher than ambient, is reckoned to be the warmest in Lewa. At this altitude, that makes a difference, especially for children – though note that there is no lifeguard. The lovely pool terrace offers shade and plants and trees all around, with a good chance of spotting wildlife on the hillside. Lunch is taken in the open-sided dining area by the pool.

Apart from enjoying the plants and bird and insect life in the gardens, the main activity at the house itself is a tour of the back-of-house and farm areas with the owners. You'll visit their fruit and veg garden, meet their happy-looking pig (fed on what the guests can't manage), their pampered dairy cows and contented chickens. You'll have a chance to see how solar energy is stored in banks of batteries and you can ponder the science of vermiculture – worm-farming – which makes use of the pigs leftovers to create something called "worm tea", used to fertilise the gardens. A small wetland area is nurtured by grey water from the showers.

The McFarlanes, whose family also runs Browns' Cheese Farm outside Nairobi, run the farm and gardens on biodynamic principles promoted by Rudolf Steiner – essentially organic practice with a little astrology thrown in – which does away with weeding in favour of digging everything back into the soil.

Lewa House's main activities around the conservancy are game drives and game walks. The lodge has three open-sided Land Cruisers, each equipped with bean bags and camera platforms, seating up to 7 guests in rows of 2, 2 and 3. Where possible, every couple or group will get their own vehicle. The wildlife is abundant and pretty spectacular – in a stay of a few days you're likely to see elephants and both black and white rhinos on numerous occasions, and have countless encounters with grazers and browsers of every description from tiny dik-dik to lofty reticulated giraffe. Lewa is on a wildlife corridor between the highlands to the south and northern Kenya: the conservancy perimeter, while fenced and patrolled, has gaps to the north, south and west, allowing all the wildlife – with the exception of the rhinos – to disperse as mood and seasons dictate. Ingenious wildlife "gates" use heavy posts to block the passage of rhinos while allowing slimmer or taller species to move through.

Rare Grevy's zebra are a particular feature at Lewa, as are Beisa oryx. The unusual, semi-aquatic sitatunga, of which a small colony lived in Lewa's swamp near the headquarters, haven't been reported for the last couple of years and may have succumbed to the conservancy's gradually expanding populations of big cats. Lions and cheetahs are quite often seen, leopards less commonly.

As well as game drives, guests at Lewa House can be escorted by Calum on game walks. He is a fully qualified FGASA trails guide, and carries a heavy-duty .458 Winchester magnum rifle, so you will not only be well informed but also very well protected.

Lewa's hand-axe site is a fascinating reminder of human evolution and changing landscapes. It's located on what used to be the shores of a wide lake, and there are hundreds of hand axes, large, sharp-edged stone tools shaped by blows from another stone, scattered about on the ground. Answers to the fascinating questions about the identity and purpose of the makers – why here? why they left them behind? a factory? a market place? – are all up for grabs. There's a strict rule against taking souvenirs, however.

If you're interested in Lewa's rhino conservation work, you can visit the communications and security headquarters at the main Lewa Conservancy HQ. A monitor on the wall tracks rhino movements and wall charts identify individuals through ear-notchings. It's a slightly sobering reminder of the gravity of the round-the-clock work here. During our visit, in March 2017, a tiny black rhino orphan, Kilifi, was being hand-reared and was usually to be seen with his guard in the woods nearby. Black rhinos are somewhat accident-prone (Kilifi's mother was blinded in a misadventure with a euphorbia tree), and you may be allowed to meet the nursing calves, which is an enchanting experience.

Other activities include: visiting the Ngare Ndare forest (US$35 entry) towards the foothills of Mount Kenya; a visit to the Il Ngwesi Maasai community's village, an hour's drive north of Lewa House (US$30 per person, payable at the village); riding at Lewa Wilderness (an afternoon ride is included for every three-night stay at Lewa House); dog-training with the Lewa security guys and their bloodhounds; and simple fly-camping, which is particularly popular with teenagers and can be included at no extra charge.

Finally, if you ask ahead or stay long enough, you may get the chance to be briefly involved with the conservancy's veterinary and management practices, for example elephant darting, or managing individual animals that need attention. Such opportunities are, however, very much off the menu of standard activities and cannot be guaranteed.

Our view
We were quite smitten by Lewa House. The grounds and views are delightful, the activities diverse, the hosts charming and fun to be with, and the food some of the best we've had anywhere in Kenya. The location is superb, with the Lewa Conservancy's many impressive assets easily accessible. We would highly recommend staying in one of the cottages. After the small upcoming boost of internal refitting, we would hope the earth pods to be very desirable too.
Geographics
Ideal length of stay: 3 nights-plus
Directions: Lewa House is a 15-20 minute drive from Lewa Downs airstrip, depending on wildlife-watching stops en route.
Accessible by: Fly-and-Transfer
Key personnel
Owner: Sophie and Calum McFarlane
Food & drink
Usual board basis: Full Board
Food quality: Lewa House has a herb, salad, vegetable and fruit garden and they grow some specialist ingredients that can't easily be obtained in Meru town, their nearest big produce market. They also keep dairy cows, beautiful chickens and pigs that are fed on kitchen waste.

It all makes for a varied and delicious, seasonally changing menu. We were only able to stay for lunch in March 2018, but the food left a great impression. We could help ourselves from the buffet of chicken curry, melon and passion fruit salad, red cabbage salad, and chapattis and poppadums with a range of chutneys. A selection of cheeses from the family business rounded off the meal.

During a previous stay, after our afternoon activity, we were onto sweet potato crisps with our sundowners, and pesto chicken vol-au-vent bitings before dinner. Dinner itself started with bean soup before moving on to a very tasty fish pie, followed by millefeuilles for pud.

Breakfast varies every day, with a different special (kedgeree, crêpes, cinnamon cashew rolls…) as well as standard cereals, fruit, yoghurt and cooked breakfast to order.

Even the wake-up biscuits vary daily, as do the morning snacks, afternoon team accompaniments, sundowner snacks and pre-dinner bitings. It's all enough to make you want to run the Lewa Marathon.
Dining style: Group Meals
Dining locations: Indoor and Outdoor Dining
Cost of meal e.g. lunch: Included
Drinks included: All soft and alcoholic drinks are included, apart from Champagne and premium wines and spirits. The bar is open to guests to help themselves.
Further dining info: Meals are usually hosted and most guests enjoy that. It's rare that they are asked to serve meals in guests' rooms, but the option is certainly there.
Children
Attitude towards children: Lewa House positively welcomes families of all ages. The owner's young children live here (co-owner Sophie McFarlane grew up here).
Property's age restrictions: None
Special activities & services: Archery, visits to Il Ngwesi village, tracking, bush walks.
Equipment: Baby cots and high chairs are available. Radios can be provided for guest rooms and babysitters can be provided from housekeeping.
Generally recommended for children: We think this is one of the best bases for a family safari in Laikipia. If you have under-fives it makes a very good base. As the whole property is discreetly fenced, older children can play without supervision.
Notes: Cottage #1 is probably the most practical choice for young families as it's closest to the main house.
Infrastructure
Power supply: Solar Power
Power supply notes: There is 24 hour power throughout the lodge.
Communications: There is good Safaricom mobile network all over the Lewa Conservancy (Safaricom chief executive Michael Joseph has a residence nearby). Airtel network is also available. Guest Wi-fi is available in the main house (there's no annoying code to get wrong) for up to five devices.
TV & radio: There's a staff TV that guests can watch when major sporting events are taking place.
Water supply: Other
Water supply notes: Bathroom water comes from a spring in the Ndare Ngare forest and is untreated. Drinking water is filtered with a UV device.
Health & safety
Malarial protection recommended: Yes
Medical care: Most staff are Red-Cross-trained. The owner-managers both have medical training. Lewa Clinic on the conservancy is able to treat minor injuries and illnesses. Nanyuki Cottage Hospital, about 90 minutes drive away, is one of the best in northern Kenya. A helicopter is usually stationed at Lewa.
Dangerous animals: High Risk
Security measures: Lewa Conservancy is fenced and staffed by some 150 rangers. Lewa House is encircled by a discreet electric fence. Guest rooms don't lock, but do have safes and are equipped with air horns for use in an emergency.
Fire safety: There are fire extinguishers in the rooms (with 6-monthly servicing), a fire assembly point in the car park and yearly fire-training for staff.
Extras
Disabled access: On Request
Laundry facilities: Machine washed, sun-dried (for cultural reasons no underwear can be washed).
Money: The lodge doesn't offer foreign exchange.
Accepted payment on location: Cash in all major currencies (US dollars, Euros, pounds sterling and Kenyan shillings) is accepted. Credit cards (MasterCard, Visa and Amex) are accepted with a 2-3% surcharge.
The information on this page is our report, of what we saw, felt and experienced personally on our visits.
See Info from the owner for the standard information written by the owner about this property.