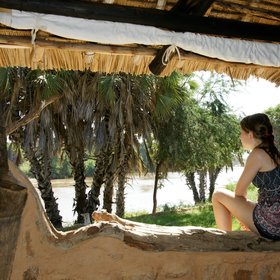 Galdessa is beautifully located on the south bank of the Galana River in Tsavo East National Park.
Galdessa: Our full report
Rooms
15 bandas in two areas
Children
Best for mature 12+
Open
All year
On the banks of the Galana, one of Kenya's biggest rivers, Galdessa is an Italian-owned, makuti-roofed lodge of 15 bandas, nestling under the doum palms in an isolated corner of Tsavo East National Park. The area is excellent for elephants and lions and has spectacular birdlife. The lodge closed, we believe temporarily, in 2017, and we hope it will re-open before long. Please contact Expert Africa for news

You arrive into the welcome shade of the main dining and lounge area – a spacious, open-sided, high-roofed structure with glorious views across the river. Seven tables provide plenty of choice for dining spots at one end (though you may also need to choose your dining chair, as they're all different and can be uncomfortable), and a scattering of a dozen comfy sofas is waiting to be flopped on at the other end. They serve tea and coffee here in the afternoon. All the furniture is custom-made, with heavy, varnished logs of dead wood salvaged from the park and stylish, cream cushion covers.

Galdessa is unfenced and visited constantly by elephants and hippos. Consequently all your movements around camp, day and night, are escorted, by the coolly white-uniformed, red-sashed stewards and waiting staff (guests in the three, more expensive bandas, Private Galdessa, have their own private steward, for the course of their stay).


The bandas forming the main part of the camp are ranged upstream along the south bank of the Galana, from banda 1 close to the central area of the camp to banda 12, about 300m away – which can feel like quite a long hot walk in the middle of the day.

The bandas are built on raised platforms of dark polished boards. Soaring makuti roofs protect an open-sided partly permanent structure with walls of cream-coloured tent canvas and green mosquito screen. The front of these opens completely, with the canvas zipping away to the sides. It's a combination – a bit like a tent but really an airy and comfortable cottage – that is hard to get right, but Galdessa has cracked it.


The style of furniture in the main areas of camp is continued in the bandas, with fun, but very heavy, armchairs and bed frames, constructed from dead wood trunks and branches, and padded with big cushions.
As the bandas aren't mosquito-proof, all the beds have frame-hanging mosquito nets.

In contrast to the light and airy canvas rooms, all the bandas at Galdessa have rather dark bathrooms incorporating stone and mortar walls and lacquered horizontal surfaces, which the solar-powered lights struggle to illuminate. Good-quality toiletries are provided in glass flasks. There are wardrobes, and either a big chest or a large lock-box built into the wardrobe, in which you can padlock your valuables – though there is no sense that anyone might try to break into them.


Bandas 11 and 12 (a family unit) have running water. Others use the bucket shower/safari shower system (water for their hand basins is also supplied by stewards), although the showers are not screened from the rest of the bathroom. In some bandas they are in the middle of the floor, with a stone-moulded depression catching the water. None of the banda showers are open to the sky.

All the toilets are the regular, flush variety, though most are set into boxes of dark wood. Banda 7 is a honeymoon suite, with a step-up terrace as well as a veranda – like banda A in Private Galdessa. Unlike banda A, however, it has no day bed.


On the downstream side of the central areas is Private Galdessa – three more exclusive bandas (A, B and C), a good 20m apart and around 200m from the central areas. Bandas B and C are twins, while banda A is the honeymoon suite, with a huge bed and a separate game-viewing/sundowner deck and day bed. All share a private dining area which is usually used when a group takes the whole private camp exclusively. Private Galdessa clients choose their meals from a short, simple set menu, and they have a room steward for each banda.
Sundowners and short walks around Lugards' Falls, bush breakfasts and early and late game drives are the main
activities
on offer at Galdessa. You can also do more strenuous
bush walks
– not a bad idea in order to work off the calories accumulated with each new encounter with Galdessa's kitchen. The walks, for which Galdessa has negotiated special permission from KWS, set off from Galdessa itself, accompanied by armed KWS rangers.
We didn't go out in any of Galdessa's own vehicles, but one of their two bronze-level guides, the genial Thomas, accompanied one of our drives – and proved a good pair of eyes.
Galdessa is in a part of the park that, despite its accessibility, is relatively isolated, as it is not on one of the handful of main arterial earth roads across the park. In fact, the river road south from Galdessa first crosses an excitingly rocky lugga (seasonal river course) that deters most vehicles not based at the camp from attempting it. There is plenty of very enjoyable game-viewing and poking around to be done quite close to camp, where it's rare to run into any vehicles except the odd one from Galdessa itself.
We regularly saw the classically red-coloured elephants of the region wading across the river, often accompanied by snorts of annoyance from dozing hippos, and we were also treated to close encounters with lions, just minutes from camp. Among our avian memories was a pair of handsome young bateleur eagles, sunning themselves in the late afternoon. In our search for leopards and black rhinos, we pursued various interesting and remote watercourses south from the river – at one stage finding an old leopard larder in Buffalo lugga – but both species eluded us. Leopards are not rare in Tsavo East, just hard to find.
Black rhinos, carefully monitored by KWS rangers, are very elusive. We didn't do this, but you might ask your driver-guide to go to the KWS rhino monitoring post, not far from Galdessa, where you could ask for the latest information.
With all this wildlife around, the noises of the night and the dawn chorus are astonishing. On our last stay in October 2014, we heard lions, hyenas and the rasp of a leopard during the course of the night, and the most amazing dawn chorus, that included mourning and red-eyed doves, rain birds (red-chested cuckoos), grey-headed kingfishers, scops owls and a Verreaux's eagle owl muttering to itself in the doum palms – all against a pretty constant backdrop of hippos splashing and grunting away in the river.
Our view
Tsavo East National Park is frequently viewed as a one-night safari destination for coast-based package tourists. Knowing Galdessa, this is a pity, as the park deserves more visits from real safari-lovers. We love the peaceful setting, the beautiful riverine landscape and the serene contentment that accompanies a stay here. The wildlife isn't as prolific as it is in some parts of Kenya, but the strong character of the landscape – the river, the doum palms, the rocks and the red soil – has its own very memorable appeal. Our only quibble might be Galdessa's dark and somewhat uninviting bathrooms. Nevertheless, Galdessa really knows how to make its guests comfortable.
Geographics
Location: Tsavo East National Park, Kenya
Ideal length of stay: Three nights
Directions: Manyani airstrip, for charter flights, is a 30-minute drive from camp. Kilaguni airstrip, in Tsavo West National Park, for scheduled flights from Nairobi, is about a 2-hour drive from camp.
Accessible by: Fly-and-Transfer
Key personnel
Owner: Fabrizio Molinaro (who also owns, and is based at, Alfajiri Villas, Diani Beach)
Staff:
Food & drink
Usual board basis: Full Board
Food quality: Hearty, Italian home cooking forms the basis of meals at Galdessa, with vegetarians always catered for if requested. Morning and afternoon tea are served in guests' bandas.

Breakfast on our last visit was fresh fruit, with a small range of cereals, hot toast with jams and a cooked breakfast of eggs, sausage and bacon to order.

Lunch and dinner are both set menus, with pasta always served as a first course, followed by a choice of two main courses.

We had a very nice vegetarian lasagne, followed by goulash with mashed potatoes and steamed vegetables, finished off with a delicious fruit salad. Fresh bread accompanied the meal.
Dining style: Individual Tables
Dining locations: Indoor Dining
Cost of meal e.g. lunch: Included
Drinks included: Drinks are extra. A beer costs about $3 or equivalent, soda $2, and a glass of house wine $5.
Further dining info: On request, but rare
Special interests
Walking: Galdessa offers some fairly serious bush walks, setting off from from the lodge itself with two armed KWS rangers. These should be booked in advance – ask us for more details!
See more ideas for
Walking in Kenya
Private villas & houses: Downstream from the main Galdessa Lodge, Private Galdessa consists of three exclusive bandas with a private dining area. Together these can accommodate a group of up to six people – who can share a real degree of privacy in this idyllic riverbank location.
See more ideas for
Private villas & houses in Kenya
Children
Attitude towards children: Children are welcome at Galdessa, with no age restrictions.
Property's age restrictions: None
Special activities & services: None
Equipment: Two cots, no highchairs
Generally recommended for children: Yes, but best for mature children; and all would need constant supervision. This is quite a refined camp, and it's popular with honeymooners and older couples. There's nowhere for kids to let off steam, and noisy children would not go down well.
Infrastructure
Communications: There is only poor cellphone reception at Galdessa – and sometimes none at all. In an emergency, cellphone coverage can be found by driving a short way from camp – and guests may be able to access the (very slow) internet in the office.
TV & radio: None
Health & safety
Malarial protection recommended: Yes
Medical care: A first-aid kit is available, but no medically qualified staff. Manyani clinic is minutes away, and Manyani airstrip is a 30-minute drive away, too. In an emergency, the closer airstrip at Lugard's Falls can be used.
Dangerous animals: High Risk
Security measures: There are Maasai askaris with rungus and spears on duty at night (in radio contact with the manager). By day, the room stewards perform day-watch duties around camp. All guests are escorted at all times. There are whistles in the bandas for calling stewards.
Fire safety: All bandas have fire extinguishers and all staff are trained in their use.
Extras
Disabled access: On Request
Laundry facilities: Included, except for ladies' underwear (but soap powder is provided).
Money: There are lockboxes in all the bandas. No currency exchange is possible.
Accepted payment on location: Payments may be made in cash only, using Kenyan shillings (or US dollars or euros at the lodge's own exchange rate). Credit cards are not accepted.
The information on this page is our report, of what we saw, felt and experienced personally on our visits.
See Info from the owner for the standard information written by the owner about this property.