Useful links featuring Potato Bush Camp

Download a PDF...
To read what we say in our brochure, click on the link to download the brochure section including Potato Bush Camp. To save a copy onto your computer, right-click on the link and select 'Save Target as...'.
Useful links...
We want you to understand more about Potato Bush Camp. We're not shy to direct you to their own website as we're confident that a trip there with us will cost you the same or less than booking it any other way, even directly. So follow the links below for more information.
Potato Bush Homepage
Potato Bush Camp hasn't got a website yet so in the meantime have a look at its sister camp Sausage Tree Camp.
Potato Bush Camp is often combined with:
Sort by:
Name


|
% of trips


|
Traveller's rating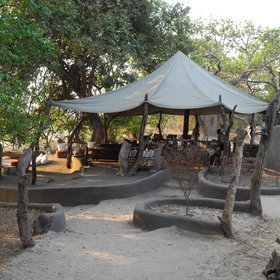 Tena Tena
|
67%
|

Run by Robin Pope Safaris, Tena Tena is in the remote Nsefu Sector, on the north side of South Luangwa National Park in an area rich with game. In August 2012 the camp was moved to a new location, about a kilometre upstream from its previous site, but it remains on the ...
Read more about Tena Tena
Chinzombo
|
67%
|


Opened in early June 2013, Chinzombo is a brand-new camp on an old site that spans an expansive curve of the Luangwa River overlooking South Luangwa National Park. Designed by two of the safari industry's leading designer/architects, this camp is a 'first' for Zambia in ...
Read more about Chinzombo
Kaingo Camp
|
33%
|


The well-established Kaingo Camp overlooks the Luangwa River from beneath an old grove of ebony trees. Owned by Derek Shenton and his family, it's one of the few owner-run camps remaining in South Luangwa National Park. Derek, and his very engaging wife Jules, take a very ...
Read more about Kaingo Camp
Shumba Camp
|
33%
|

Situated on Kafue National Park's Busanga Plains, Shumba Camp was originally a basic bushcamp run by Busanga Trails. We've known this camp since 1995, when we first visited ... although it's changed out of all recognition since then. In 2007 it was almost completely rebuilt ...
Read more about Shumba Camp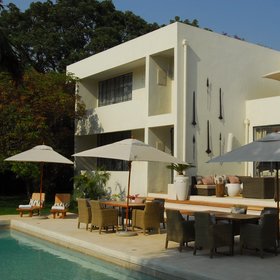 Latitude 15
|
33%
|


Named after its latitude co-ordinates, Latitude 15 is a small boutique hotel in the quiet residential suburb of Kabulanga in Zambia's capital, Lusaka. Opened in 2014, the hotel is a short drive from the airport, and caters largely to travellers who are staying in Lusaka ...
Read more about Latitude 15
Stanley Safari Lodge
|
33%
|


Bordering the Mosi-Oa-Tunya National Park near Livingstone, only 3 km as the crow flies from Victoria Falls Stanley Safari Lodge offers a peaceful and convenient base from which to explore the Zambezi River. Unlike most other lodges we feature in Livingstone, it is set ...
Read more about Stanley Safari Lodge
Victoria Falls Hotel
|
33%
|

The elegant Victoria Falls Hotel is located within walking distance of the Victoria Falls with views over the famous Victoria Falls Bridge spanning the Batoka Gorge. The hotel (originally built in 1904 to house engineers and associates working on the construction of the ...
Read more about Victoria Falls Hotel