Overview: Elephant Art Experience
The Elephant Camp
works closely with the
Victoria Falls Wildlife Trust
to run the
Wild Horizons Elephant Sanctuary
, an organisation that takes in elephants that have been orphaned through human actions and can't be reintroduced back into the wild. The elephants are cared for by staff who have been trained by Kansas City Zoo, and through use of positive reinforcement methods have been trained to interact with guests.
As the elephants are so habituated to human presence, they make perfect models for painting workshops run by The Elephant Camp.
Each workshop starts with an introductory presentation on the history of the sanctuary, giving you a chance to talk to the guides and discover the history behind each of the elephants you will be painting, finding out how each individual came to be in the sanctuary's care.
After this introduction you will be led down to a waterhole, where your easel and blank canvas will have been set up under the shade of a huge mopane tree. A private tutor will then be able to instruct you on how best to use your paints and brushes to capture the landscape and the elephants in front of you.
You will then round off your experience with a buffet lunch, a cold drink, and a chance to sit back and admire your artistic endeavours.
Direct interaction with wild animals for the purpose of tourism is rightly coming under increased scrutiny, and we have carefully considered the ethical implications of this art experience. Based on our visits to The Elephant Camp we are very happy with the professionalism and methods used by the camp staff when dealing with the elephants, and believe that this experience is an ethical way for The Elephant Camp to raise the funds necessary to fulfil their long-term obligation to care for elephants that cannot be reintroduced to the wild.
Please note
:
Expert Africa
can only arrange this inspired painting class & lunch as part of a full,
Expert Africa
itinerary which includes a stop in Victoria Falls. See the Holiday ideas, below, for examples of such itineraries.
Start location

Any of Expert Africa's hotels or lodges in the vicinity of Victoria Falls - normally pick up will be around 11:30

End location

Back at your hotel

Meals included

Lunch & local beers, wine & soft drinks

Duration

Three hours

Maximum group size

Eight people
Photo gallery
What to look forward to.
---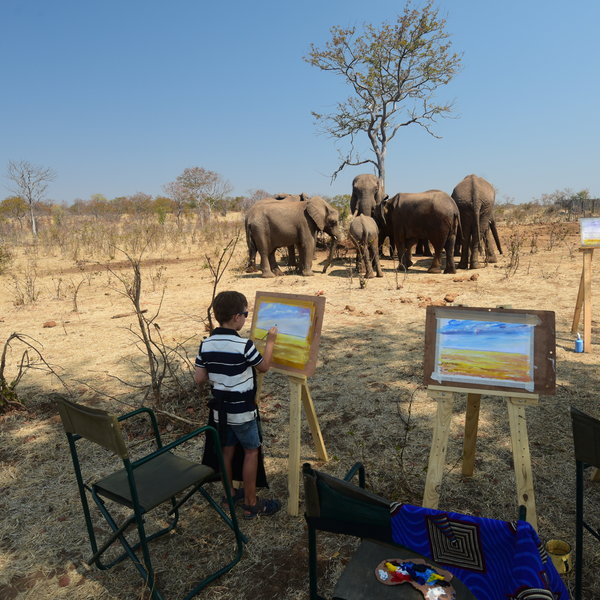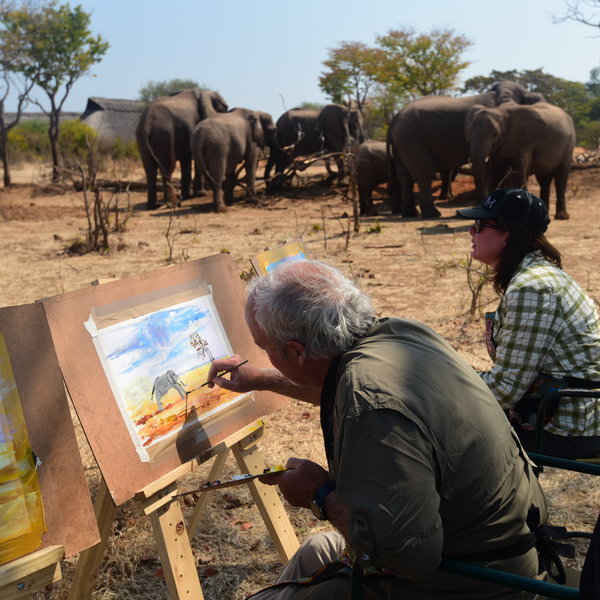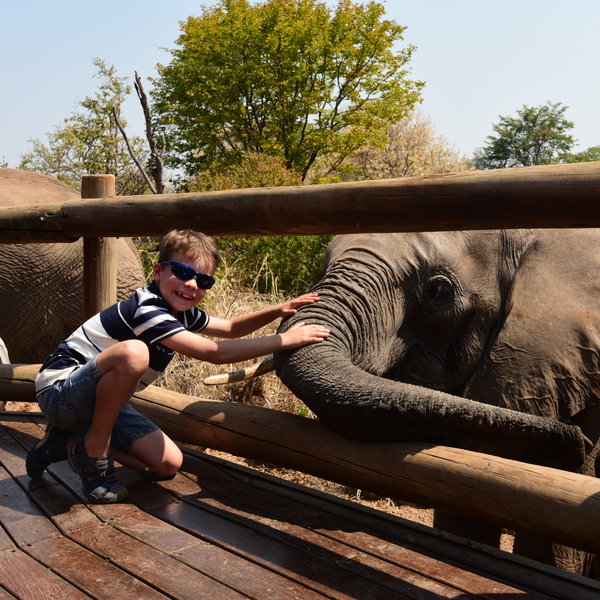 Ideas for holidays which can include Elephant Art Experience
Add this experience to these trip ideas or contact us to start planning your own tailor-made safari to Zimbabwe.
---
Other excursions in Zimbabwe
Inspiration and great ideas for other experiences in Zimbabwe to include in your safari.
---
Zimbabwe fact file
Useful information to help you prepare for your trip in Zimbabwe
---