Overview: Elephant Encounter
As an introduction to elephants, the encounter at The Elephant Camp's orphanage is very personal. Not only will you get to spend several hours close to these characterful animals, you'll even have the opportunity to feed them by hand, and to chat to their guides about their background and day-to-day life.
About The Elephant Camp
An upmarket lodge on the outskirts of Victoria Falls town,
The Elephant Camp
has worked together for years with the
Victoria Falls Wildlife Trust
to run the
Wild Horizons Elephant Sanctuary and Orphanage
. The sanctuary started in 1992 with four elephants, Jock, Jack, Jumbo and Miz Ellie, all orphans of the elephant-culling operations in Hwange National Park in the 1980s. With all four in need of sanctuary,
Wild Horizons
and The Elephant Camp were chosen to create a home for them, and to provide space to take in other orphaned individuals.
The orphanage prioritises the elephants' welfare and wellbeing, but running costs are high, and the elephant encounters – which are open to outside visitors as well as lodge guests – help to offset these.
The ethics
Animal encounters in the name of tourism have rightly come under increased scrutiny in recent years. In many cases, direct interaction with wildlife is to its detriment, and often raises strong ethical concerns. We at
Expert Africa
carefully consider all animal encounters before choosing whether to support them. While we consider walking with lions and elephant-back safaris to fall short of our ethical standards, we are happy in principle to book elephant encounters for our travellers.
Two major concerns of many animal encounters are where the animals are initially sourced, and how they are treated. Although The Elephant Camp itself is run for commercial purposes, the elephant encounter is a low-key part of their operation, housing genuinely orphaned and vulnerable elephants. There is no sign of animals being removed from the wild for any other reason, or of unnecessary breeding in pursuit of greater profits.
From our experience on our last visit we are also very happy with the professionalism and methods used by staff at the orphanage.
The animals at The Elephant Camp are well looked after, and are trained through positive reinforcement, so while the elephant encounters are run to raise funds for the orphanage, we feel that they demonstrate a strong concern for ethical responsibility.
If you would prefer to observe wildlife only in a wild environment, such an animal encounter may not feel comfortable. From an ethical standpoint, however, we believe that there is a long-term obligation to care for elephants orphaned through human actions, such as culling operations or poaching, where the individual elephants can't be reintroduced to the wild. It's to fulfil this obligation that The Elephant Camp needs the support and income from their elephant encounters.
Elephant Encounter details
The Elephant Sanctuary and Orphanage at the Elephant Camp offers a unique chance to appreciate the size and character of these iconic creatures. Over the course of your three-hour encounter you will have the chance to meet the staff (trained by Kansas City Zoo) who look after the elephants, and learn about the history of each family group at the sanctuary, how the herds interact, and the conservation challenges facing elephant in the region.
You will then take a walk into the bush surrounding the camp to meet the herd, interacting with the elephants on a personal level, with a chance to hand-feed them. While it's well known that elephants are big, you can truly appreciate their size when you are looking up at their chin, hearing the rumblings of their digestive system deep within their bodies. Up close you can also see the subtle ways the elephants interact with each other and their handlers.
There are three elephant encounters each day, starting from The Elephant Camp at 6.30am, 9.00am and 3.30pm.
<
Please note
:
Expert Africa
can only arrange these personalised visits with orphaned elephants as part of a full,
Expert Africa
itinerary which includes a stop in Victoria Falls. See the Holiday ideas, below, for examples of such itineraries.
Start location

Any of Expert Africa's hotels or lodges in the vicinity of Victoria Falls

End location

Back at your hotel

Meals included

Snacks, tea, coffee soft drinks, local beers & wine

Duration

Three hours

Maximum group size

Eight people
Photo gallery
What to look forward to.
---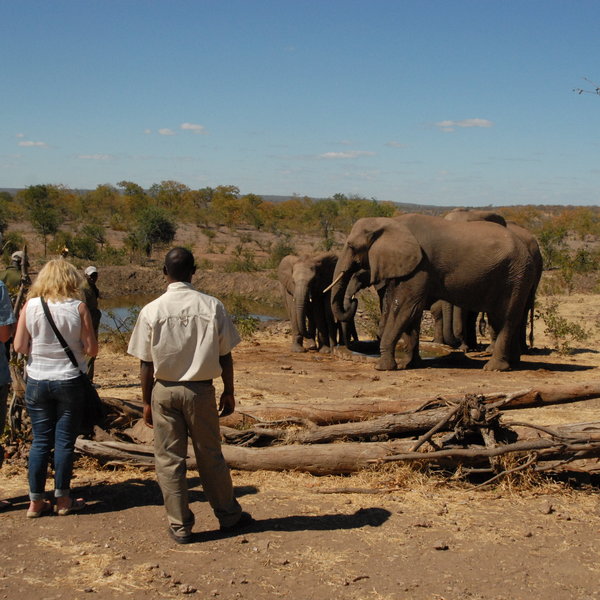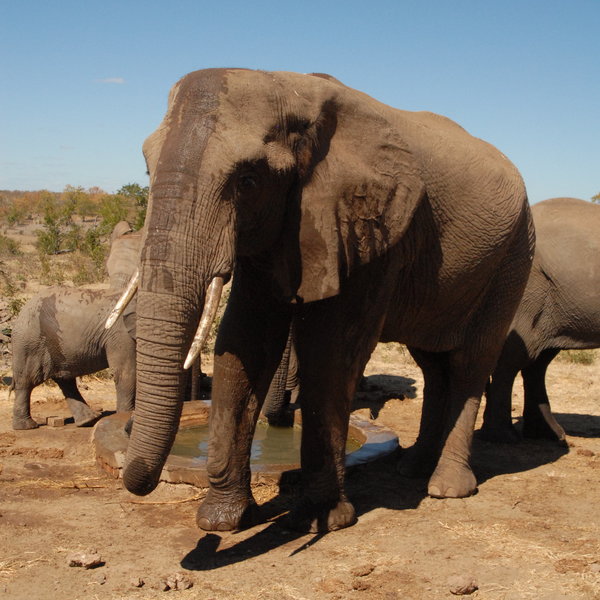 Elephant Encounter reviews
46 independent first-hand comments from our travellers.
---
Ideas for holidays which can include Elephant Encounter
Add this experience to these trip ideas or contact us to start planning your own tailor-made safari to Zimbabwe.
---
Other excursions in Zimbabwe
Inspiration and great ideas for other experiences in Zimbabwe to include in your safari.
---
Zimbabwe fact file
Useful information to help you prepare for your trip in Zimbabwe
---