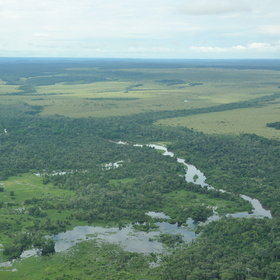 Your journey into Odzala-Kokoua National Park, starts with a two and a half hour flight...
Video of Odzala-Kokoua National Park


Odzala-Kokoua National Park
Sadly our one trip to the Congo is not currently on offer and so we cannot arrange trips to this destination at the moment. Please call us for the latest details.
Near the border, between Congo and Gabon,
Odzala-Kokoua National Park
, or simply Odzala as it is often referred to, was officially proclaimed in 1935, making it one of the oldest national parks in Africa. The 13,546km2 of land, now protected by
African Parks
, is part of the TRIDOM Transfrontier Park which extends from the Congo into Gabon and the Central African Republic. Within this are some of the last chunks of contiguous rainforest ecosystems that are large enough to support viable populations of the Congo's larger mammals.
Odzala is part of the vast Congo Basin that spans six countries and contains about a quarter of the world's rainforest – it's certainly no exaggeration to regard it as vital for maintaining the health of the whole planet's atmosphere. The centre of this area rates among the least disturbed or developed parts of Africa.
Safaris to Odzala
Odzala is currently only accessed via one safari operation, running set departure trips of six nights. This set trip spends three nights in two different locations – one inside the park itself and one just outside.
From January to May 2014 there will be just one departure a week operating. This leaves early on a Thursday morning from Brazzaville airport, which necessitates the previous night to be spent in the city. From May, a second trip will start, leaving early on a Sunday morning from Brazzaville.
It is a two and a half hour flight from Brazaville to Mboko Airstrip inside Odzala National Park. You will be met first by
Ngaga Camp
where you start your trip spending three nights here. It is a three-hour drive from the airstrip, through the park until you reach its edge and actually leave the park itself. The camp is located in thick rainforest just outside of the parks boundaries.
Then you are transferred to
Lango Camp
for your second set of three nights – this is about a four-hour drive depending on what you see along the way. After you three nights here you transfer by road back to Mboko Airstrip and on to Brazaville.
The habitat of Odzala
Odzala and its surrounding areas have a range of highly varied habitats. In the far northwest of the park itself, the steep hills are covered by dense primary forests. A great escarpment, about 350m high, runs roughly north-south on the western side of the park, below this are low-lying, swampy forests.
Further south and east in the body of the national park, the forests become slightly more open, with a lower level of 'understorey' trees and a carpet of evergreen vegetation on the forest floor (you'll recognize some as house plants!). In these areas, you'll find occasional open, grassy clearings known as 'bais' (pronounced 'buys'). These are usually shallow depressions, often quite swampy with plenty of herbs and sedges; it's here where you'll have the best chance of seeing the resident wildlife – drawn here for the minerals and salts.
Towards the south of the park, in an area around the Lekoli River, patches of lush, open plains lie between the seemingly impenetrable forests. With trees towering over 50m high in each direction, this is a world away from the vast dry plains of East Africa, or the woodlands and savannahs of southern Africa.
Its important to note that everywhere in this region receives about 1500mm of rain per year, most of which falls in one of its two rainy seasons (October-December and March-April). You should however come prepared for rain at any time of the year
Wildlife of Odzala
Amongst the great variety of primates inhabiting Odzala's forests you can find both Guereza and black and white Colobus; grey-cheeked and agile mangabeys; De Brazza's monkeys, Allen's swamp monkeys, crowned monkeys and putty-nosed monkeys. The smaller primates here are not yet well habituated and so sightings tend to be quite fleeting and from a bit of a distance. The area is also home to central Africa's highest density of chimpanzees – although these are very rarely seen by visitors.
The areas greatest draw is the chance to spend time with Western lowland gorillas. Two family groups are habituated for visitors (and a third just for researchers) – Neptuno named after its silverback has 16 family members. Whereas Jupiter is a larger group of 25, though many of this family are a bit more elusive.
Other wildlife living in Odzala includes forest elephants and forest buffalos, which are often seen along the fringes of the woodlands. Antelopes may include the western sitatunga, black forest duiker, harnessed bushbuck and grey and Peters' duiker. The nocturnal western lowland bongo is more elusive but if you're very lucky, a night drive may yield a sighting or you might see a spotted hyena, golden cat or water chevrotain. The rivers are also home to dwarf and slender snouted crocodiles.
With over 430 bird species recorded here, Odzala could be popular for birders. Black-and-white casqued hornbill, lyre-tailed honeyguide, gabon woodpecker, chestnut wattle-eye can be seen, along with the rare black dwarf hornbill, white crested tiger-heron and the Congo serpent eagle. That said, travellers need to be aware that getting a good sighting (let alone a decent photograph) of birds in such thick forest can be frustrating. Patience, perseverance and a knowledgeable guide will help, but even they don't guarantee good sightings as birds tend to remain high in the trees and difficult to spot.
Odzala safari camps
Odzala receives a tiny number of travellers each year. There are currently only two camps in the area for these set fly-in safaris:
Ngaga
and
Lango Camp
.
Ngaga Camp is the first stop on your itinerary, and is the base for visiting the gorillas. It is a smart luxury camp with just six rooms and tucked into thick rainforest, its location creating a wonderful and unique atmosphere.
Then your second stop is Lango Camp, which is almost identical in style and design to Ngaga but situated on the edge of a bai – a swampy clearing surrounded by seemingly impenetrable forest.
Activities on a safari to Odzala
The
activities from Ngaga Camp
centre around treks to see habituated Western lowland gorillas. Each visitor gets two chances to track the gorillas and these take place in the mornings - guests are usually back in time for brunch. This leaves the afternoon free for a forest walk, or a visit to the nearby Ombo village. Ngaga also offers fascinating night walks, which give you a totally different perspective on the area.
From
Lango Camp the activities
on offer include the walk in the bai in front of camp, for which you should be prepared to get wet! Walking through the clear water, sometimes up as far as your river shoes or old trainers/sneakers are recommended footwear. River trips in steel boats with an engine take you down Lekoli River to look out for moustache or putty-nosed monkeys and various birds. Safari drives in 4WD vehicles, and walks in the savannah and river forest areas are also possible.