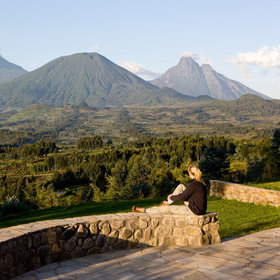 Climb Mt Bisoke amidst the spectacular scenery of the Volcanoes National Park.
Mount Bisoke Trek
Spend a day hiking to the summit of a Mt Bisoke, a dormant volcano in the Virunga Mountains reaching to 3,711m, with a pretty crater lake at the top. Straddling the border with the Democratic Republic of Congo, it is one of eight prominent peaks in the area with fabulous views.
The Details
Your day will start at 7.00am at the Volcanoes National Park headquarters, where you will be assigned your guide before a half-hour drive to the start point for your trek, at an elevation of 2,700m.
During the ascent, you'll be trekking through a number of different vegetation zones. On the lower slopes you'll pass through bamboo forest, a preferred food of golden monkeys and mountain gorillas. As you climb up to the higher slopes you will come to a band of
Hagenia
forest, which then opens out to Lobelia bush as you approach the summit, after about three hours. A wide variety of birds are found on the slopes of Mt Bisoke, so keep your binoculars handy.
The summit is dominated by a large crater lake, and on a clear day the views are far reaching. This is a great place to relax and enjoy your lunch, before starting your descent.
Fitness requirements:
This trek can be quite strenuous and requires a good level of physical fitness. You will be trekking at altitude, up steep slopes and over rough terrain.
Start location/time:
You will meet your guide at the Volcanoes National Park headquarters at 7.00am, before driving to the start point for your trek.
Duration of excursion:
This is a full-day excursion. The ascent typically takes around three hours, with around two hours for the descent. Timing varies, though, as it will depend on the walking speed of the group and the number of stops.
End location:
After descending Mt Bisoke you'll re-join your vehicle and guide at the designated car park.
Meals included:
Lunch is included.
Guide:
You will be accompanied by an experienced guide from the Volcanoes National Park.
Age limit:
You need to be at least 15 years old for this trek.
Please note
:
Expert Africa
only books excursions as a part of a full,
Expert Africa
itinerary.