Overview: Colobus Trekking in Nyungwe
Sometimes numbering several hundred individuals, Nyungwe Forest's troops of Rwenzori black-and-white colobus monkeys,
Colobus angolensis rwenzori
, are the biggest anywhere in Africa. As a species, they live, eat and sleep high up in the trees, which normally makes them difficult to see, yet this is one of the few places in the world where sightings are virtually guaranteed.
Planning & organising your walk
You can visit the colobus monkeys throughout the year, but the most popular times are during the drier months, between December and February, and from about June to mid-September. During the rainy seasons, April–May and in November, slippery terrain can make for more arduous walking. For more details, see
Rwanda's climate
.
Age limit:
You need to be at least 12 years old for this walk. This is strictly enforced and there is no flexibility.
Permits to visit the colobus monkeys
Even in peak season, there are generally plenty of permits available, though we would usually recommend booking them before your trip, to be on the safe side. We will make all the necessary arrangements for your permits prior to your trip.
What to take when walking
We would advise that you wear light clothes in neutral colours, with long trousers and long-sleeved tops, and a waterproof jacket to hand. Although the paths are relatively even, they can still be slippery, so strong shoes are advisable. You might also find a walking stick or pole helpful.
A pair of binoculars will usually enhance your experience, especially if you encounter the monkeys up in the trees, and both the scenery and the monkeys justify bringing a camera.
Do remember to take plenty of water (your guide will carry extra for you), and perhaps a snack, as no meals are included with this excursion.
The forest habitat of the colobus
The dense canopy of trees that dominate Nyungwe Forest is home to large troops of colobus that can number 300 or more individuals, although the troop visited on this walk is smaller than this. With their black fur and flowing white locks, that can create quite a spectacle – one that is enhanced by the forests' colourful birdlife.
What to expect when you visit the monkeys
Walks to see the colobus monkeys take place through the morning and afternoon, with the first starting at about 8am.
You'll be driven from your safari lodge to the national park's HQ by your dedicated
private guide
. Here you'll meet up with a trekking guide and rangers from the park.
Each walking group has a maximum of ten people, accompanied by a guide and an armed park ranger.
Your walk takes you through rolling hills draped with lush tea plantations before reaching a small, isolated patch of forest. This is encircled by a track that rises around it, backed by tea bushes, affording a good vantage point from which to see the monkeys up in the trees. Your guide will be a wildlife specialist, and you'll have plenty of time to ask questions, both about the monkeys and relating to the wider environment.
The duration of each walk depends on the location of the monkeys, although they are usually pretty straightforward to find. Once you encounter the monkeys, you'll normally have up to an hour to observe them, with any conversation kept to a whisper. If the animals are on the move during this time, you can wander along the track to follow them, before walking back to the park HQ, and returning to your lodge.
How fit do I need to be?
The walking on a colobus trek is gentler than that for visiting the chimpanzees or gorillas, but it still helps if you have a reasonable general level of fitness, if only to enhance your overall enjoyment of the experience. As always on treks in Rwanda, walking will be at a slow pace, with time for breaks if needed. The walk would also be a good way to acclimatise for a trek to see the chimpanzees.
Photographing the monkeys
Colobus monkeys are pretty photogenic, but taking photographs of them in their treetop home can be quite challenging. Bear in mind, too, that the light can be poor in the rainforest and that use of flash is not permitted.
That said, this isn't an environment for a massive, tripod-mounted lens – better to work with something that can be hand-held, or perhaps steadied with a monopod. We've found a zoom lens (80–200mmm f2.8) is very good, coupled with a high ISO setting.
Do also note that it'll almost certainly be damp and, additionally, you might need to protect your camera against heavy rain.
Please note
:
Expert Africa
arranges these excursions only as part of a full
Expert Africa
itinerary; for examples, see our
Rwanda trips that include watching colobus monkeys
. 
Start location

Any of Expert Africa's lodges in the vicinity of the Nyungwe Forest

End location

Back at your safari lodge

Meals included

No meals included

Duration

Two hours approx, morning or afternoon

Maximum group size

10
Photo gallery
What to look forward to.
---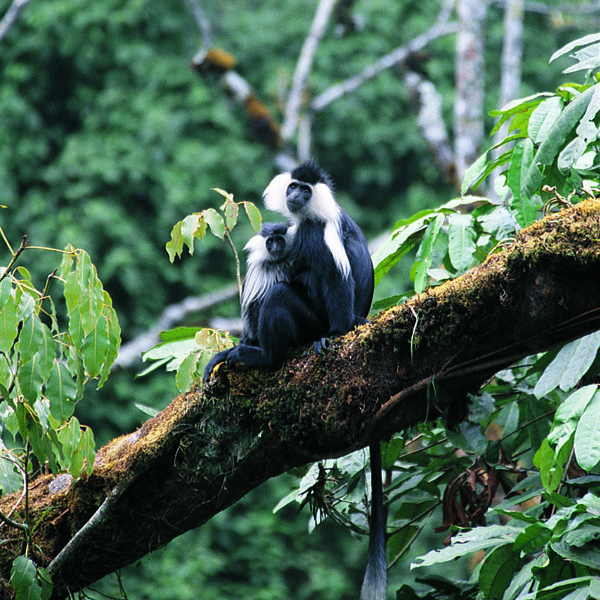 Colobus Trekking in Nyungwe reviews
41 independent first-hand comments from our travellers.
---
Ideas for holidays which can include Colobus Trekking in Nyungwe
Add this experience to these trip ideas or contact us to start planning your own tailor-made safari to Rwanda.
---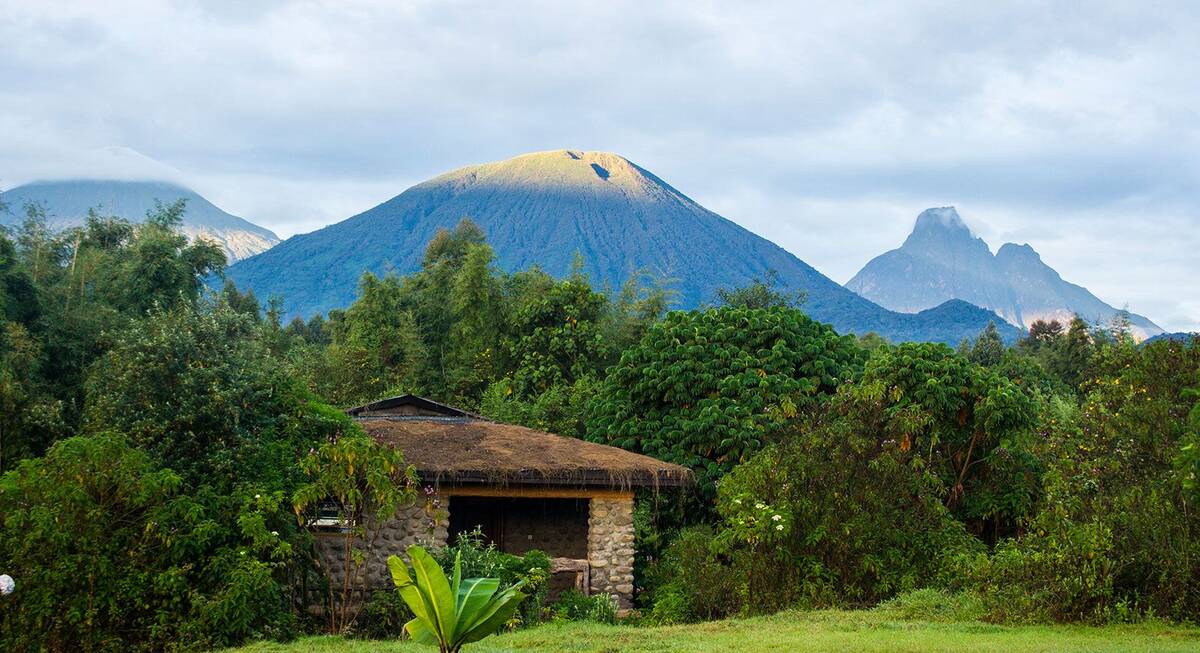 Golden Monkey Safari
12 days • 5 locations
KIGALI AIRPORT TO KIGALI AIRPORT
Combine four key areas of Rwanda on this excellent-value trip, for a true wildlife and cultural experience. The perfect itinerary for those who want to see all the highlights of Rwanda.
US$9,710 - US$11,270 per person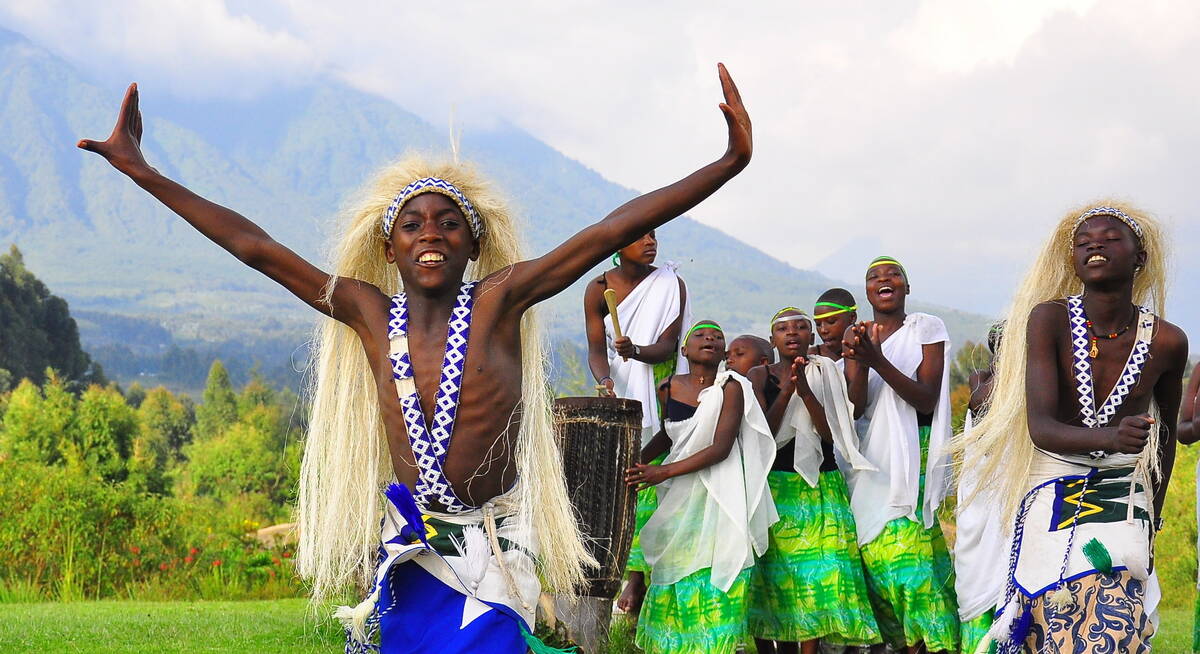 L'Hoest's Monkey Safari
7 days • 3 locations
KIGALI AIRPORT TO KIGALI AIRPORT
Meet three iconic primates – gorillas, chimps and golden monkeys – and explore Rwanda's fascinating culture on this excellent value privately guided adventure.
US$5,570 - US$6,320 per person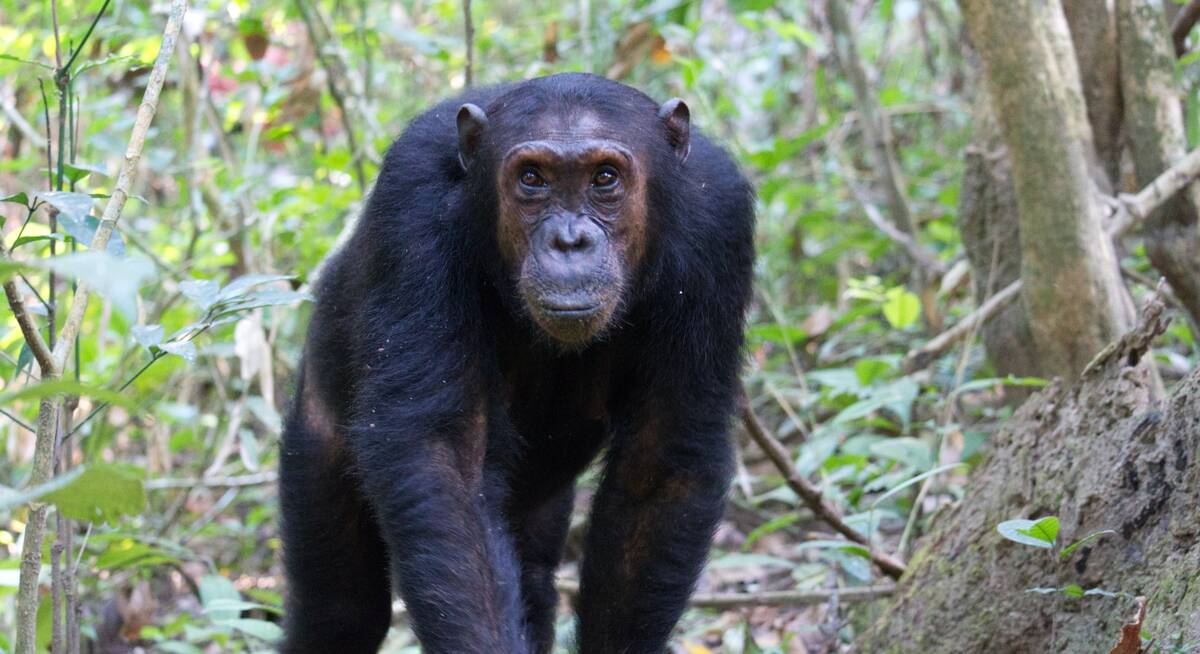 Mona Monkey Safari
9 days • 3 locations
KIGALI AIRPORT TO KIGALI AIRPORT
This example of a luxury holiday explores the wildlife of Nyungwe Forest, the scenic shores of Lake Kivu and the mountain gorillas of Volcanoes National Park, all accompanied by a private guide and vehicle.
US$12,160 - US$17,600 per person

Other excursions in Rwanda
Inspiration and great ideas for other experiences in Rwanda to include in your safari.
---
Rwanda fact file
Useful information to help you prepare for your trip in Rwanda
---