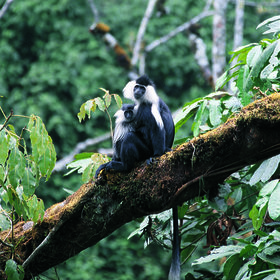 Colobus Trekking in Nyungwe
Trekking in search of grey-cheeked Mangabey and Rwenzori Colobus monkeys is also on offer in Nyungwe Forest. The colobus monkeys are sometimes found here in troops of several hundred individuals, the biggest colobus troops anywhere in Africa.
Start early in the morning, and you'll meet your guide at the Park headquarters to be taken through the forest to see the monkeys.