Overview: Gorilla Trekking Safari
The Virunga Mountains that straddle the borders of Rwanda, Uganda and the Democratic Republic of Congo are home to around 480 mountain gorillas, more than half of the world's entire population (the rest live in Bwindi Impenetrable Forest in Uganda). In Volcanoes National Park, the Rwandan part of the Virungas, twelve gorilla family groups are now habituated for gorilla safaris, more than anywhere else in the world.

Whilst a gorilla trekking safari is likely to be a once-in-a-lifetime experience for you, the staff at Volcanoes National Park have been doing this for several years and run a very smooth operation. Gorilla trekking safaris offer a magical encounter that transcends any other 'wildlife' experience we know.


Preparation for your gorilla trekking safari
Gorilla trekking safaris can be done throughout the year. The hiking itself can be more arduous in the muddy conditions during the rainy seasons from April – May and in November, but at an altitude of 2,500m and more, it can of course rain here at any time of the year. For more details, see
Rwanda's climate
.
The most popular times for gorilla tracking are during the drier months, between December and February, and from about June to mid-September.
Permits for gorilla trekking
Inevitably, securing permits for trekking gorillas can be difficult at short notice, especially during peak seasons, so we'd advise planning well ahead. We will make all the arrangements for buying your permits.
A maximum of 96 gorilla tracking permits are available each day. In May 2017, the Rwandan Development Board increased the costs of the gorilla permits from US $750 to US $1,500 per person, for a one-hour encounter. The new prices aim to strengthen conservation efforts and support the development of local communities. Travellers who are also spending a minimum of two nights in Nyungwe Forest National Park or Akagera National Park during the months of November to May are entitled to a 30% discount on one permit - reducing the costs to US $1,050 per person. Amongst other things, the permit pays for a 24-hour armed tracker team to guard for each gorilla group.
Age limit:
You need to be at least 15 years old for this trek. This is strictly enforced and there is no flexibility.
What kit should you take for a gorilla trekking safari?
Paths on gorilla treks can be slippery, muddy and steep so sturdy walking boots are essential. You might also find a walking stick or pole helpful. Your porter will offer you one at the beginning of the trek, and though you may not feel you need it, after a few hours of trekking you might change your mind!
Some people take thick gardening gloves as there can often be brambles and nettles en route and we would also advise you wear long trousers rather than shorts. A waterproof jacket is a good idea, as even in the dry season you'll find there may be occasional downpours. The lodges are usually able to hire out trekking equipment – chat to us if you'd like to find out more.
For a small fee, porters are available at the trailheads to carry your backpacks and offer a hand during tricky parts of the hike. Even if you don't really need them, hiring a porter is a helpful way to contribute directly to the local economy and chatting to them en route can enhance your experience both of local life and of your gorilla trek, though do be aware that their English isn't always as god as the guides'.
How fit do I need to be to track gorillas?
You don't have to be super-fit for a gorilla tracking safari but it does help if you have a good general level of fitness, if only to enhance your overall enjoyment of the experience. Walking will be at a slow pace, with time for breaks if needed. Depending on which group you track, and the time of year you go (gorillas tend to move down the mountains in the rains), you might find yourself walking on some pretty steep slopes for several hours. On the other hand, you could reach your group after a 30-minute stroll. It's best to prepare for the most active option however as you could be trekking to an altitude of up to 3,000m and though the pace is unhurried, the hike can be tiring.
Some travellers find the treks particularly strenuous; don't be surprised if you feel a bit breathless at this altitude, this is perfectly normal. We'd advise keeping well hydrated, paying attention to the directions given by your guide, and letting your guide know if you feel unwell at any point during the trek. As the altitude can have adverse effects on some trekkers, we do suggest including a trek to the golden monkeys the day prior to your gorilla trek. The golden monkeys are usually found at a lower elevation to the gorillas, and so a trek here can help you acclimatise to the terrain and altitude.
What's it like on a gorilla trekking safari?
Your dedicated driver-guide will be with you for the duration of your trip in Rwanda. On the day of the trek you'll leave from your lodge early in the morning (see
places to stay in Volcanoes National Park
) and your guide will drive you to the park headquarters in Kinigi village where you'll be introduced to your gorilla trekking guide. The guides here are excellent, many having spent years tracking individual gorilla groups. They will be taking you to a specific group of habituated mountain gorillas, all of which are used to human visitors, and known well by the guides.
You'll be allocated a gorilla family group and be placed in a group of a maximum of 8 people, accompanied by a guide and an armed park ranger. You'll also have the choice to hire a porter to accompany you on the trek.
After a briefing on safety and gorilla trekking etiquette, you'll be driven to the start of the trail you'll take to reach your mountain gorilla group. Your guide will then lead you along generally clear paths up into the forest, in radio communication with the trackers that stay with the group so that they can be located.
The duration of your trek depends on the location of the gorilla family you're heading to, but can take from 30 minutes to several hours.
Once you reach your designated group you'll be allowed an hour, maximum, with the gorillas.
Many trekkers can be a little apprehensive – a large silverback male gorilla can weigh up to 200kg, but the apprehension usually vanishes when you see the group, and your guides will ensure that the correct distances are kept between the trekkers and the gorillas. Often the gorillas will be spread around a small area of dense vegetation. They'll continue with their feeding and interactions, nonchalant about their visitors, though watching you with interest. Occasionally a playful youngster may approach you with curiosity – sometimes coming so close that you'll be asked to move away.
No meals are included as part of the trek, but you'll be served a light breakfast at your lodge prior to trekking. If you wish, your lodge may provide a packed breakfast to take with you - ask the day before. Do remember to take plenty of water with you for the trek, your guide will provide extra for you. You may also want to take a snack for extra energy!
Photography on a gorilla trekking safari
If you're a keen photographer, taking your own pictures of mountain gorillas is one of the most magical photo sessions you'll ever experience. Do bear in mind that the light can be poor in the rainforest and that use of flash is not permitted. You might also need to protect your camera against heavy rain.
Gorilla tracking etiquette
Mountain gorillas share 98% of our DNA and as such are very susceptible to catching human infections, particularly respiratory ones, but they don't have our immune system to deal with them – a common cold could eventually prove life-threatening. Various rules for gorilla trekking are therefore in place to help protect these precious primates.
If you have a cold, flu or other contagious infection, you shouldn't go gorilla trekking.
You should keep a distance of 7m from the gorillas, although of course the gorillas themselves are unaware of this and will often get very close, in which case you will be asked, and should try, to move away.
When you're with your group, you should try not to make sudden movements and to keep your voices low so that the group remains relaxed. Although these mountain gorillas are now used to seeing people, do bear in mind that they are still wild animals and can sometimes react unexpectedly, so always heed your guide's and trackers' instructions.
You won't be allowed to eat or drink when you're with the gorillas, and smoking is not allowed during the trek.
Mountain gorilla groups in Rwanda's Volcanoes National Park
The various groups and their locations will obviously change from time to time: mountain gorillas often climb higher in the dry season and descend during the rains, they might move on due to pressure from wild gorillas and individuals will often join other groups. When tracking gorillas, it's possible to request to visit a specific group once you are at the park headquarters, but this can never be guaranteed. These are some of the groups currently habituated for gorilla safaris in Volcanoes National Park:
Originally studied by Dian Fossey, the Susa Group was the largest, with 41 individuals, including 3 silverbacks. The group split in in 2009, with the original group also known as the Kurira Group after the dominant silverback. In the summer months in particular it can be a tough trek to reach the Susa groups high up on Mount Karisimbi, but it's well worth the effort because of their number and because, uniquely, it has a set of twins, a very rare occurrence in the world of gorillas.
The Karisimbi Group, which split from the Susa group in 2009, also lives in the Mt. Karisimbi area of Volcanoes National Park and is also suited to visits from more serious hikers. Both of these groups can potentially involve a full day's trek. The group split into two in 2012.
Isimbi Group was formed after the Karisimbi Group split, and is made up of about 13 individuals living with the dominant silverback Muturengere.
The Sabyinyo Group has about 16 individuals, including two silverback gorillas, one of which, Guhonda, is the largest in the park. The group is usually found relatively close to the edge of the forest (about 20–40-minutes' walk), between Sabyinyo and Gahinga.
Agashya Group, also known by its former name Group Thirteen, was re-named when the dominant silverback Agashya won leadership over Nyakairima in 2010. The group usually lives close to the Sabyinyo Group but can range very far and high. It has about 20 gorillas.
Usually living between the Karisoke and Bisoke peaks are the Amahoro Group, with about 18 individuals, and the Umubano Group, which currently has 12 members. Both are usually further away from the headquarters than the Sabyinyo and Agasha groups, but easier to reach than the Susa Group.
The Kwitonda Group has upwards up 28 members and was habituated in the DRC. They crossed the border into Rwanda in 2005, and were carefully tracked and are now also being visited on a regular basis, although they are known to have a much wider range than other groups. Their dominant silverback Kwitonda, meaning the humble one' was a favourite of the trackers due to his gentle nature. He died in 2012 and silverback Akarevuro is now in charge.
The Hirwa Group, meaning 'lucky', has around 19 members made up of gorillas previously belonging to the Agashya and Sabyinyo groups. The group includes one silverback and one of only a few surviving pairs of mountain gorilla twins, Isango Gakuru and Isango Gato.
The Bwenge Group, named after their silverback, has 11 members and can be a tough trek, as can the Ugende Group, whose name means "on the move" – its 11 individuals often move to new areas.
Please note
:
Expert Africa
only books excursions as a part of a full,
Expert Africa
itinerary.
Start location

Any of Expert Africa's camps or lodges around the Volcanoes National Park

End location

Back at your camp

Meals included

No meals are included

Duration

Half day - one hour with the gorillas

Maximum group size

Eight people
Rwanda Gorilla Trekking | Expert Africa
What to look forward to.
---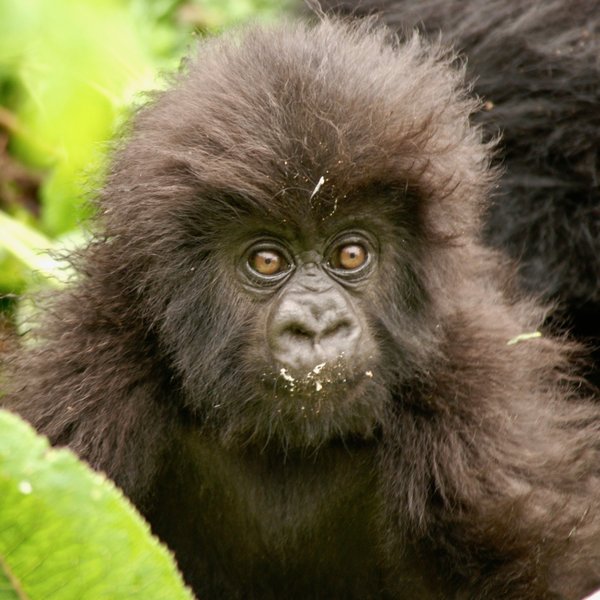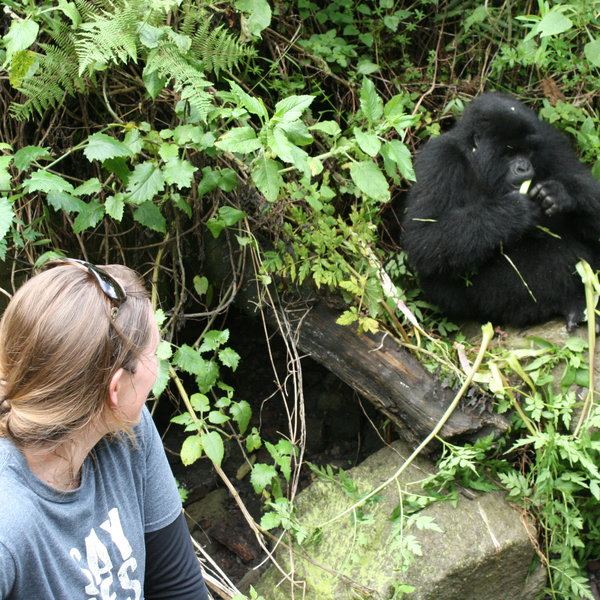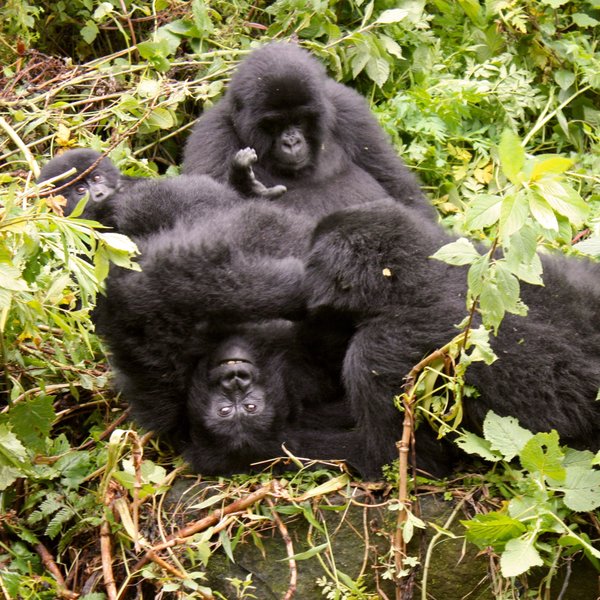 Gorilla Trekking Safari reviews
23 independent first-hand comments from our travellers.
---
Ideas for holidays which can include Gorilla Trekking Safari
Add this experience to these trip ideas or contact us to start planning your own tailor-made safari to Rwanda.
---
Other excursions in Rwanda
Inspiration and great ideas for other experiences in Rwanda to include in your safari.
---
Rwanda fact file
Useful information to help you prepare for your trip in Rwanda
---