Rwanda gorilla safaris
Our Rwanda trips usually include private a 4WD and guide, as well as permits to trek for mountain gorillas. Such gorilla safaris usually start early in the morning from the edge of the forest. After training in safety and gorilla-etiquette, you will be lead into the forest by a specialist gorilla guide from the national park.

As the altitude is over 2,500m, the pace is unhurried and the hike is tiring, taking from 30 minutes to a few hours. This gorilla guide will take you to one of the groups of 'habituated' mountain gorillas, which they know well. The gorillas are used to human visitors and sightings are pretty much guaranteed.

These well-organised and clearly structured Rwanda gorilla safaris are carried out with small groups of up to eight people, and you will normally be allowed only an hour with the animals. Many of our travellers will book two or even three treks on consecutive days, so it's easy to extent your gorilla safari for a few extra days.

Read our trip ideas below and give us a call if you'd like more information.
Sort by:
Name


|
Duration


|
Group or individual trip


|
Cost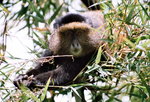 Golden Monkey Safari
|
13 days
|
Individual trip
US$7,520-7,520
This privately guided safari using a private 4WD vehicle is a grand tour of the gems of Rwanda: visits to the bustling capital city of Kigali, hiking to observe the majestic mountain gorillas of the Volcanoes National Park, admiring the glistening Lake Kivu and ...
More about Golden Monkey Safari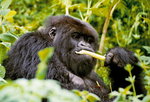 Gorillas and Maasai Mara Safari
|
10 days
|
Individual trip

US$7,626-8,754
This exciting safari to Rwanda and Kenya combines two fantastic wildlife experiences – hiking to visit the mountain gorillas in Volcanoes National Park in Rwanda, an overnight stop in Kigali, and onwards to game viewing in the Maasai Mara in Kenya.
More about Gorillas and Maasai Mara Safari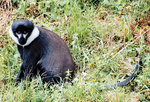 L'Hoest's Monkey Safari
|
8 days
|
Individual trip

US$4,212-4,212
This private guided safari is designed for primate lovers – it incorporates 2 nights in Nyungwe Forest National Park where chimpanzee tracking is a huge attraction and which also gives you the chance to see L'Hoest's monkey, Ruwenzori colobus monkey, grey-cheeked ...
More about L'Hoest's Monkey Safari
Mona Monkey Safari
|
10 days
|
Individual trip

US$4,995-4,995
This privately guided tour of Rwanda takes in all the main highlights the country has to offer…starting in the colourful capital city, Kigali, before continuing to the Volcanoes National Park where you'll visit the habituated mountain gorillas. Move on for a bit ...
More about Mona Monkey Safari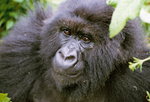 Mountain Gorilla Safari
|
5 days
|
Individual trip

US$3,497-3,497
A short 4 night in country safari, led by a private guide using a private 4WD vehicle, focusing purely on the stunning Volcanoes National Park, tracking the agile golden monkeys and spending two mornings tracking the famous mountain gorillas (more than half of ...
More about Mountain Gorilla Safari