Overview: Golden Monkey Trekking
These little-known primates,
Cercopithecus kandti
, are a subspecies of the blue monkey. You might not get as close to the golden monkeys as you may to the gorillas, but their antics are fun to watch and the bamboo forests, which they inhabit, are an interesting environment.
These fast-moving little creatures live in social groups of up to 100 individuals and they are very entertaining as they constantly swing through the bamboo or chase each other in circles all around you. They're also very pretty, with shiny reddish-gold backs that blend in perfectly with the golden bamboo.
Planning & organising your golden monkey trek
Golden monkeys live in the "bamboo zone", below the altitude at which the permanent forest starts. Because trekking to them is easier and less strenuous than going to the gorillas, this excursion makes a very good introductory trek as you acclimatise to the altitude of the Volcanoes National Park on your first day here.
This trek is usually a precursor to a trek to see the gorillas, so the most popular times to come in search of golden monkeys mirror the seasonality of the gorilla treks – which are best during the drier months, between December and February, and from about June to mid-September.
During the rainy seasons, April–May and in November, the terrain can be a bit more slippery. For more details, see
Rwanda's climate
.
Permits for golden monkey trekking
Even in peak season, there are generally plenty of golden monkey permits available, though we always recommend booking them before your trip, to be on the safe side. We will make all of the necessary arrangements any buy your permits prior to your trip.
Kit to take trekking
Paths on the treks can be slippery and muddy, so sturdy walking boots are essential. You might also find a walking pole helpful – though you will be offered a wooden walking stick on arrival. A waterproof jacket is a good idea, as even in the dry season you'll find there may be occasional downpours. We'd recommend wearing long trousers versus shorts.
Age limit:
You need to be at least 15 years old for this trek. This is strictly enforced and there is no flexibility.
How fit do I need to be to go trekking?
You don't have to be super fit for a golden monkey trek, but it does help if you have a good general level of fitness, if only to enhance your overall enjoyment. The monkeys can move fast when they're searching for food, and so at times the pace of the trek can move fairly swiftly, though the guides will stop regularly for breaks.
Some travellers can find the treks particularly strenuous; though you're not climbing up into the volcanoes, and the terrain near the bamboo forests is relatively flat, you're still going to be at an altitude of around 2,000–3,000m. Don't be surprised if you feel a bit breathless at this altitude; that is perfectly normal. We'd advise keeping well hydrated, paying attention to the directions given by your guide, and letting your guide know if you feel unwell at any point during the trek.
The golden monkeys are a great stand-alone experience for primate lovers, but we also do suggest that anyone trekking to see the mountain gorillas takes part in a trek to see the golden monkeys on the previous day, to help acclimatise to the altitude and surrounding terrain.
What's it like on the golden monkey trek?
You'll usually start early; these treks only take place in the morning. Your dedicated
private guide
, who will be with you for the duration of your trip in Rwanda, will drive you from your lodge to the park headquarters to introduce you to your trekking guide. There you'll join a small group, with a maximum of eight guests, who will be led by the trekking guide and an armed park ranger.
For a small fee, you'll also have the choice to hire a porter to accompany you on the trek, to help carry your backpack and offer a hand during tricky parts of the hike. Even if you don't really need one, hiring a porter is a helpful way to contribute directly to the local economy
After a safety briefing, you'll be driven to the start of the trail you'll take to reach the golden monkeys. Your trekking guide will be in radio communication with the trackers locating the golden monkeys, and will lead you along generally clear paths to the edge of the forest, at which time you'll then be moving through more dense vegetation,
The duration of your trek depends on the location of "your" golden monkey group. The monkeys can cover a fair amount of distance daily, so it can sometimes take a while for the trackers to locate them. Once you're with the golden monkeys, you're allowed an hour, maximum, with them before heading back.
The two groups of habituated monkeys are getting more used to their human visitors, so don't be surprised if they jump quite close, and be aware of standing directly underneath a group in the trees, as little "presents" can drop down at times!
No meals are included with the trek, but you'll be served a light breakfast at your lodge prior to trekking. If you wish, your lodge will provide a packed breakfast to take with you – ask the day before. Do remember to take plenty of water with you for the trek – your guide will provide extra for you – as it's easy to become dehydrated. You may also want to take a snack, for extra energy.
Photographing the monkeys
Taking photographs of golden monkeys can be rewarding but it does present some challenges. Not only do they move quite fast, but the light can also be poor and use of flash is not permitted.
That said, this isn't an environment for a massive, tripod-mounted lens – better to work with something that can be hand-held, or perhaps steadied with a monopod. We've found a zoom lens (80–200mmm f2.8) is very good, coupled with a high ISO setting.
Do also note that conditions will almost certainly be damp and, additionally, you might need to protect your camera against heavy rain.
Golden monkey trek rules
When you're with your group, you should try not to make sudden movements and to keep your voices low so that the group remains relaxed. Although these monkeys are now used to seeing people, do bear in mind that they are still wild animals and can sometimes react unexpectedly, so always heed your guide's and trackers' instructions.
You won't be allowed to eat or drink when you're with the golden monkeys, and smoking is not allowed during the trek.
Please note
:
Expert Africa
can
only
arrange this excursion as a part of a full,
Expert Africa
itinerary; for examples, see our
ideas for trips that visit Volcanoes National Park
.
Start location

Any of Expert Africa's camps or lodges around the Volcanoes National Park

End location

Back at your safari camp

Meals included

No meals are included

Duration

Half day; one hour with the monkeys

Maximum group size

Eight people
Photo gallery
What to look forward to.
---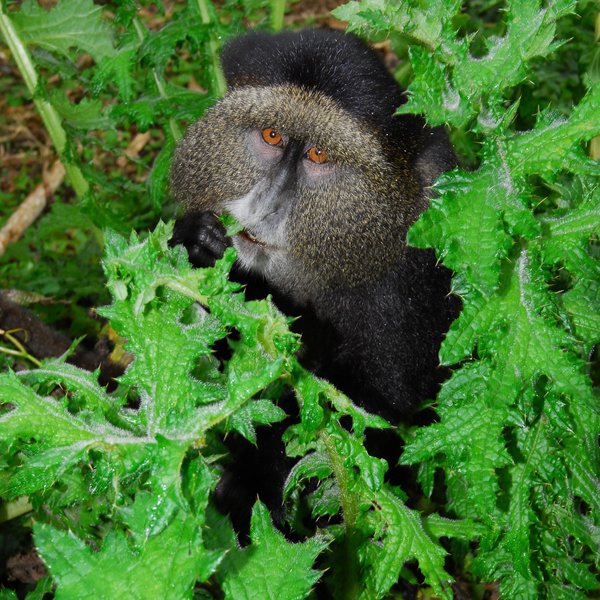 Golden Monkey Trekking reviews
24 independent first-hand comments from our travellers.
---
Ideas for holidays which can include Golden Monkey Trekking
Add this experience to these trip ideas or contact us to start planning your own tailor-made safari to Rwanda.
---
Other excursions in Rwanda
Inspiration and great ideas for other experiences in Rwanda to include in your safari.
---
Rwanda fact file
Useful information to help you prepare for your trip in Rwanda
---