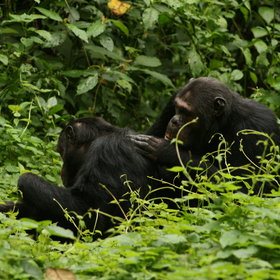 Nyungwe Forest's chimpanzees.
Chimpanzee Trekking in Nyungwe Forest
Nyungwe is an ideal destination for lovers of primates and most visitors will go for at least one tracking experience, the most popular of which is chimpanzee trekking.
Sightings may not be as reliable or as clear as gorillas, since the chimps often remain in dense forest, so the sightings vary quite significantly. However, their engaging playfulness and human-like characteristics make the long day worthwhile. The best chance of seeing them is when they're high up in the trees before they come down to forage for food, so make sure you bring your binoculars!
Start time:
You'll wake up very early to drive into the national park, meet your guide and rangers, then head down to the forest for dawn.
Guide:
Your dedicated driver-guide will be with you for the duration of your trip in Rwanda – they'll accompany you to the park headquarters, and introduce you to your gorilla trekking guide.
Age limit:
You need to be at least 15 years old for this trek. This is strictly enforced and there is no flexibility.
Duration of excursion:
The duration of your trek depends on the location of the chimps – this could take from 30 minutes to 2 hours to find them. Once you meet the trackers and are with the chimpanzees, as with the mountain gorillas, you'll have an hour to observe them.
Maximum size of group:
The maximum trekking group size is eight, accompanied by a guide and an armed park ranger. You'll also have the choice to hire a porter to accompany you on the trek.
Meals included:
No meals are included with the trek, but you'll be served a light breakfast at your lodge prior to trekking. If you wish, your lodge may provide a packed breakfast to take with you – ask the day before.
Do remember to take plenty of water with you for the trek – your guide will provide extra for you. You may also want to take a snack, for extra energy!
Please note
:
Expert Africa
only books excursions as a part of a full,
Expert Africa
itinerary.