Solio Lodge: Our full report
Solio Lodge, situated in the extensive, privately owned wildlife sanctuary of Solio Game Reserve, lies on ...
... the southern fringes of Laikipia, close to the foothills of the Aberdare range. Occupying the rolling plains between the Aberdare and Mount Kenya national parks, Solio is a beacon in Kenya's conservation landscape, and the country's pioneer in breeding black rhinos.

Unlike many of Kenya's smaller lodges, Solio Lodge has not grown from an original ranch farmstead. Instead, it was built from scratch, in 2010, to provide a permanent base for the increasing numbers of visitors wanting to see Solio's remarkable, long-horned rhinos.

The lodge consists of a dramatic, high-roofed, glass fronted central lounge and dining area and six, well spaced-out cottages built in the same, high, graceful style, with sweeping roofs of thatched tiles. The central building faces east – on a clear morning to a dramatic sunrise over Mount Kenya with the cottages on either side in two wings of three.

Facing the main lawn, the central areas – which also serve as the lodge reception – is a fine place to gather before meals. The lawn is dominated by a freeform deck encircling the base of a venerable acacia tree, and this is where breakfast and lunch are often eaten. Inside the lounge, there's a sit-up bar that gets most use when the lodge is full. As well as contemporary artwork, fascinating photos on the walls depict Solio Ranch's early days.

At the back of the lounge, a dramatic curving staircase sweeps up to a mezzanine platform spanning the lounge, where a small selection of gifts and crafts is for sale and comfy seating looks out from a veranda over the lawn.


Solio's cottages
All Solio's cottage-size rooms can be set up as double or twin-bedded rooms. Each cottage has a design theme reflected in the art on the walls and the room décor. There's a really pleasing design coherence to all of them, with clean lines, comfortable chunky furnishings over the partly carpeted and partly polished cement floors, and each room has its own individual colour palette. The panoramic floor-to-ceiling windows allow natural light to flood each room and French windows (beware of collisions!) give access to the low decks or lawns which front most of the cottages.

The cottages each have a large lounge area with plenty of soft seating, set apart slightly from the bedroom area by a bar-console arrangement with reading material, a fridge and a music docking station for playing your music through the room's audio system. Each room has an elegant fireplace in the lounge, and the fire is usually lit, with acacia deadwood, ready for your return from the late afternoon activity. Another fireplace, in the bathroom, can be lit on request. With 24-hour mains electricity and charging points with UK-style sockets in all rooms, there's a solid sense of supreme comfort and contemporary style throughout.

The cottage furthest to the south is cottage #1 (Zebra), which is usually considered the honeymoon suite, furthest from the central area. Wildlife loves coming up to this room, but there is no deck. Rooms #2 (Banana Leaf) and #3 (Cheeseplant ) are also on the south side of the central building. Of the six cottages, Cheeseplant is the most disabled-friendly cottage, being closest to the main area, though none of them have any special adaptations.

On the north side of the main building stands cottage #4 Strelitzia and then the adjoining family cottages, the People rooms (#5 and #6). Although this adjoining pair is usually used as a huge family suite, other guests will often be upgraded here on arrival if it hasn't been taken. Separate groups of guests will never be booked here together, as the rooms share a main area. There are great views of the lodge waterhole from here.

All the cottage bathrooms are enormous and feature deep, freestanding, bathtubs and twin wash basins. Some of the shower areas are floored with wood lattice and all have very high, waterfall-style showers with plenty of pressure. Ample hot water is provided by wood-fired boilers lit for each room, morning and evening. Unusually, the showers have glass walls on the garden side, allowing you to absorb the view and watch the wildlife while showering.


Solio Game Reserve
Solio Game Reserve is Kenya's oldest private rhino sanctuary – a 76km² conservancy carved out of Solio cattle ranch in 1970. Initially a focus for the breeding of crtically endangered black rhinos, it successfully started a white rhino breeding programme alongside the black rhinos and as numbers have burgeoned in the sanctuary, rhinos of both species have often been translocated to other protected areas in Kenya, including Lake Nakuru National Park, Ol Pejeta and Lewa. After some poaching cases, Solio started a photographic database of its rhinos in 2005 and now every individual of both species can be monitored. There are currently more than 45 black rhino and more than 185 white rhino.

The extraordinary success of Solio's conservation work means that Solio Game Reserve is chock-full of wildlife. You will see white rhinos in large herds, often out on the open plains, and many of them with impressive horns. The instinctively shyer black rhinos are a shade less outgoing, but still quite easily spotted. When we last stayed in November 2018, we counted nearly 50 white rhino and a pair of black, just on one afternoon game drive. These are the biggest of Solio's megafauna: there are no elephants at Solio, which has the benefit of protecting the splendid stands of yellow-barked fever trees that characterise the reserve. As well as large numbers of plains grazers, including impala, zebra and warthog, Solio has some northern species, including the rapier-horned Beisa oryx and smartly coated reticulated giraffe. On one visit, we followed six male lions on the evening we were there, and the reserve has good numbers of leopards, preying largely on the abundant impala. The opportunity to see some of Solio's fantastic birdlife, with more than 300 species having been spotted here, completes a spectacular wildlife experience.


Solio activities
Although you can go out on a dawn game drive, with the cooler and often slightly damp climate at Solio, and abundant wildlife, morning activities generally start from 07:00 after an early breakfast.

Game drives are run in comfortable 5-seater, closed Land Cruisers, with roof hatches, conducted by a driver/guide and a spotter. On our most recent visit, we found the guiding to be rather mixed – one guide we had was excellent, and one of the best of the trip, whereas another was quiet and hesitant. In the vehicles, you have the option of sitting up high on roof-mounted seats for a better view, which is good fun, but rather bouncy.

The same vehicles are used for full-day excursions into Aberdare National Park, the gate of which is a 30-minute drive from the lodge. Leaving the farmlands behind, you climb through dense mountain forest, cut through by streams and inhabited by elephant, buffalo, giant forest hog and colobus monkeys. Above the forest, from about 2,400m, there's a dense zone of giant bamboo, growing to 20m or more in height. And climbing above 2,800m you reach more open country, with tall, tussocky grassland and, above the tree line at about 3,000m, the region's famous Afro-alpine vegetation. This includes the same giant groundsel and ostrich plume plant or giant lobelia (a strange, furry-looking giant herb) that can be found on Mount Kenya. The drive can include visits to the top of the Chania waterfall – and, if there's time, also to the Karura Falls lookout, with a stunning view of the Gura Falls across a huge, jungle-swathed chasm. There's no charge for the Aberdare excursion itself, but you do have to pay the US$52 per person park fee.

Having spent considerable time in the Laikipia region during our last visit in 2018, our time in the Abedares was easily one of the highlights – the landscape and vegetation is beautiful and so varied, and we spotted a leopard, plenty of buffalo, giant forest hogs (a real rarity) and many colobus and Syke's monkeys – just in one morning. We would thoroughly recommend a day here, which is automatically included if staying 3 nights at Solio.

Other Solio activities include running, walking, horse-riding and cycling near the airstrip and in other safe areas outside the rhino sanctuary itself. You'll be accompanied by guides.

If you're feeling more sedentary, the rooms have yoga mats and you can also order a massage and other treatments in your room (extra charges apply for those).

Unusually, Solio offers very interesting back-of-house visits to the kitchen, vegetable and herb garden, stores and office area – neatly and securely organised in shipping containers. The short visit is encouraged and very worthwhile, testament to the high standards maintained here.
Our view
This spectacularly conceived and beautifully integrated modern bush lodge with huge rooms is one of central Kenya's very best places to stay. We were instantly seduced by the attention to detail, the delicious meals, the glass-walled mega-showers that look out onto the grounds, the super-comfortable beds and the remarkable wildlife riches of the Solio Game Reserve, in particular the numerous black and white rhinos.

Geographics
Location

Ideal length of stay

3 nights-plus

Directions

Solio Lodge is around 60 minutes drive from Nanyuki airport, or 5 minutes from the lodge's own airstrip for private charters.

Accessible by

Fly-and-Transfer
Food & drink
Usual board basis

Full Board & Activities

Food quality

The food quality at Solio is very high and one of the lodge's key experiences. The manager had a five-year stay in Italy and it shows in the attention to vibrant colours and flavours. With its own vegetable and herb garden, and the produce from Kenya's highland farms easily available, you eat very well and in great variety.

On arrival, our November 2018 lunch (from the buffet) on the garden deck included spaghetti with a pesto sauce, vegetable tempura with a honey soy and ginger dip, a mango and avocado salad, Caprese salad, as well as a cheese board. Dessert was a fruit sorbet.

Dinner often starts by the fire in the lounge, with some drinks and bitings. Moving to our table we had an excellent, fragrant Zanzibar fish soup, then a Thai chicken curry with rice accompanied by poppadums and kachumbari (tomato and onion salad) with fresh lime. There was still room for delicious, homemade ice cream made with local strawberries.

Breakfast was lovely, with very good pancakes and lots of fresh fruit, as well as a full English style fry-up.

You can eat more or less when you prefer, but as a guideline, breakfast is usually served between 06:30 and 09:30, lunch between 13:00 and 14:30 and dinner between 19:30 and 20:30. Tea and coffee and biscuits or cakes are also on offer in the main area all afternoon, or they can be bought to your room, as can tea or coffee with a morning wake-up call.

Dining style

Group Meals

Dining locations

Indoor and Outdoor Dining

Further dining info, including room service

Solo travellers will always be joined by the lodge manager for meals if appropriate. There are hot drink making facilities in the rooms, but wake-up calls with hot drinks can also be arranged.

Drinks included

All drinks, except Champagne, are included.
Special interests
Riding holidays

Solio is home to an impressive population of white and black rhinos, and rides take place outside their sanctuary. Explore the woods and rolling plains and keep watch for a diversity of species, including the northern varieties of plains wildlife.
See ideas for Riding holidays

Wellbeing

The 6 well-spaced, east-facing cottages provide privacy and stunning sunrise views of Mount Kenya, while the graceful design, ample natural light and glass showers overlooking personal gardens create an ambience suitable for this luxury retreat.
See ideas for Wellbeing

Luxury

With its modern design and individually themed cottages, Solio Lodge was purpose-built for luxury. Panoramic windows and open fireplaces add wow-factor, while exploring the private conservancy makes for an exclusive experience.
See ideas for Luxury
Children
Attitude towards children

Solio is very flexible in its attitude to children but the lodge does have an adult flavour and children need to be supervised (or well-behaved).

Property's age restrictions

None

Special activities & services

Children often play ball games – cricket, football, volley ball – in the grounds, and bush craft skills can be organised with some of the guides, as can torchlight walks in the grounds looking for small, nocturnal wildife such as bushbabies and insects.

Equipment

Highchairs and baby cots are available.

Generally recommended for children

With the proviso that Solio feels stylish and exclusive rather than family-focused, this is neverthelss a secure and very comfortable safari base for children. The gardens are fine for letting off steam and the impressive fauna in the rhino sanctuary is very easily seen, so game drives are packed with interest.

Notes

As ever, very young children will need supervision at the lodge, but older ones, from say 5 and up, should be fine if they behave responsibly.
Our travellers' wildlife sightings from Solio Lodge
Since mid-2018, many of our travellers who stayed at Solio Lodge have kindly recorded their wildlife sightings and shared them with us. The results are below. Click an animal to see more, and here to see more on our methodology.










Striped Hyena
33% success






Communications
Power supply notes

There's a back-up generator for the occasional mains blackout. Solar water heating is planned though this won't be feasible all year round. Hot water is supplied by wood- and briquette-burning boilers, with the briquettes partly supplied by the lodge's own briquette maker, supplied with waste cardboard (other recycling includes tins and plastic bottles returned to Nairobi, kitchen waste to a pig farmer in the local town of Mweiga).

Communications

Cellphone network is available, and there's WiFi in the rooms.

TV & radio

There are no TVs in the lodge's rooms or public areas, but guests are welcome to watch big matches or major events with staff or managers.

Water supply

Borehole

Water supply notes

Borehole water is pumped up to tanks near the stables. This water is actually potable, but guests are nonetheless advised not to drink it and bottled water is provided.
Sustainability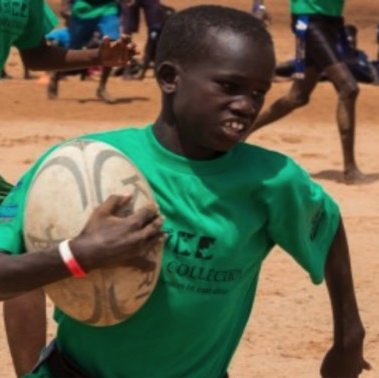 Education and healthcare in the Solio Game Reserve
Nestled in the valleys at the heart of Mount Kenya and surrounded by 45,000 acres of wilderness in the Solio Game Reserve, Solio Lodge provides intimate and unique guest accommodation. A member of the Safari Collection, the lodge is an active supporter of local communities, with projects approved by Kenya Wildlife Trust. Social commitments are twofold, focusing on education and healthcare.
The complete refurbishment of the Honi Primary School and the partial refurbishment of Leburra Primary School outside Solio Lodge have recently been completed with significant help from donors. With support from Solio Lodge, Honi Primary School has now 7 classrooms stocked with new textbooks and furniture, a dining hall with kitchen, staff rooms and playground.

Additionally, to emphasise the importance of education and raise awareness about health issues, an innovative project has been designed. 'Team Talk' is intended to encourage empowerment of girls and considerably improve health and sexual education using sport as a medium to achieve this. In partnership with Exploring Global Health Opportunities and The Tag Rugby Trust, Safari Collection is helping children build self-confidence, gain social skills and a desire to invest in their future through education.

When discussing healthcare, numbers show that there is an average of 1 dentist for every 150,000 people in Kenya and over 300,000 people live with blindness, despite over 80% of these cases being preventable or curable. Proving once again its commitment to social investment, the Safari Collection has partnered up with SmileStar, a UK dental charity and Medical and Educational Aid to Kenya (MEAK) to provide free dental and eye treatments for the communities near Solio Lodge. In the past few years, over 1000 patients have undergone dental surgery, while 500 were able to improve their eyesight with using surgical interventions.
See more great sustainability projects in Kenya
Health & safety
Malarial protection recommended

Yes

Medical care

Solio staff have been on first aid and medical courses and are able to deal with minor problems. The lodge has a good range of first-aid equipment.

Dangerous animals

High Risk

Security measures

Security is very good at Solio, with askaris at the lodge itself and Kenya Wildlife Service rangers and government General Service Unit officers in the surrounding ranch and sanctuary.

Fire safety

There are fire extinguishers throughout the lodge. Staff have all done fire training.
Activities
4WD Safari

Birdwatching

Guided walking safari

Horse-riding

Mountain biking

Night drive
Extras
Disabled access

On Request

Laundry facilities

Fast laundry service – machine washed using GNLD eco-friendly detergents and then tumble-dried – is included in the rates.

Money

Each room has a safe. Small amounts of Kenya shillings can usually be exchanged, but for full foreign exhange the lodge suggests guests use the ATMs in Nyeri or Nanyuki.

Accepted payment on location

UK pounds, US dollars and Euros are accepted for cash payments. Visa, Mastercard and Amex credit cards are accepted with no surcharge.
Other lodges in Laikipia
Alternative places to stay in this same area.
---