Four Seasons Desroches Island: Our full report
Four Seasons Resort Seychelles at Desroches Island is a colonial-styled retreat in a far-flung corner of ...
... the archipelago. With a distinctly European air, contemporary feel, good range of activities and excellent food, it's a justifiably popular spot.

Following an extensive construction program in 2008, there are now 48 suites and villas on Desroches Island, which are divided into:

- 20 junior suites, which are part of the 'original' resort here. In semi-detached villas, these all run along the island's western beach – and are contemporary and stylish inside. (Read more about the junior suites here...)

- 28 new villas which were built during 2008 along one of the island's northern beaches. Most of these have three large, en-suite bedrooms, whilst a few are even larger. (Read more about all the villas here...)

When we last visited, in September 2008, the villas were still under construction. (It will be interesting to see how this doubling in size impacts on the feel of the island in the coming year.)

The communal areas of Desroches Island Resort are arranged around a sparkling T-shaped swimming pool, complete with underwater fish mosaic and a gentle bridge between the bar and reception. Surrounded with comfortable loungers under white canvas umbrellas and an impressive rubber tree, this is a peaceful spot to while away sun-kissed afternoons, whilst by night, it transforms into a romantic haven of sensitive lighting and no music to mask the waves breaking on the shore. The bar offers fresh juices, imported wines and made-to-order cocktails at sundown, whist the broad restaurant terrace invites chic diners to tables clad in white linen and sparkling glasses. There is a definite air of style by night, and unlike many island retreats in the Seychelles, high-heels will not go amiss for ladies who like to dress up a little!

By day, activities abound on Desroches and yet the size of the island means that is is perfectly possible to be thoroughly active and still see few other visitors. There are stunning beaches in all directions, a working plantation in the island's centre and the freedom to move around at leisure.

- Cycling: On arrival on Desroches Island you will find allocated bicycles parked outside your room. They are yours to use throughout your stay and make exploring the island's coastline and plantation interior thoroughly enjoyable. With single gear operation and complete with a sizeable basket for snorkelling kit, cameras, towels and the like, they bikes are a real asset. The island is flat and simple maps are provided (though getting lost would be difficult!) so travel is gentle.

- Snorkelling: With reef lines visible from the plane as you circle the island on arrival, it's little surprise to find good snorkelling close to shore. Protected from fishing, these gentle reefs are home to colourful marine life and make for a fun excursion when teemed with a bicycle ride a tasty picnic lunch (baskets of tasty salads, baguettes and fresh fruit can be delivered to you anywhere on the island for Euro10/pp). There are several accessible snorkelling sites on the island and all are marked on the island maps; the key spots are at Madame Zabre, Passe Tambi, Passe Theresa, the Aquarium and Passe Hodoul. Fins, masks and snorkels can be borrowed free of charge and are easily carted around in your bike's panier for your stay.

- Diving: There is a well-equipped PADI dive centre on Desroches, where beginner and advanced courses can be arranged, as well as sub-aqua excursions for the initiated. Varying in depth from 8-40m, wall and canyons dives offer good opportunities to spot colourful sealife (Napoleon wrasse, Giant grouper, Barracuda, Reef sharks and Ribbon-tailed stingrays), as well as migrating Manta rays and turtles (Green and Hawksbill), and for the fortunate few, spectacular whale sharks. Qualified divers need to bring their log books and dive cards to participate in the centre's activities.

- Fishing: With both deep-sea and salt-water fly-fishing on offer in Desroches immediate vicinity and further afield, the Fishing Centre is a good stop for keen fishermen. From Yellowfin tuna to Bonefish, Giant Trevally to Snapper the waters are well stocked for a successful day afloat. With the exception of supplies for the chef, Desroches operates a strict catch-and-release policy on all fishing activities.

- Watersports: Aside from fishing and diving, genteel boat trips, pedalos, windsurfing and kayaking are all available from the Boat House.

- Tennis: There is a floodlit tennis court close to the island's airstrip and rackets and balls are available.

- The Coconut Spa: Between 9am-7pm daily, the resident Balinese therapists on Desroches offer massage and beauty treatments in their simple retreat. There are no fancy spa features at present, but for a cool, calming experience, especially in the heat of the day, be sure to book a little in advance and enjoy the pampering.
Our view
Since our last visit Desroches has been taken over by Four Seasons Resorts so we expect it to be a finely tuned operation of excellent quality. Indeed the white sands, clear seas and beautiful views are spectacular enough on their own, so we could quite happily while away many a week soaking it in!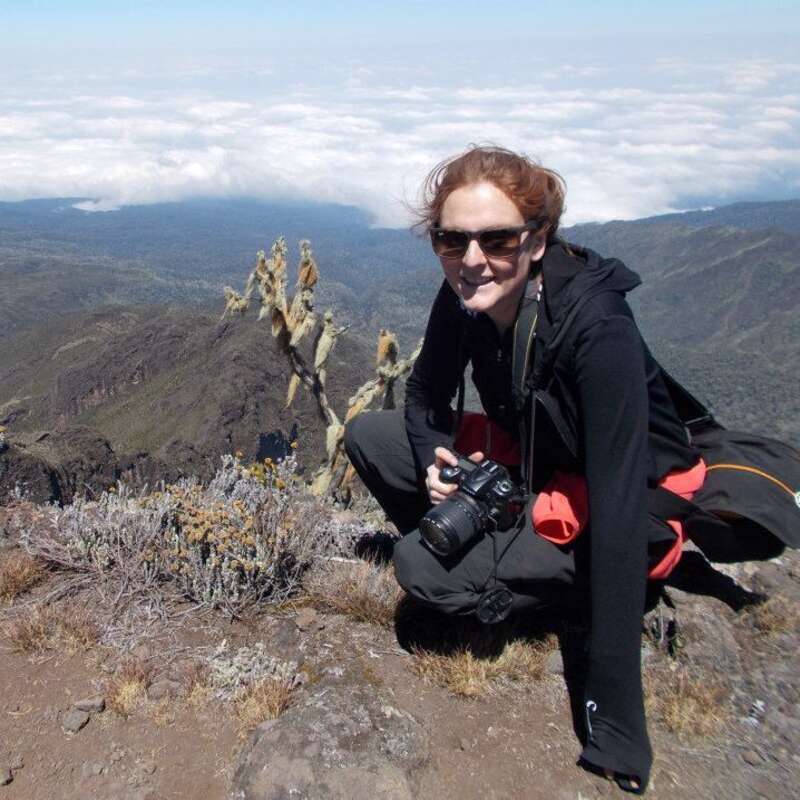 Geographics
Location

Ideal length of stay

3-14 nights; three nights is the minimum time that it's worth coming to Desroches Island for, and it'd be easy for beach-lovers to stay for a week or two.

Directions

Desroches Island is a scenic 40 minute flight from Mahé Airport. There is one daily flight, usually in 8-seater 406 Caravans. There is an implausibly good concrete airstrip on this little island as it is the official emergency strip for the Southern Indian Ocean area, which is capable of handling a 747 plane!

Accessible by

Fly-and-Transfer
Food & drink
Usual board basis

Full Board

Food quality

From its elegant, whitewashed colonial home, the restaurant, 'Le Veloutier', overlooks the swimming pool and the sea beyond. Extensive buffet breakfasts and sumptuous dinners are served here daily, with lunch settings frequently varing in location. The food is of an exceptionally high standard –in ingredients, cooking and presentation – and service is suitably matched. There is a formal air to dinner, much as you would get in a high quality city restuanrant, and most people during our stay chose to dress smartly for the occasion.

Breakfast: From crepes drizzled in maple syrup to fluffy omelettes; baskets of pastries, fresh fruits and cereals…the choice at breakfast could set you up until dinner. Hot dishes are cooked fresh to order at a 'cooking station', whist all else remains self-service. A great start to a day

Lunch: Lunch buffets were served under the beachfront palms during out visit and included salads and some Creole classics. Whether it's a light bite or something more substantial, you are unlikely to go without during a stay here.

Dinner: Extensive set menus are produced by the chef daily, with choices available for several courses.


Special interests
Beach holidays

Looking for the best escapist's beach holiday in the Seychelles? Try Desroches Island. Throw a towel, mask and suncream into your bike's pannier and pedal to a perfect beach. There are 14km to choose from, and you can get a fabulous picnic hamper delivered.
See ideas for Beach holidays

Walking

Desroches Island is also good for walking in Seychelles, offering some beautiful beaches to stroll at your own pace. Most people cycle on the island, with bikes readily available, however you can explore on foot if you wish.
See ideas for Walking

Luxury

Desroche Island Resort offers pure luxury including a t-shaped swimming pool surrounded by elegant loungers under white canvas umbrellas. Experience exceptional standards from private, sumptuous champagne dinners to your made-to-order cocktails served in sparkling glasses at sundown.
See ideas for Luxury
Children
Attitude towards children

Children are welcome on Desroches Island and the variety of activities and freedom to move around the island en masse by bicycle is often greatly enjoyed by families. However, at dinner in the main island restaurant, the scene is elegant and the ambience fairly formal, so children will be expected to behave accordingly.

Special activities & services

There is no dedicated kids club on the island.

Generally recommended for children

For older children, who are at least able to ride a bike, Desroches Island will prove a perfect island adventure, with plenty to do and explore. Good behaviour in public areas will be expected, so parents must chose wisely.

Notes

There is runway access, ocean frontage to the villas and a working coconut plantation on the island. None need pose a danger to well-briefed children and vigilant parents, but its important that younger children are constantly supervised by their parents.
Communications
Communications

The area around the reception offers free WiFi access, whilst international calls can be made from all of the villas. In urgent cases, faxes can be sent and received on your behalf.

TV & radio

Satellite television is available in every guest room with channels showing news, movies, sport and music programmes in both French and English.
Health & safety
Malarial protection recommended

No

Medical care

There is a nurse on the island and basic first aid care can be provided. The nearest hospital is in Victoria on Mahé (45mins by air) and flights can only be made during daylight hours.

Dangerous animals

Low Risk

Fire safety

There are fire extinguishers lining the covered walkway between every Junior Suite, and located outside the new Villas. A fully equipped fire engine is sited at the airstrip.
Activities
Birdwatching

Fishing

Kayaking

Scuba-diving

Self-guided walking

Snorkelling

Watersports
Extras
Disabled access

On Request

Laundry facilities

Full Laundry Service - Extra Charge
Room types at Four Seasons Desroches Island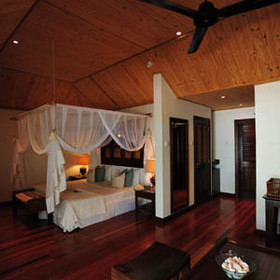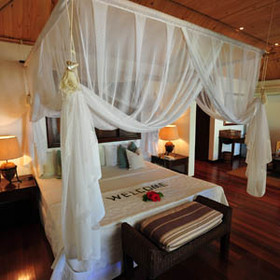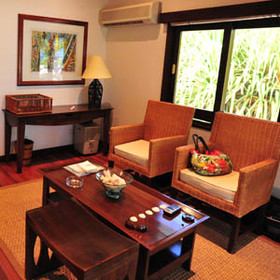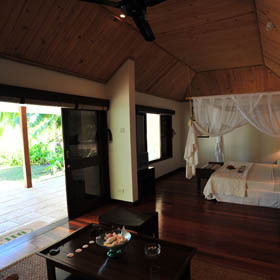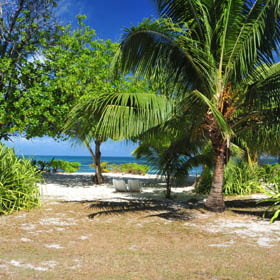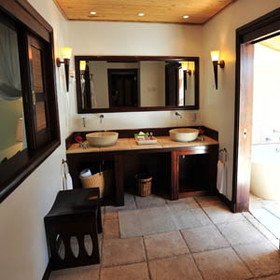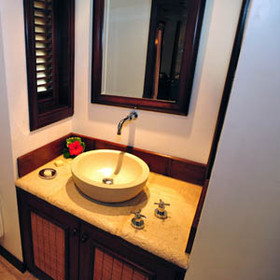 Junior Suite
The 20 Junior Suites at Desroches Island Resort are all neat, semi-detached cottages, located in a beachfront row either side of the main public areas; they run along Desroches' western beach. These semi-detatched villas were the resort's original rooms, and they remain contemporary and stylish.

Inside you'll find highly polished wooden floors, neutral fabric shades and natural objet d'art in the bedroom, then cool stone floors and an outdoor bath/shower in the en-suite bathroom – all have been thoughtfully and tastefully selected. King-sized beds are comfortable and romantically shrouded in mosquito-net (in spite of the compelte lack of mosquitos when we last visited!) There is efficient air-conditioning, a mini-bar and a TV, with a variety of international satellite channels, fitted as standard also.

Go through the lounge's tinted patio doors and outside each junior suite at Desroches Island Resort and you'll find a palm-filled 'garden' which leads about 25m to the sea, making the ocean a mere hop, skip and jump from the shady veranda.

At the time of writing, a covered walkway at the back of these these rooms links them to Desroches' central pool, restaurant and bar area, however, there are plans to move this path urther back at some stage. This change, if it happens, will improve aesthetics but may notbe so welcome in any sudden tropical downpour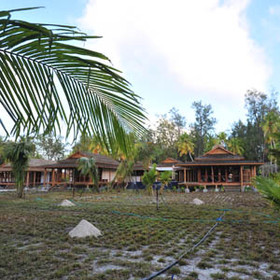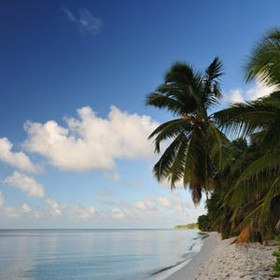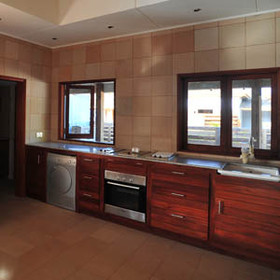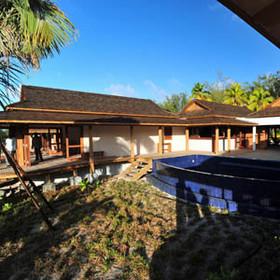 Villa
At the end of 2008, Desroches Island Resort opened 28 four-bedroomed villas along the superb Madame Zabre beach, on the island's north coast. They are located away (5min cycle) from the main resort facilities, though they share these, including the restaurant, with all other guests.

Aimed at large families and groups of friends, the villas are extremely large and have been carefully constructed using casuarina timber for the interiors and stylish modern fixtures and fittings. Bedrooms are spacious and feature tasteful built-in furniture and king-size beds, whilst all of the villas have a well-equipped modern kitchen (washing machine, tumble dryer, dishwasher and fridge-freezer), alongside their broad, U-shaped terrace and inviting, indigo blue infinity pool.

Though all similar in style, these villas on Desroches Island do vary in size and capacity, and are broken into the following categories:

- The 25 Beach Front Villas each have three en-suite, king-size bedrooms with a bath as well and an indoor and an outdoor shower. There is a fourth bedroom, smaller in size, which could be billed as a 'nanny room' for families.

- There are 2 Deluxe Beach Front Villas which are essentially the same as the Beach Front Villas but feature 4 en-suite, king-size bedrooms.

- The Presidential Beach Front Villa is again similar to the Deluxe Beach Front Villas, but boasts a more linear construction offering a vast 100m of uninterrupted beach frontage. There is only one Presidential Villa.

Modern conveniences like air-conditioning, satellite TV, hairdryers and a stocked mini-bar are standard. Meals can also be served in-villa at a supplementary charge.
For all of the villas' positives though, it is hard to escape the observation that in spite of the large size of Desroches Island, the resort's new villas have been sited extremely close together. This does have a negative impact on both privacy and a sense of island isolation.

Other areas in Seychelles
---