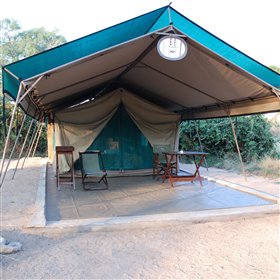 The tents at Mdonya Old River Camp are set wide apart under shady acacias.
Tented rooms
The large walk-in guest tents at Mdonya Old River Camp are spacious, airy and cool. Inside are large, comfortable double/twin beds. Brightly coloured throws add character, and the furniture is simple and practical.

There is hanging space for all your clothes, as well as a large lockable, wooden trunk for valuables. Each tent also has a writing desk and chair. Woven makuti mats cover the tent floor, and there are two kerosene lanterns which you need to fire up. A torch is also provided which is vital as there is no electricity in the guest areas.

Each tent has a large, private veranda with a deck chair – a great place to sit and listen to the sounds of the bush.

Through the back of the tent is the en-suite bathroom. The floor is polished cement, the walls are made from strong canvas, and the ceiling is open to the sky. Like the rest of the camp, the bathrooms are functional, rather than stylish.

The washbasin is a simple steel bowl set on the washstand – the cold tap runs into the basin and then you can remove the basin and tip the contents into a bucket underneath. Behind a dividing wall is the flush toilet and hot shower.