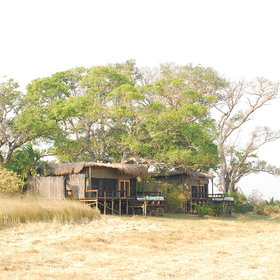 Shumba Camp is built on a tree island in the middle of the Busanga Plains.
Shumba tented room
Shumba Camp has six very spacious tented rooms, each built high off the ground on a wooden platform. Canvas walls have been strengthened by a solid wood-and-pole structure to create a substantial building. Above the canvas ceiling, a raised wooden roof covered in grass helps to keep the tent cool. Each has an extensive private wooden deck with a sunken seating area where comfortable cushions have been laid out along a wooden bench.

The rooms are long and rectangular. At one end, two queen-sized four-poster beds are pushed together and draped with a mosquito net which is drawn for you before you retire for the night. A comfortable settee or armchairs face the front, where canvas walls can be rolled up for an uninterrupted view of the plains and the antelope grazing below.

Luggage can be stored or hung on an open wooden shelving unit, where there is also a small safe for valuables. Each room also has a small desk and a power point for charging batteries.

The en-suite bathrooms at Shumba can be curtained off from the bedroom although both the toilet and a large walk-in shower have curtain dividers of their own. Twin basins are set in a wooden bench equipped with complimentary toiletries, and a full-length mirror adds a further touch of luxury. To complete a marvellous bathroom, each room also has its own outdoor shower with a view!