Hyena Safari: In full
This great-value safari spends six nights focusing on wildlife activities whilst staying at a three economically priced and very good camps in Zambia's South Luangwa National Park; start your safari in a fantastic area for wildlife where you may want to focus on 4WD safaris, before moving on to two walking only camps that really take you out into the wilds.
Include:
---
Days 1-3
3 nights at Flatdogs Camp (full board & activities) | South Luangwa National Park, Zambia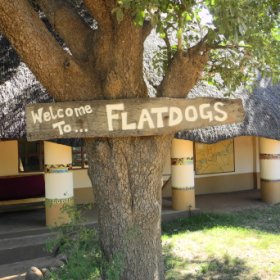 From Lusaka you take a 60-minute flight to Mfuwe Airport, on the outskirts of
South Luangwa National Park
. There you meet your safari guide who will transfer you through the small settlement around Mfuwe to your safari camp beside the Luangwa River. Although you'll stay just outside the national park, there are no fences and wildlife, such as elephants, often wander through the camp. You'll enjoy morning and afternoon/night drives as well as guided walking safaris during your
3 night
stay at Flatdogs Camp.
---
Day 4
1 night at Chikoko Tree Camp (full board & activities) | South Luangwa National Park, Zambia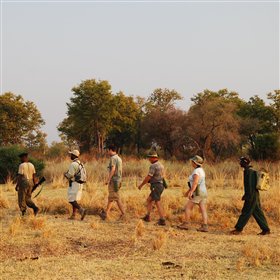 After breakfast, Flatdogs will transfer you to the remote north of South Luangwa National Park, to a camp called Tafika – sister camp to your final destination. Here you will stop for brunch and a short time to relax, before leaving the vehicle behind and
walking out into the heart of the bush
where there are no roads. You will walk with an armed scout, guide and tea-bearer for up to four hours, depending on what you see. This is a slow meandering bush-walk set at a pace designed to take in the sights and sounds, rather than cover huge amounts of ground. Just before dusk you will walk into camp, with your luggage already waiting for you in your simple but comfortable thatch chalets. Settle around the camp fire for a well deserved sundowner at Chikoko Tree Camp.
---
Days 5-6
2 nights at Crocodile Bushcamp (full board & activities) | South Luangwa National Park, Zambia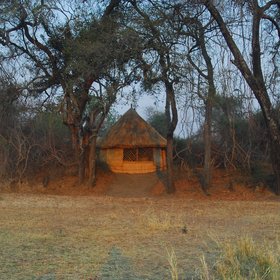 Gather around the campfire in the cool early morning air, where a bowl of hot porridge and toast cooked over the fire is waiting for you. When you are ready walk out into the bush and witness the animals and birds wake up around you. In the mid-morning stop for a tea break, before walking on to your next camp, Crocodile Camp, for a hearty brunch. In the afternoon and on the following day this will be your base for exploring the area on foot – tracking animals, and learning as much as you can about the environments. Your guide has a fantastic wealth of knowledge and so ask as many questions as you can!
---
Day 7
In the morning you will walk back to Tafika for brunch, before being driven by your guide to Mfuwe Airport for a flight (typically 60 minutes) to Lusaka Airport where you will continue with your own onward arrangements.
---
See Prices & details for the precise dates/prices for this trip - and all the fine print.