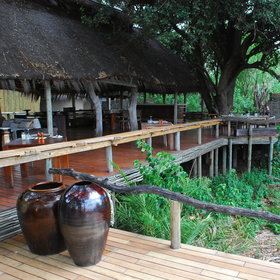 Little Mombo is situated in a game-rich area in Botswana's Moremi Game Reserve.
Tented Suite
The three suites at Little Mombo are reached by a high walkway, which wends its way through the indigenous trees growing in the camp. Each suite is luxuriously and individually crafted, and they are widely spaced, giving plenty of privacy.
Note that the suites at Little Mombo are exactly the same as
the suites at Mombo Camp
.
Little Mombo's suites are entered from the back, via a very thick and heavy carved wooden door. The view is the first thing that you will see – and this is enhanced by the long outside deck along the front of each suite which also houses a "sala" – a thatched lounging area overlooking the plains in front of Mombo.
Inside each suite at Little Mombo there is a large comfortable bed, with a walk in mosquito net and bedside tables with individually crafted reading lamps. The bed is low and decorated with neutral-coloured cushions with simple swirling designs and big fluffy pillows. Each bed has an uninterrupted view over the floodplains in front of the camp, and the room has fold back wooden doors with mosquito netting which open right back, giving a wide view and letting a refreshing breeze into the room.
In the centre of each suite at Little Mombo is a large sofa and footstool, and a dark wooden polished chest of drawers – this has various plug points, enough to charge a good range of batteries. On top of the desk is a silver tray with filtered and bottled water and glasses, and sherry and port in sparkling decanters as well as a selection of wildlife and birding magazines.
Each suite at Little Mombo has a wardrobe (which has been designed to look like an old travel truck turned on its side). Within this you will find the electronic safe, insect repellent, bug spray and a box of tissues (each in its own individual leather cover). This wardrobe, along with an ottoman, is in a "walk-through" area, which leads to the enormous bathroom.
The bathrooms at Little Mombo are at one end of the suite, where it opens out into a large room with a double shower, plenty of storage space, a full-length mirror and a washstand at the front of the room overlooking the plain. The washstand has two curving pottery bowls in shades of brown, and there is a good selection of complementary toiletries, and a big bale of soft brown and white fluffy towels for each guest. A small white shelving unit in the corner has more towels and toiletries, and the bathroom can be separated from the main bedroom by a thick white curtain.
At the end of the bathroom is a separate room housing the flush loo with a view over the plains, and a door to the outside leads to the open-air shower, with an oversized shower rose and hot and cold running water. This outside shower is surrounded by curving canvas walls on three sides – the fourth being open, to give stunning views over the plains in the front of Mombo. There is a metal and cushion chaise longue outside the bathroom area.