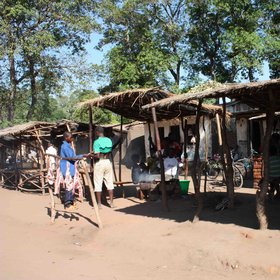 Latest Blantyre trip reviews
Overnighting in Blantyre
28-Sep to 16-Oct 19
Good

Clean, comfortable with friendly staff
15-May to 28-May 15
Excellent

One Night at Ryall's Hotel
21-Jun to 13-Jul 13
Good

Ryalls Hotel review
4-Oct to 12-Oct 11
Good

A well organised hotel.
25-Aug to 8-Sep 07
Good

Blantyre
Blantyre is the capital of Malawi's Southern Region and the country's centre of finance and commerce, a role which stems back to its beginnings as a trading hub in the 19th century. Lying in a basin of the Shire Highlands, which is ringed by low hills and three mountain peaks, the landscape around Blantyre is more appealing than the area around Lilongwe. Whilst this doesn't mean that it's a busy tourist attraction, it is a central focus for travel in southern Malawi – understandably, as it is indeed a pleasant little city.
Where to stay – hotels in Blantyre
Blantyre is, in many ways, the unofficial capital of the country, and offers a greater choice of places to stay than any other Malawi city. Many visitors spend a night or two here at some point, and the
Ryalls Hotel
, which is run by the Protea Hotel Group, is the obvious choice. However, there is also a range of more affordable accommodation in Blantyre.
Blantyre: orientation
Among the distinctive topographical features of the area are the plateau and the ridge here as well as numerous hills, which can be found throughout the city of Blantyre and around. These are the headwaters of many narrow, steep-sided rivers and streams radiating from the city, which form a natural system of drainage.
The modern city of Blantyre now forms a conurbation with Limbe, whose centre is 6km south-east of Blantyre's. However, most travellers stay in Blantre as they can usually find everything they need on a very compact area of about 1km2, in the triangle between Haile Selassie Road, Glyn Jones Road and Queen Victoria Avenue.
Blantyre activities: what to see and do
This central triangle of the city is where you'll find most shops as well as restaurants and some offices. It is within walking distance from Mount Soche and the Ryall's Hotel in Blantyre and offers plenty of opportunity to get hold of some
souvenirs
.
In Limbe, two parallel running streets, Livingstone Avenue and Churchill Road, hold a great number of Asian, mainly Indian-run, shops. They are usually open until late and very busy with locals. There's also a market in this part of the city – but come for the atmosphere rather than the goods on sale.
Equally remarkable for its bustling atmosphere is the
tobacco auction floor
on Churchill Road in Limbe. The best time to visit here is early morning, when masses of tobacco leaves are sold and bought at a breakneck speed, with tens of millions of US dollars not unusually changing hands at the end of the day. Here, it is quite easy to believe that tobacco is Malawi's most important export.
Historically interested travellers might like to visit the
exhibitions
on natural and cultural history in the Museum of Malawi or go to the Chichiri Museum, which allows interesting insights into Blantyre's long history. The Transport Museum, which forms part of the Heritage Centre in Limbe, takes you into the early colonial period of Malawi.
Unfortunately, many of Blantyre's
historic buildings
have been replaced by fairly soulless modern concrete blocks. Those left include e.g. the Old Boma, Blantyre's former town hall, and the Mandala House, which dates back to 1882 and is often said to be the oldest still standing house in Malawi. It was certainly the country's first two-storey building.
A sight not to miss when staying in Blantyre is the beautiful red brick St. Michael and all Angels church, which was built by Scottish missionaries and a group of local men in 1891. The fact that none of them had had any training in architecture or building practices makes the construction even more impressive. Outside the church there is a plaque that functions as reference for the geographical location of Blantyre.
You might also like to pay Kamuzu Stadium in Chichiri a visit, the largest stadium in Malawi, which accommodates about 60,000 people. It plays host to major events like international football matches, presidential inaugurations and Independence Day celebrations.
Active travellers can opt for a daily membership to do
sports
at Limbe Country Club or Blantyre Sports Club, where you'll find facilities for swimming, tennis, squash, golf and bowling. Keen walkers might consider climbing one of the three summits around Blantyre – in this case, Ndirande Mountain would be the obvious choice. It's easily accessible and spoils the visitor with wonderful views over Blantyre to one side and towards Zomba Mountain and over the Shire Valley from another viewpoint.
History of Blantyre
Until relatively recently, Blantyre has always been Malawi's financial and commercial 'capital'. It isn't only Malawi's oldest municipality, but also one of the oldest urban centres in eastern, central or southern Africa. Its history reaches further back than Nairobi's, Harare's or Johannesburg's, and Blantyre's cultural and historical heritage is still a vital party of the city's identity.
Blantyre was founded by missionaries of the Established Church of Scotland in 1876 and named after the birthplace of David Livingstone, in Scotland. (Now a small place just southeast of Glasgow.) As the new settlers augured protection from the raids of other tribes, the local people encouraged the missionaries' business. As a result, trade, especially in ivory, soon flourished here. This, together with the Blantyre's easy accessibility and healthy climate, attracted further European and Asian settlers. For this reason Blantyre quickly became the most important settlement in Malawi and a trade crossroads for southern Africa.
In 1883 Blantyre gained the status of a British consular and by 1895, it had become a municipality. Only twenty years after its foundation, there were permanent houses, stores and roads. In 1956, Blantyre was merged with the rapidly growing Limbe. Although each of them has maintained its individuality, today both cities form a unity, with their centres lying about 6km apart – even if Blantyre remains the main destination of interest for most travellers.