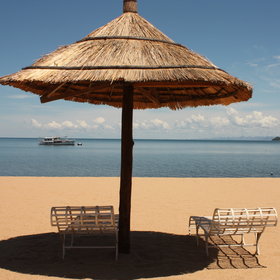 Relax on the shore of Lake Malawi with its beautiful sandy beaches...
Latest Shore of Lake Malawi holiday reviews
Pumulani review
10-Jul to 25-Jul 19
Excellent

Tranquil Pumulani
1-Jul to 18-Jul 19
Excellent

Peace and relaxation on Mumbo Island
29-Jun to 7-Jul 19
Excellent

Pumulani -- The Next Best Thing to Paradise
23-Oct to 30-Nov 18
Excellent

Pumulani review
5-Nov to 18-Nov 18
Average

Shore of Lake Malawi
The physical and spiritual backbone of the country is Lake Malawi, stretching for over 300 miles and covering more than 20% of the country in water. These clear, mineral-rich waters teem with countless, brightly coloured cichlid fish, many of which are endemic.
Many of the lodges around the lake offer diving and snorkelling. The diving in Lake Malawi is not comparable to diving around exotic coral reefs however it does offer you the unique experience of swimming in fresh water.
Although extremely rare, hippos and crocodiles have been sighted in the lake.
Looking along the lakeshore there are many places to stay. We have concentrated on the best, which are all tucked into secluded coves, on rocky islands and along the lake's golden beaches. These are perfect destinations in themselves, each offering a range of activities, or make thoroughly relaxing beach retreats after a safari holiday in Zambia.