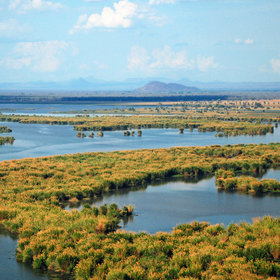 Liwonde National Park is an area of natural beauty lying along the banks of the Shire River.
Latest Liwonde National Park trip reviews
Luxury safari lodge on the Shire river
4-Sep to 19-Sep 17
Excellent

An excellent camp
15-Oct to 27-Oct 16
Excellent

A five star Lodge for accommodation & Game
26-Sep to 10-Oct 16
Excellent

Mvuu Camp review
20-Jul to 30-Jul 16
Good

Mvuu Wilderness Lodge review
11-Jul to 29-Jul 12
Excellent

Liwonde National Park
Malawi doesn't have the huge reserves full of big game that you'll find elsewhere in Africa. However, if you feel like a couple of days of gentle game viewing close to the lake, then
Liwonde National Park
is ideal. It's a very lush park, totally tropical in atmosphere and reminiscent of the setting for Bogart and Hepburn's
African Queen
.
At its heart is the palm-lined Shire River, whose banks are home to numerous hippos and crocodiles, whilst the adjacent plains and forests harbour elephant, waterbuck, bushbuck, impala and beautiful sable antelope.
The rich birdlife includes species from East and Southern Africa - Boehm's bee-eater, the palmnut vulture, Pel's fishing owl and Livingstone's flycatcher. So while Liwonde isn't the biggest or most spectacular game park in Africa, it has a winning ambience and first-class birdwatching.
There are two places to stay here: the reliably good
Mvuu Wilderness Lodge,
, and the more basic
Mvuu Camp.