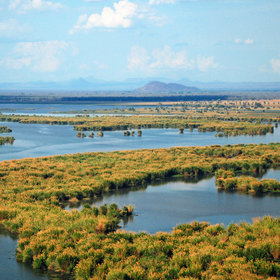 Liwonde National Park is an area of natural beauty lying along the banks of the Shire River.
Latest Liwonde National Park trip reviews
Wonderful location at Kuthengo Camp
28-Sep to 16-Oct 19
Excellent

Spectacular Safari experience at Mvuu Lodge
29-Jun to 7-Jul 19
Excellent

Great staff but needs organising
10-Jul to 27-Jul 18
Average

New bush camp by the Shire River
1-Jul to 12-Jul 18
Good

Luxury safari lodge on the Shire river
4-Sep to 19-Sep 17
Excellent

Liwonde National Park
Malawi doesn't have the huge reserves full of big game that you'll find elsewhere in Africa. However, if you feel like a couple of days of gentle game viewing combined with some relaxing time on the lake, then
Liwonde National Park
is ideal. It's a very lush park, with ancient baobab trees and tall borassus palms, totally tropical in atmosphere and reminiscent of the setting for Bogart and Hepburn's
African Queen
.
At its heart is the palm-lined Shire River which flows through the park, and whose banks are home to numerous hippos and crocodiles, whilst the adjacent plains and forests harbour Malawi's largest remaining populations of elephant, as well as the endangered black rhino. It is also home to waterbuck, bushbuck, impala and the rarer sable, roan and suni antelopes.
With over 400 species of birds, Liwonde is home to species from East and Southern Africa such as Boehm's bee-eater, the palmnut vulture, Pel's fishing owl and Livingstone's flycatcher. So while Liwonde isn't the biggest or most spectacular game park in Africa, it has a winning ambience and first-class birdwatching.
In 2015
African Parks
took over the management of Liwonde National Park to try and eradicate poaching as well as to ensure the parks survival. Their efforts also include the translocation of 261 elephant to the
Nkhotakota Wildlife Reserve
, as well as the reintroduction of cheetah to this area. They are also involved in helping the local communities to benefit from the park and have also erected a 117km electrical fence which has helped improve the human-wildlife conflict with the villages bordering the park.
Safari camps to stay here are the reliably good
Mvuu Wilderness Lodge
, and the simpler
Mvuu Camp
. In April 2018
Robin Pope Safaris
opened a simple bush camp called
Kuthengo Camp
.