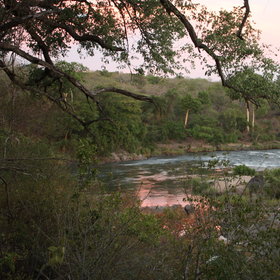 The Bua River runs through the Nkhotakota Wildlife Reserve..
Latest Nkhotakota Wildlife Reserve safari reviews
Tongole Magic River Lodge
26-Sep to 10-Oct 16
Excellent

Tongole Wilderness Lodge review
20-Jul to 30-Jul 16
Excellent

Tongole treat
7-May to 20-May 16
Excellent

Beautiful, peaceful, great for relaxing
19-Jul to 1-Aug 14
Excellent

Nkhotakota Wildlife Reserve
Located in central Malawi, the scenic
Nkhotakota Wildlife Reserve
is the country's oldest and least-developed protected area. And at 1,802km², it is also the largest.
Nkhotakota's rugged terrain stretches from the Great Rift Valley in the west to a few kilometres short of Lake Malawi in the east. Some of Malawi's main rivers flow through it on their way to the lake and numerous streams and waterfalls cascade into the reserve from the edge of the escarpment.
Most of the reserve is dominated by brachystegia and miombo woodland with little open ground, while tall grasses and areas of both evergreens and rainforest are particularly characteristic of the wetter parts of the plateau.
As a true wilderness area, Nkhotakota is particularly attractive to travellers who wish to enjoy walking safaris, canoeing and fishing.
Safaris to Nkhotakota Wildlife Reserve
Until recently, Nkhotakota Reserve was difficult to access and remained largely undiscovered. Then, in October 2011, came the opening of
Tongole Wilderness Lodge
, the first luxury lodge in this area. Initially, visitors were able to reach the lodge via a scenic track through the park – then in January 2013, Tongole opened an airstrip, opening up the area to charter flights.
Nkhotakota's larger wildlife
Larger mammals in the Nkhotakota Reserve include lion, leopard, elephant and buffalo, as well as the magnificent sable antelope. There are also plans to re-introduce giraffe and black rhino.
Flora and birdlife of Nkhotakota Wildlife Reserve
With over 280 bird species recorded here – including giant kingfishers, black stork and palm-nut vultures– it is not surprising that Birdlife International has classified Nkhotakota as an Important Bird Area (IBA).