Our Best place to stay in Majete Wildlife Reserve
Mkulumadzi is a new, superlative, luxury lodge from Robin Pope Safaris overlooking the confluence of the Shire & Mkulumadzi Rivers, in the north of the park.
Sort by:
Name


|
Traveller's rating


|
No. of reviews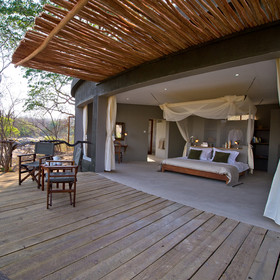 Mkulumadzi Lodge

Overlooking tumbling rapids at the confluence of the Shire and Mkulumadzi (sometimes written 'Mukulumadzi' or even 'Mkurumadzi') ...More about Mkulumadzi
I found Mkulumadzi a bit of a conundrum. I had a very good time there and the activities were good. I thought the design of the chalets , although luxurious and comfortable ... Mkulumadzi reviews...