Liuwa Plain National Park: in detail
Liuwa Plain safari holidays: the full story
The Liuwa Plains stand in the far west of Zambia; they are exceedingly remote and wild. In our experience, the national park here is also one of the most amazing wildlife parks in Africa – it's certainly one of the least visited. At the right time of year, a safari to the Liuwa Plains can be as good as safaris ever get, and so whilst the cliché 'best kept secret' is applied with sickening frequency to many parts in Africa; Liuwa Plain is one of the few safari areas which really deserves it.

Plain or Plains – what's in a name?
The flat, grassy plains in this area are called Liuwa Plains – although the national park is correctly termed: Liuwa Plain National Park.
Safaris to Liuwa Plains
While the remote location of Liuwa Plain adds to the attraction of the area, it has also meant that options for safaris in the area have historically been limited. However, from 2017 there's a brand new lodge here - currently the only permanent lodge in the park.
Time + Tide Africa's
new camp is the luxurious
King Lewanika Lodge
, which opened at the start of 2017. (This camp was given various names in the planning, but is now named after the Litunga - the paramount chief of this area!)
Trips to Liuwa Plain use scheduled flights departing from Livingstone in order to reach the park. The flight for Liuwa Plain departs early on Wednesdays and Saturdays, necessitating a one night stay in Livingstone beforehand. It's possible to fly via charter flight from Lusaka also, sometimes with a stop in
Kafue National Park
, a great add-on before or after your safari in Liuwa Plain.
History of Liuwa Plain National Park
The Liuwa Plains have long been regarded as a special place. As early as the 19th century, it was declared a 'game reserve' by the Litunga, the traditional king of Barotseland. Traditionally, the plains were the Litunga's private hunting ground, and the villagers were charged with looking after the animals for him. Then in 1972 Liuwa Plain became a national park, and its management was taken over by central government – although the local people continue to have rights to utilise parts of the park and its plains for grazing, harvesting of traditional plants, and fishing in the rivers.
In the Lozi language that is spoken all over western Zambia, the word 'Liuwa' means 'plain'. There's a local legend of how one Litunga planted his walking stick on the plains, where it grew into a large mutata tree. This tree can still be seen in the national park.
Geography of Liuwa Plain National Park
Until the last few years, there have not really been any roads at all in the national park; it's just been 3,660km² of untouched Africa. The majority of the Liuwa Plain National Park is covered with huge, honey-coloured grassy plains – measuring about 70km long and 30km wide.
Within this huge open area, you'll find the occasional small tree-island, cluster of raffia palms, or open pan interrupting the flatness. Often you can look 360 degrees around you and see nothing but a level expanse. The environment is unlike any other park in Zambia – although connoisseurs of Africa's most remote corners will note that it some ways it's quite similar to
Katavi National Park
in Tanzania, or the much smaller Kazuma Pan in north-western Zimbabwe.
Much of these huge Liuwa Plains become flooded from around December to April. The waters are said to rise in the north, and spread south. This flooding drives the wildebeest migration, for which the park is famous; the herds move out of the woodlands to the north, and on to the open plains for new, fresh grazing.
In the centre of Liuwa Plains, and especially to the south of this enormous grassy plain, there are scatterings of flat, open pans. Many of which hold their water well into the dry season – and these are always worth investigating. They vary immensely; on any given day some will appear almost lifeless, whilst others host real concentrations of birds or antelope.
The last time
Expert Africa
visited Liuwa Plain National Park, we'd often drive for an hour and see nothing … only to chance upon a pan containing 200 pink pelicans. We'd continue seeing little for another 30mins, only to find a huge herd of lechwe, or four cheetah drinking beside another pan.
Wildlife of Liuwa Plains
Liuwa Plain's environment is in many ways a 'Kalahari' environment; look beneath your feet and you'll see the sand! Although it's very different from the environment in places like Chobe – with a lot more vegetation.
Mammals and reptiles of Liuwa Plain
As is often the case in large open areas, Liuwa's larger mammals tend to group together into great herds when on Liuwa Plains – and these are much of the park's attraction. The wildlife census in 1991 estimated there were about 30,000 blue wildebeest, 8,000 tsessebe, 1,000 zebra and 10,000 other large mammals – including herds of buffalo, red lechwe, eland, Lichtenstein's hartebeest and roan antelope, plus assorted pairs of reedbuck and the delightful, diminutive oribi which are so common here. Liuwa's game scouts say that sitatunga are still found in some of the rivers on the edge of the park.
Subsequent surveys suggest that game numbers were declined significantly towards the end of the 1990s and in the first few years of the 21st Century. By 2003 blue wildebeest numbers in Liuwa Plains were estimated at only 15,000. This decline was stopped with much more active protection thanks to the
African Parks Network
, which took on the park as one of its projects in 2003-4. They've spent a lot of time and money on conservation of the park, and the development of its surrounding communities since then – and this appears to have paid off. Liuwa's blue wildebeest are now estimated to number as many as 47,000, buffalo have been reintroduced and have formed a stable herd, and anecdotal evidence is that other species are also benefiting.
The largest herds seen in Liuwa Plain National Park are still the blue wildebeest which congregate here in their thousands, during the rains. Amongst them, you'll find zebra and tsessebe. Though widely regarded as a 'wildebeest migration', some suggest that it may in fact just be a gathering on the plain of all the game that has previously been in the surrounding bush, rather than an actual migration from, say, Angola. Regardless of this, if you can see it at the right time, then it's a stunning sight – flat, open plains with animals as far as the eye can see – just as remarkable as the more famous Serengeti wildebeest migration.
Liuwa's game has, from received wisdom, been regarded as best around November/December, and visitors have ignored the rest of the year. However, current thinking is that May/June time is just as amazing. Members of the Expert Africa team last visited towards the end of October, and the wildebeest were starting to congregate in their masses and calve around the southern end of the park, a spectacular sight. However, visits during earlier months a few years previously still yielded sightings of plenty of wildebeest on Liuwa Plains, including one herd of over a thousand; plus several smaller herds of zebra, tsessebe and red lechwe, one of the latter numbering over 120 individuals; and some of the most spectacular birding that we'd ever seen in southern Africa.
Predators are also well-represented in Liuwa. Lion, leopard, cheetah, wild dog and hyena all occur here. Liuwa's prides of lion, which blend superbly into the golden grass, previously had a reputation for aggression and even for charging vehicles, though on our previous trip they were very relaxed, drinking at and sleeping next to one of the pans while we watched on.
Leopard do occur within the national park, though the surrounding forest is a better habitat for them than the plain itself. Hyenas are fairly commonly seen, and are cheeky enough to come to the edge of your firelight's glow, or to take a nibble of the safari vehicles tyres when you stop to watch. Buk's survey of wild dogs (see Further Reading) suggested that in 1993–4 the size of the packs was larger than average – and recent sightings have confirmed that wild dog numbers here are recovering well. Cheetah are also thought to be returning and flourishing in the park as it recovers.
Birds found in Liuwa Plain National Park
About 334 bird species have been recorded in or around the Liuwa Plains. Bob Stjernstedt, a Zambian birding expert, comments that because Liuwa is seldom visited, many more birds are sure to be added to this list.
Visiting as we have, in the dry month of October, the birding was amazing. We saw spectacular groups of crowned cranes often numbering several hundred birds; numerous pairs and smaller groups of up to 30 wattled cranes, which are so endangered in many places; and a flock of several hundred pelicans. We saw all of these in just a few days in late October – and so when it rains, we'd expect Liuwa's birding must be quite unbelievable.
Then, when the pans fill up, yellow-billed, open-billed, saddle-billed and marabou storks arrive, with grey herons, spoonbills, egrets, three-banded and lots of blacksmith's plovers, spur-winged and pygmy geese, and many other water birds. Slaty egrets are seen in groups, a rare occurrence elsewhere.
Secretary birds and Denham's and white-bellied bustards are common; and the park is noted for large numbers of the migrant black-winged pratincoles, a finely-marked swift-like bird which is rare further east. Other 'special' birds in Liuwa Plain here include the pink-billed and clapper larks, swamp boubou, rosy-breasted longclaw, sharp-tailed starling, long-tailed widow and white-cheeked bee-eater. Liuwa Plains is also a great area for raptors from the greater kestrel to bateleur and martial eagles, palmnut vultures and fish eagles. Pel's fishing owl is found along Luanginga River to the south and the Luambimba River in the north. The park is also home to grey crowned cranes, recently classified as endangered due to population declines elsewhere.
Seasons in Liuwa Plains
From
January to about April
, a large area of Liuwa Plains is covered in shallow water, and all the pans in the south of the park are full – perfect for the large herds of herbivores which gather there, and the large numbers of birds which also arrive.
However, around
May-July
the plains dry up, the waters recede northwards, and gradually the herds move that way also. They desert the waterholes of the southern side of the plain, and move back northwest, eventually melting back into the woodlands which surround the park. Plenty of resident wildlife remains, relying on a scattering of pans which retain their water for most of the year.
From
August to October
the herds start drifting southwards again. At first, in September, you'll find just a few herds, typically just a few hundred wildebeest, venturing south on to the northern areas of the plain – but gradually as the rains approach these increase in number and move further south into the park.
In
November and December
the first rains are falling, and then Liuwa Plains are teeming with game. November is classically the best time to visit the park – a balance between catching the best of the game, and yet avoiding any danger of getting permanently stuck in deep mud.
For those who are feeling more adventurous, the park is accessible through
January to April
, and walking and canoeing are both on offer.
Where to stay in Liuwa Plain
Our suggestions for safari camps in Liuwa Plain National Park
---

Matamanene Camp
Matamanene Camp, in the heart of Liuwa Plains National Park, is the only safari camp for hundreds of miles – it's in one of the most remote corners of Africa.
---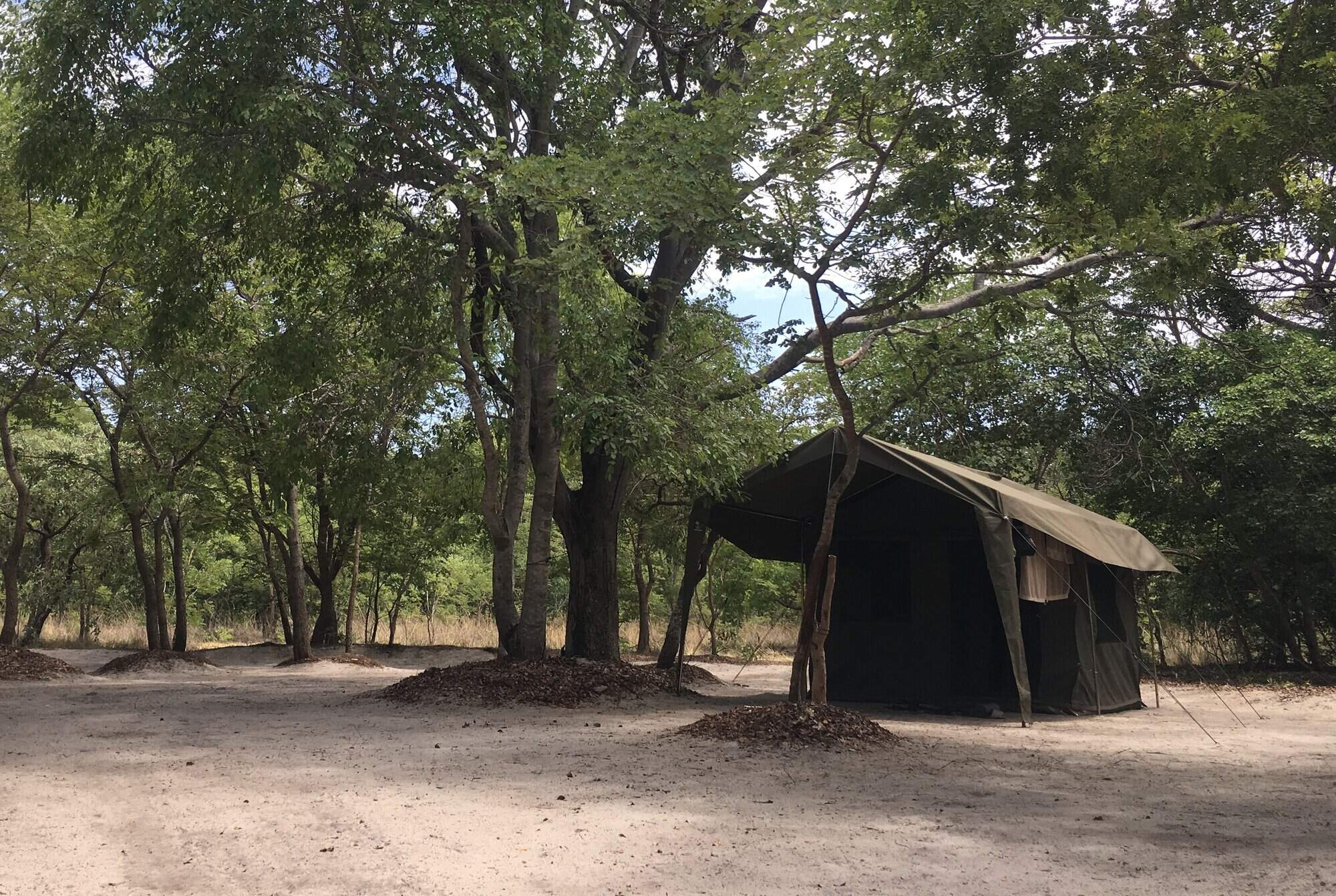 Liuwa Plains Mobile Safari
Liuwa Plains Mobile Safaris offer a remote and authentic safari adventure, into the heart Liuwa Plain National Park.
---

King Lewanika Lodge
King Lewanika Lodge, opened in 2017, is the only permanent safari camp in Liuwa Plain National Park.
---
Our travellers' wildlife sightings in Liuwa Plain
This is their success for sightings in Liuwa Plain National Park.
Click on a species for more detail. How we work this out.
---








Sable antelope
0% success