Tok Tokkie Trails: Our full report
What an experience! Although not really a 'lodge' or a 'camp' – Tok Tokkie Trails run a two-night/three-day ...
... walking trail in the NamibRand Nature Reserve. Visitors stay on the Tok Tokkie trail in the reserve for three days, whilst they explore the unique desert landscape on a guided walking trail.

The two overnight camps used on Tok Tokkie Trails are both virtually identical – even though they stand in different locations.

Each camp has a simple open-air kitchen, with a solid wooden screen around it, a table and a fridge. Excellent three-course meals are served here with good wine, with the guests and guide sitting around the table to chat. Many of the meals are pre-prepared at the farmhouse, and brought out to the camps on the afternoon when they're due to be served.

Tok Tokkie team have obviously become very practised at this over the years, as the food that we had was excellent, and tasted as if it had been freshly cooked. But then … nothing beats having dinner in the middle of the desert under a star-filled sky!

We visited in May 2008, when it was cool in the evening, and so the Tok Tokkie team supplied us with thick ponchos to wear around camp, and to dinner. After eating and chatting, everyone retires to their 'room', which is simply a corner of desert, with sand for a floor, no walls and the sky for a ceiling. These are dotted around amongst the dunes for privacy, usually in slight clearings. Here you'll find a washbasin, a bedside mat, several canvas chairs, and either one or two camp 'stretcher' beds – for a single or a double 'room'.

Each bed roll at a Tok Tokkie camp contains a thick foam mattress with a cotton cover, a covered duvet, and a proper pillow. All of these are neatly rolled up inside a thick, water-proof canvas outer – a bed roll. When unrolled on a stretcher-bed (a 'camp' bed) this becomes a comfortable and zip-able little bed that remains warm inside even when it's cold outside.

From around June to the start of September – travellers should expect daytime temperatures to be fine and warm, but at night it can often drop below freezing. Hence you'll be particularly glad of the hot-water bottles that the Tok Tokkie team usually place in the beds whilst you're having dinner.

Clean towels are also provided by the Tok Tokkie team. Lanterns are placed beside each 'room' at night to allow some light – although if the stars or moon is out then these are often superfluous.

For most trips (which normally take a maximum of eight guests) there is one long-drop toilet in the camp – which is screened off and consists of a wooden box with a proper toilet seat on the top, and a lid. In this very arid climate, this seemed very clean to us – and beside, the view from the toilet is so amazing that going there seems a real pleasure.

There's also a bucket shower for each Tok Tokkie Trails camp. This is filled with hot water on request and has a table, a chair and a mirror next to it. Obviously it's also screened off from the camp for privacy – and it, too, has great views!

Note that Tok Tokkie Trails closes from December to February, because the desert is then too hot to walk in comfortably or safely.

The NamibRand Nature Reserve, where Tok Tokkie Trails takes place, is one of the largest private nature reserves in Africa, covering about 2,100km². Its different landscapes vary from red sand dunes, to sand-and-gravel plains and imposing mountains – and these make this a spectacular area to visit.

Walking during Tok Tokkie Trails is at a comfortable pace, never strenuous. Regular breaks are taken and the guide will often stop to explain about the fauna and flora or anything interested that you may have come across. The routes lead through rough terrain and over sand dunes and sometime are very hard so good comfortable hiking shoes are recommended. A walking stick would be handy too.

Tok Tokkie Trails usually starts at around 12 noon, when you meet at the old farmhouse and normally sit down with your guide for a light lunch. Backpacks with water bottles and a cup with raisins are provided but you are welcome to use your own backpack. You carry only your camera and water whilst your main luggage will be transferred to your overnight camps.

You set off around 15:00 on a short scenic drive to the starting point of the trail and from there it is a short walk, about two hours to the first overnight camp amongst the sand dunes. By the time you reach your first Tok Tokkie camp, the camp assistants have already set up camp and all you have to do is relax, watch the sunset with a cold drink, have dinner and watch the stars. Hot water bottles are provided during the winter.

On the next day, you will typically set off just after breakfast, after being woken up at sunrise with a cup of tea/coffee and hot water to wash. You usually walk for the good part of the morning with a coffee/tea break sometime mid-morning.

You will arrive at a shady picnic spot during the heat of the day, where you enjoy your lunch, fill up water bottles and have a siesta for a few hours. After that walking continues to the second overnight camp – which is basically the same as the first camp although in a different location.

On the third day of the Tok Tokkie Trail, you'll again wake early to a hot drink, and water for washing. After breakfast you'll set off around 8.00, and continue at the usual, moderate 'Tok Tokkie' pace back to the farmhouse from which the trail started – arriving around 10.30-11.00. Here you can have a drink, a chat, a comfortable sofa and, if you wish, a shower … before finally leaving.
Our view
Tok Tokkie Trails offers an experience rather than just a place to stay. We thought it was excellent, very close to nature, with knowledgeable and affable guides. Sleeping out under the stars isn't for everyone – but if you like the idea, then these trips are magical!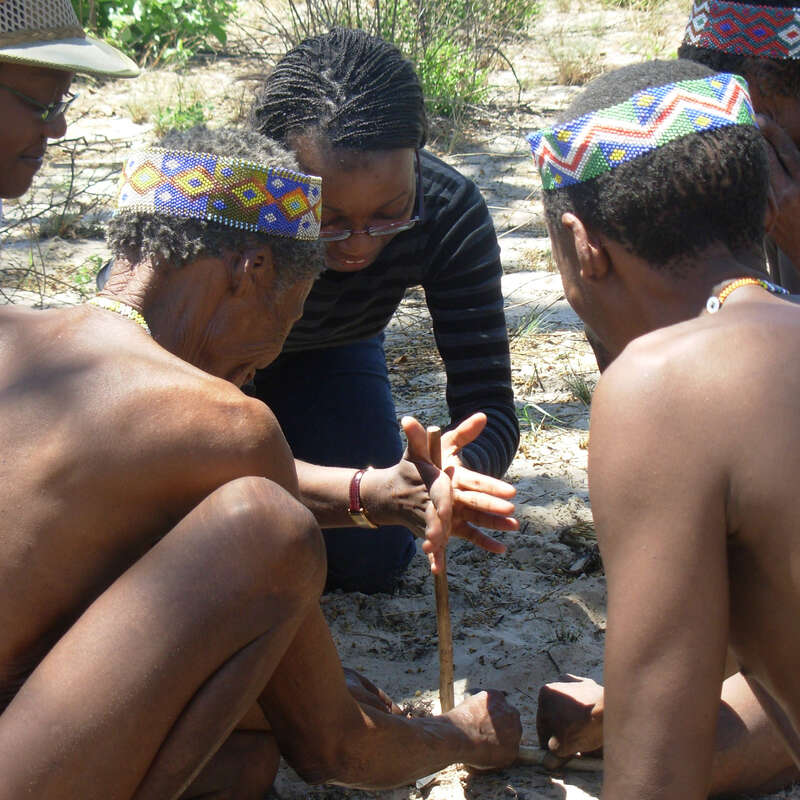 Geographics
Location

Accessible by

Self-drive or Fly-and-Transfer
Food & drink
Usual board basis

Full Board & Activities
Special interests
Walking

Tok Tokkie Trails offer a superb package between Mar-Nov of a 3day/2night walk in the NamibRand Nature Reserve. Sleep under the stars, see flora and fauna of the desert landscape and stay at simple overnight camps – a great option for some walking in Namibia.
See ideas for Walking
Children
Attitude towards children
Our travellers' wildlife sightings from Tok Tokkie Trails
Since mid-2018, many of our travellers who stayed at Tok Tokkie Trails have kindly recorded their wildlife sightings and shared them with us. The results are below. Click an animal to see more, and here to see more on our methodology.











Health & safety
Malarial protection recommended

No

Dangerous animals

Low Risk

Security measures

These camps are so remote that we view any security issues as very unlikely.

Fire safety
Activities
Guided walking safari
Extras
Disabled access

Not Possible

Accepted payment on location

There's never any need to pay money at Tok Tokkie – except for an optional tip for your guide at the end of the trail.
Other lodges in NamibRand Nature Reserve
Alternative places to stay in this same area.
---