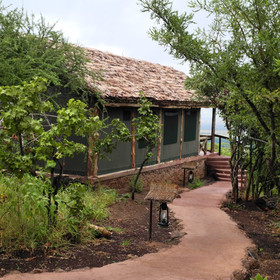 Kirurumu Tented Lodge sits on the egde of the Rift Valley high above Lake Manyara.
Suites
Kirurumu Manyara Lodge has three suites of stone and cream-coloured canvas which work really well for a family or for couples wanting more space. Built relatively recently, these are cool and spacious.
Split between two levels, each suite can sleep up to four people.
One is made up of a combination of two en-suite rooms, which at times are sold as separate rooms if the camp is full. On the top floor is the master bedroom which has canvas walls and cream tiled floors. Downstairs is a second, smaller double room.
The other two suites at Kirurumu, have a large bedroom upstairs with a smaller room and large shared bathroom downstairs. Note that these stairs are quite steep and tight, so if you feel that this might be a problem, but are keen to stay in a suite, please let us know at the time of booking and we can request the suite with wider stairs.
The en-suite bathrooms in Kirurumu's suites are behind a moulded stone wall with a curtain covering the entrance. They are spacious with white walls and cream tiles. Each bathroom has a hot-and-cold shower, a sink and a flush toilet. Some complementary toiletries are also provided.
As in the tented rooms, there is no air conditioning or fans in the suites, but tiled floors and the rooms' locations on the edge of the rift valley escarpment ensure that they keep cool.
Each suite also has a spacious veranda with comfortable wooden furniture and shady parasols from where to take in the spectacular views.
Suites | Tented room |