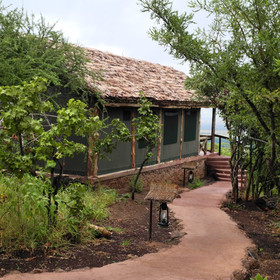 Kirurumu Tented Lodge sits on the egde of the Rift Valley high above Lake Manyara.
Tented room
Raised up on wooden decks about a metre off the ground, the tented rooms at Kirurumu Manyara Lodge are spacious, clean and comfortable. A few steps lead up to a wide wooden veranda where there are cushioned wood lounging chairs.
From the veranda, wide canvas tent flaps zip open and lead into the bedroom, which feels cool and fresh. Makuti mats (made from palm fronds) are dotted across the russet-red stone floors which are polished to a high shine.
Each room has large double, twin or three single wooden or wrought-iron beds made by local craftsmen, with wooden side tables. Subtly patterned linen and the use of traditional Maasai blankets (shukas) add style and character. There is also a writing desk. Drinking water is provided, and there is 24-hour electricity for charging batteries. The rooms don't have fans or air conditioning, but these are not really necessary since the temperature is naturally quite comfortable here due to the altitude, and it gets quite cool in the evenings.
Moulded adobe walls divide the bedroom from the en-suite bathroom, which is similarly subdivided into three separate sections, with a sink, a flush toilet and a hot-and-cold shower. All are perfectly clean and functional.
Suites | Tented room |