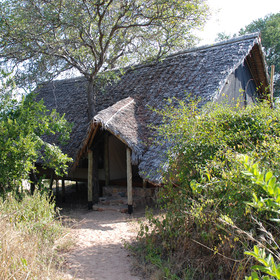 The rooms at Jongomero are all individual tents sitting under cool thatch.
Tented rooms
The spacious tented rooms at Jongomero are constructed of wood with canvas walls, under a large thatched roof. All are raised on wooden platforms overlooking the Ruaha River. They are very stylish and thoughtfully put together with a natural feel – with high-quality furnishings used throughout.

Inside you will find highly polished wooden floors, and a vast double bed, its frame made from chunky, reclaimed dhow wood that has been beautifully restored without losing its gnarled character. A comfortable leather armchair invites relaxation in the heat of the day. In 2016 Jongomero also introduced new desk fans to help keep you cool during the summer months.

A veranda at the front of each tent is furnished with a day bed and two comfortable chairs. With a passing breeze and shade from the surrounding trees, this is an inviting place to sit and watch the wildlife.

At the back of the tent – through a canvas door which can be rolled up to create an open-plan effect, or let down for increased privacy – is the equally spacious en-suite bathroom.

Along one side, twin his-and-hers sinks are set into a large wooden surface, with a hanging space for your belongings opposite. There is a proper flush-toilet as well as a vast hot-and-cold shower (the water is solar heated). Useful toiletries are provided.

The bathroom is stylish, in keeping with the natural theme of the room.