Bushmanland: in detail
Bushmanland: the full story
East of Etosha, four hours' drive by saloon car from the outpost town of Grootfontein, there's a remote region of the northern Kalahari known as Bushmanland. (This is an old name, which we use here for clarity; it remains what most people call the area.) Drive east towards Tsumkwe, and you're driving straight into the Kalahari. On their first trip here, people are often struck by just how green and vegetated it is, generally in contrast to their mental image of a "desert". In fact, the Kalahari isn't a classic desert at all; it's a fossil desert. It is an immense sandsheet which was once a desert, but now gets far too much rainfall to be classed as a desert.

Look around you and you'll realise that most of the Kalahari is covered in a thin, mixed bush with a fairly low canopy height, dotted with occasional larger trees. Beneath this is a fairly sparse ground-covering of smaller bushes, grasses and herbs. There are no spectacular sand dunes; you need to return west to the Namib for those!

The people: the San or Bushmen villagers
Here, amidst vegetated, fossil dunes, the Ju/'hoansi !Kung Bushman (sometimes simply called the Kung) live, scattered around in small villages. These are Bushmen of the Kalahari, also known as the San Bushmen.
The conventional view is that less than a century ago these people's ancestors were a traditional hunter-gatherer society using Stone Age technology. Yet they possessed a knowledge of their environment that we are only just beginning to understand.
Because their understanding of their natural environment is amazing to witness, and their survival skills are beyond belief for many Westerners, tourism is increasingly seen as a vital source of revenue for these people. In placing a high value on traditional skills and knowledge, it is hoped that it will help to stem the erosion of their cultural heritage.
Wildlife in Bushmanland
Although wildlife is a major attraction – centred largely, but not exclusively, on
Khaudum National Park
(see below). During the late dry season, around September and October, game gathers in small herds around the pans. During and after the rains, from January to March, the place comes alive with greenery and water. Birds and noisy bullfrogs abound, and travel becomes even more difficult than usual, as whole areas turn into impassable floodplains. From April the land begins to dry, and during July and August the daytime temperatures are at their most moderate and the nights cold. But whenever you come, don't expect to see vast herds like those in Etosha.
Sights to see in Bushmanland
Visiting Bushmanland is usually less about any specific places or sights, and more about meeting and spending time with the Bushmen. However, a few places do stand out as worth a mention:
Nyae Nyae Pan
Aside from coming to Bushmanland out of a general curiosity about the area's wildlife and culture, one area stands out: the Nyae Nyae Pan. About 18km south of Tsumkwe, this is a large complex of beautiful saltpans, each surrounded by grass that can grow to 60cm tall and a belt of tall trees beyond. During good rains the pans fill with water and attract breeding flamingos, as well as dozens of other waterbirds including avocets, pygmy geese, grebes, various pipers and numerous plovers. Forty-six different species of waterbirds have been recorded here when the pans are full.
Towards the end of the dry season you can normally expect to see game drinking here. Regulars include kudu, gemsbok, steenbok, duiker and elephant, with black-backed jackals on constant patrol.
Aha Hills
Southeast of Tsumkwe is an isolated group of hills straddling the border between Botswana and Namibia: the Aha Hills. Named, it's claimed, after the onomatopoeic call of the barking geckos that are so common in the area, these are remote enough to have a certain mystique about them – like their counterparts entirely in Botswana, the Tsodilo Hills.
However, there the similarity ends. The Aha Hills are much lower and more flattened. Their rock structure is totally different: a series of sharp, angular boulders quite unlike the smooth, solid massifs of Tsodilo. So they are quite tricky to climb, and have no known rock art or convenient natural springs. All of this means that though they're interesting, and worth a visit if you're in the area – they do not have the attraction of Botswana's Tsodilo Hills.
Khaudum National Park
North of Tsumkwe, beside Botswana's border lies the remote Khaudum National Park. It protects an important area of the northern Kalahari that is sustained by underground waters or
omurambas
– dry, sandy riverbeds holding subterranean water. This isn't like Etosha: it's not wall-to-wall game and you can't drive yourself in a normal car. However, as part of a visit to Bushmanland you can include a small 4WD expedition here (best visited from May to October), perhaps even camping under the stars.
Wildlife in Khaudum National Park
The game is wild and the atmosphere magical. There are large herds of elephant plus tsessebe, red hartebeest, blue wildebeest, kudu, oryx, giraffe and good numbers of the uncommon roan antelope. The main predators are spotted hyena, lion, leopard and wild dog (Khaudum is the centre for Namibia's population of these rare predators). However, come here to experience a wilderness in a very remote corner of the Kalahari; let game sightings be a bonus.
A Note on Responsible TravelLooking through our trips and destinations, you'll realise that we don't offer many trips that focus on local people and cultures. As a matter of principle, we'd prefer to avoid them rather than risk sending our travellers on visits that aren't sensitively handled – as such interactions are potentially damaging for the local cultures. Whilst researching, we've seen cultural trips that we refuse to support because of this.

However, in Nhoma Camp we have great confidence. We know that the money the villagers earn from our travellers' visits has, over the years, made huge positive impacts on their lives; tourism has significantly helped the whole village. It has also increased the value that the people place on their own traditional skills and culture – as they now see these skills as a passport to earning money, rather than an anachronism.
Where to stay in Bushmanland
Mindful of the need for cultural sensitivity, we currently only recommend:
---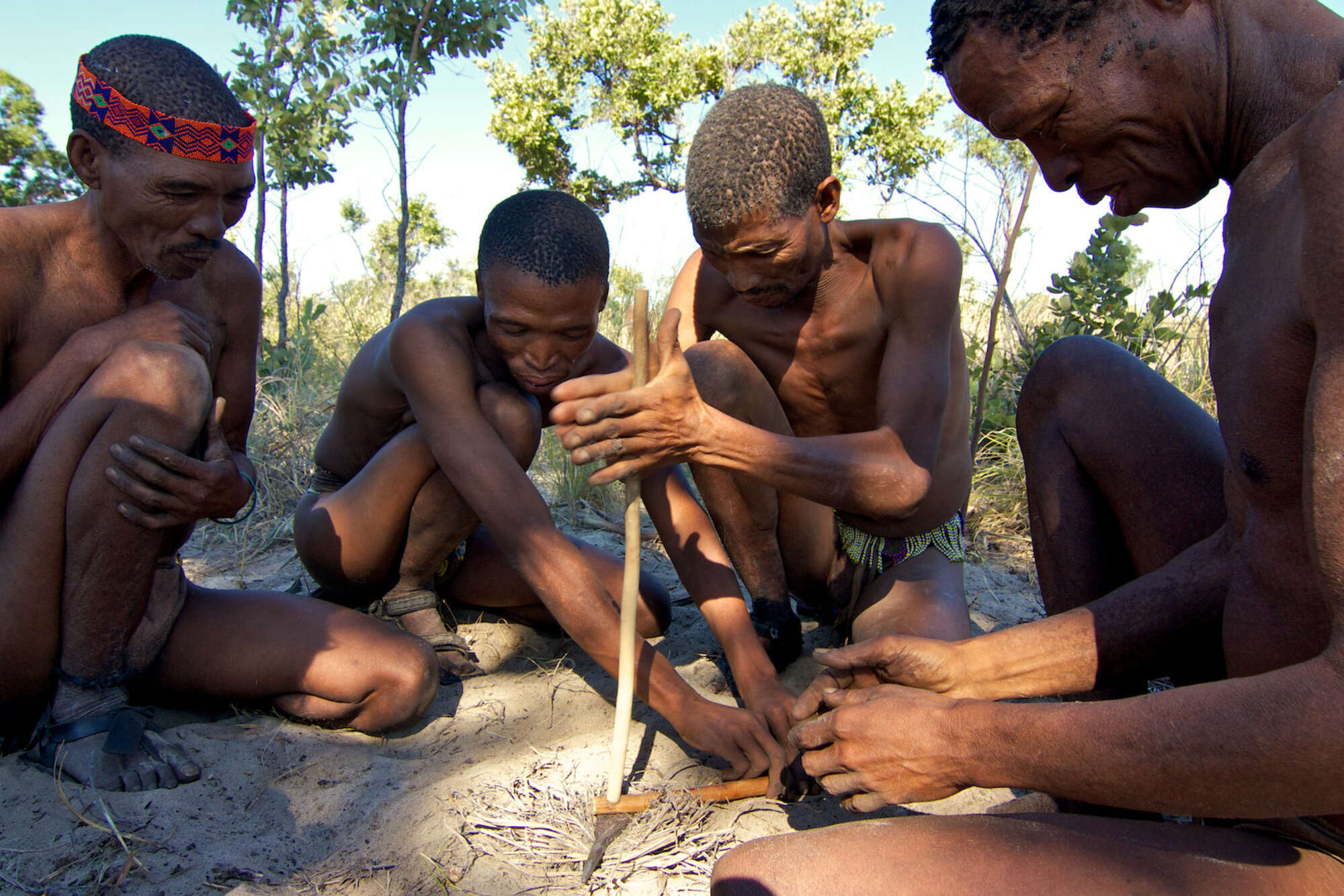 Nhoma Camp
Nhoma Camp offers a unique, sensitive and authentic introduction to a Bushman village and a true hunter-gatherer culture which is so different from our own.
---
Our travellers' wildlife sightings in Bushmanland
There is plenty of wildlife in Bushmanland, but sightings are a bonus - as you'll see from our traveller's sightings records here.
---






Roan antelope
50% success