Desroches Island: in detail
Desroches Island beach holidays: the full story
About 230km south-west of Mahé, Desroches is part of the Amirante Islands, a group of atolls in the Seychelles' Outer Islands. Named after the 18th century Governor of Mauritius, Chevalier des Roches, and historically part of the British Indian Ocean Territory, Desroches rejoined the Republic of Seychelles in 1976 as part of the Independence agreement and enjoyed success from its large, central coconut plantation and resulting copra production.

Today, though the eclectic influences remain and the plantation remains operational, the island is better known for its idyllic setting and smart resort. The 14km of sandy beaches which circle the island, the clear reef waters, swaying palms and remote tropical location all lend to its characteristically Indian Ocean vibe. The resort here is quite literally the only one for hundreds of miles, and this sense of exclusivity and isolation holds great appeal.

Since 2009, Desroches has been changing - with the addition of a cluster of four-bedroom family villas. The island certainly has the spatial capacity to absorb this influx without detracting from its natural charm and feeling of isolation, but additional facilities, perhaps a local-style Creole restaurant in the copra workers' village and a new spa, may be on the cards for all guests to enjoy.

Getting to Desroches Island
Flights run by Air Seychelles link Desroches Island to the Domestic terminal of the main international airport on Mahé Island, and at time of writing these fly daily:
Depart Mahé: 15:00 / Arrive Desroches: 15:40
Depart Desroches: 16:00 / Arrive Mahé: 16:40
(
However, please use timings indicated on our confirmation invoices; do not rely on these timings.
)
Where to stay on Desroches Island
There's only one place on this island – Desroches Island Resort! This is a smart, top-end retreat with some lovely suites, and some very promising, and very large, new villas. (
Read more about Desroches Island Lodge…
)
Where to stay in Desroches Island
Our suggestions for beach lodges in Desroches Island
---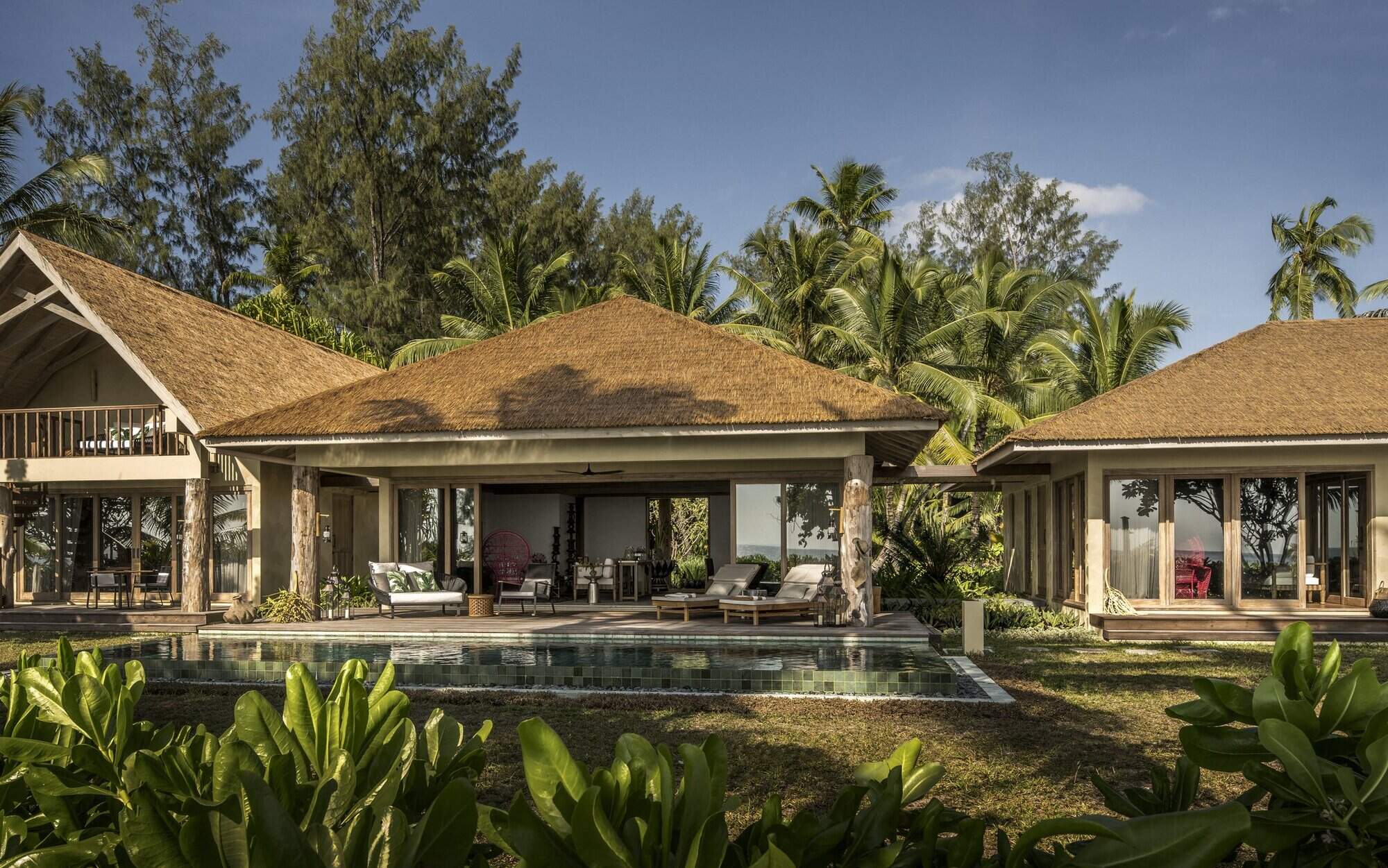 Four Seasons Desroches Island
Desroches Island is a smart private island with some lovely suites, some very large, promising, new villas and even a small, working coconut plantation. It's fringed by stunning beaches, and beyond them coral reefs – with excellent snorkelling and diving.
---
Other areas in Seychelles
---