North Island: in detail
North Island beach holidays: the full story
Within the inner island group of the Seychelles, 27km from the main island of Mahé, there is a lovely, isolated island of about two square kilometres: North Island. Its landscape is composed of four luminous white beaches and mountains rising up to a height of 200 metres. Amidst the lush, tropical vegetation between three granite outcrops you can find a very luxurious retreat of 11 private villas, which is likewise simply called North Island. This island is a truly exclusive destination for beach holidays, honeymoons and family holidays.

Where to stay on North Island
There are 11
villas on North Island
, all booked on an 'exclusive-use' basis. The lodge receives a constant flow of accolades and awards – and its standards really do match the hype and the stunning surroundings.
Read about the villas on North Island
Geography of North Island
North Island is a granitic island stretching for about 2km from north to south and about 1km from east to west at its widest extension. It has got four powdery white sand beaches: East Beach, which extends off the piazza and in front of the retreat's private villas, West Beach or Grande Anse where you can find the trendy Sunset Bar, the idyllic Honeymoon Cove and the secluded Dive Beach, which is sometimes also called Petit Anse. From the beaches and azure waters of the Indian Ocean three rock outcrops rise to heights between 110m and 180m above the sea level. The granite rocks are mainly exposed in the north of the island. Moving south, you will find them more and more covered with takamaka trees and coconut palms, leading into a lush tropical vegetation embedded between those rocks. At the heart of the island, there is a small marshland area.
Fauna and Flora of the island
North Island is lush and tropical and, as the result of much restoration work, today hosts mainly flora and fauna which is endemic to the Seychelles.
Being a former fruit and spice plantation, North Island hasn't always looked like this. After the collapse of the coconut industry it was abandoned in the 1970s. As a consequence, many intrusive, unwanted plant and animal species like casuarina and coconut trees, pigs, cows, rats, cats, Indian mynah birds, barn owls and lantana, an especially invasive weed, remained behind. These were responsible for displacing native plant species, decimated the native bird life and dried up the small marsh at the heart of the island.
Restoration and Conservation on North Island
However, the last decade has witnessed one of the most ambitious rehabilitation, conservation and tourism development projects in the Indian Ocean, which has put North Island firmly on the track of restoration. Eco-sensitivity, painstaking research and cooperation with government bodies have formed part of the efforts to ensure environmental protection and biodiversity.
One remarkable project is the "Noah's Ark" concept. It has led to the gradually ongoing reintroduction of tortoises and certain bird species to North Island along with indigenous trees such as premna, canthium, various ficus species, scavola and the legendary coco-de-mer palm. In 2007, the endangered Seychelles white-eye was reintroduced and is flourishing. In the future we hope to see the return of three more indigenous bird species, which are all on the Endangered List, to regenerate on North Island: black parrot, Seychelles warbler and, most importantly, the Seychelles magpie robin – one of the world's rarest birds.
In contrast to that, alien species are gradually eradicated. Strict control measures are to ensure that no invasive fauna or flora - particularly rodents - is reintroduced to North Island, as this would endanger indigenous species. North Island is especially proud of having achieved a "rat free" status in September 2005, which they are striving to maintain. It is the largest tropical island in the world free of the tree-dwelling black rat (rattus rattus).
These processes continue daily under the hands-on direction of a resident ecologist, who is a fountain of knowledge for interested guests on North Island.
North Island is very aware of its ecological responsibility and here has therefore introduced measures to keep its
retreat's impact on the environment
to a minimum. These include ecological research and cooperation with government conservation bodies, recycling, a sensible use of water and energy and the installation of an environmentally friendly sewerage plant. Apart from that the lodge's architecture of limited development and limited noise contributes to its eco-friendliness. When we last visited we felt that the team of the lodge is truly committed to protecting the natural environment and biodiversity as well as historical sites on North Island.
Activities on North
For those who can drag themselves away from their gorgeous villas, there is a variety of activities to enjoy on North Island. You can discover the island under guidance from one of the staff or on your own; by foot, mountain bike, or your private island buggy.
Most activities on North Island take place in or around the water. For example, you can go on
guided scuba dives
around North Island and the neighboring Silhouette Island, which are part of the world's longest coral reef system. The dive school masters and fishermen on North Island have a lot of experience and can educate both uninitiated and seasoned guests about scuba dive practices and the underwater world.
Other
sportive activities
include (guided) kayaking, mountain biking for adults and children, surfing (surf boards and body boards provided), climbing the island's granite outcrops or walking along its beaches as well as exercising in the gym.
For those wishing to enjoy more relaxed activities there are private sunset cruises around the island on offer. Chartered boat
trips to other islands
like Mahé, Praslin, La Digue and the outer islands, including the spectacular bird sanctuaries Aride, Cousin and Cousine, can be arranged on request. Island hopping by helicopter is possible, too.
Or consider some
fishing
, which would usually make for a relaxed half-day activity trawling for yellowfin tuna, dorado, bonito, trevally, red snapper and others.
In terms of education,
talks and presentations
in the library give adults and children alike the chance to learn about ecological topics and the Seychelles and North Island in particular. Depending on the time of the year, lucky guests might have the chance to watch hawksbill or green turtles laying or hatching their eggs on the beaches of North Island. Researchers tag the turtles so that their breeding activities can be monitored.
Where to stay in North Island
Our suggestions for beach lodges in North Island
---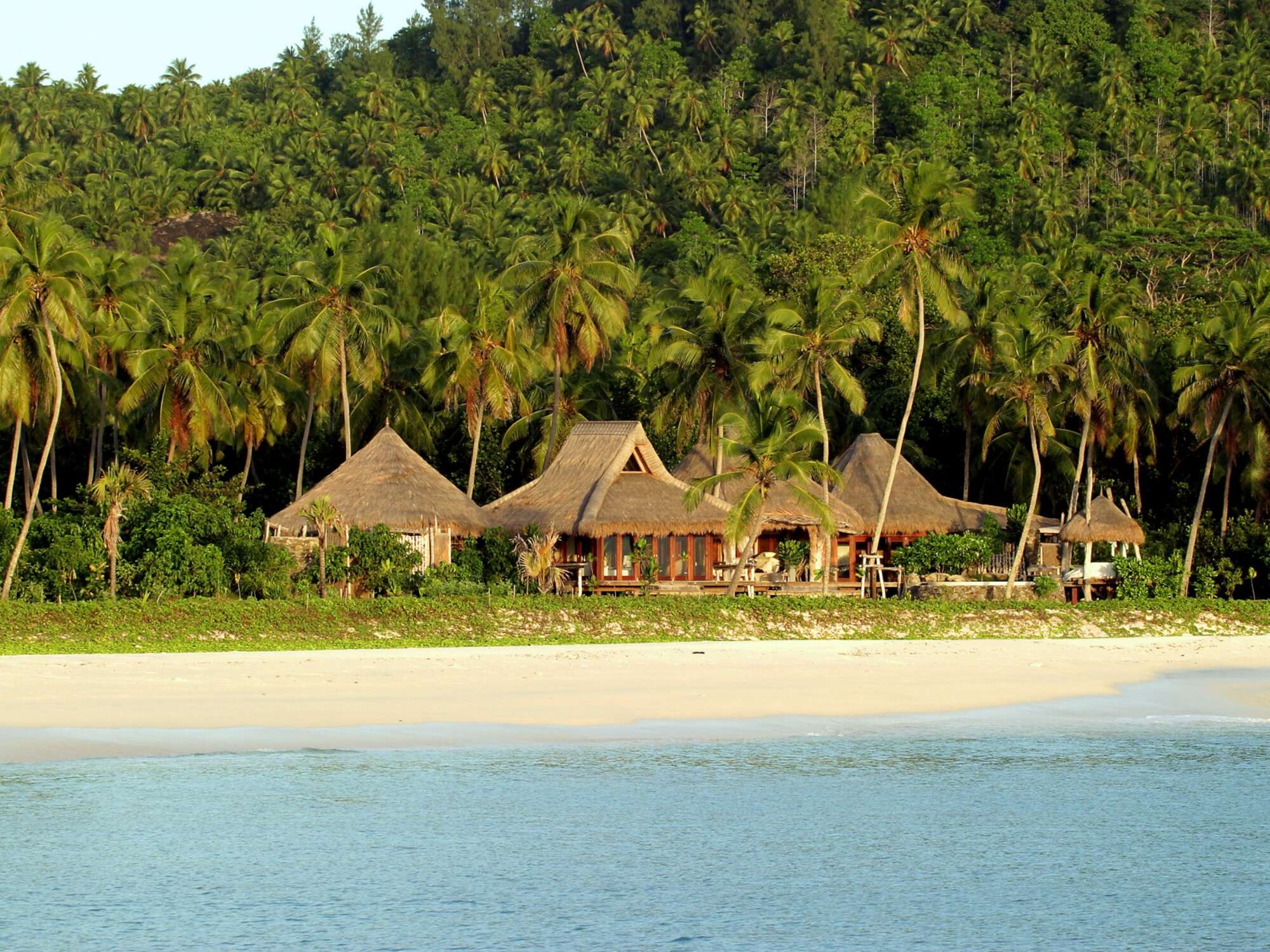 North Island
North Island Seychelles is the ultimate private island lodge; it offers some of the highest standards in the world, in an amazing natural environment – but does also have a high price tag to match its standards.
---
Other areas in Seychelles
---